The ColourPop Pressed Powder Palettes Have It All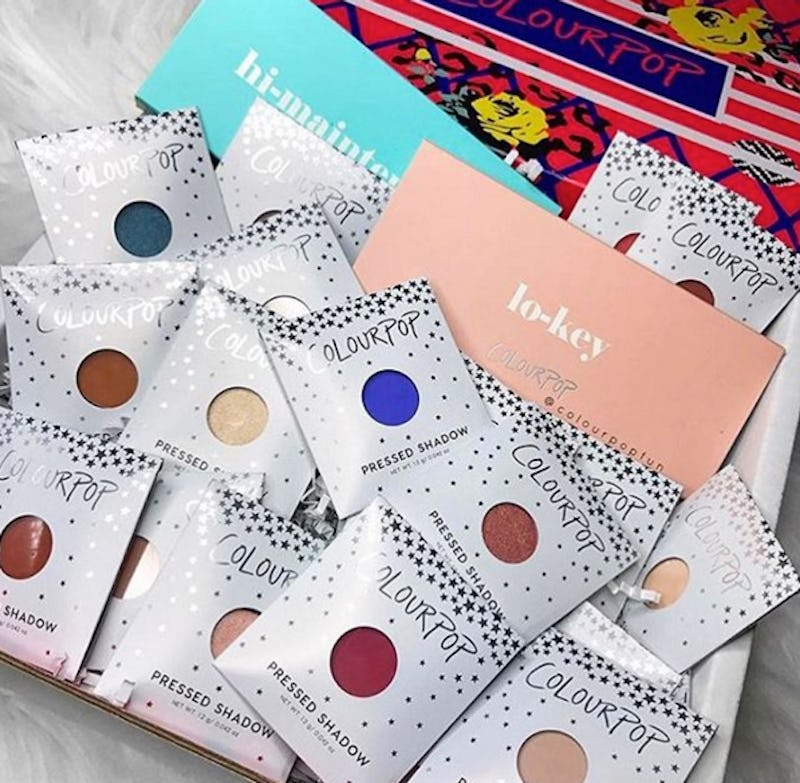 colourpopcosmetics/Instagram
When it comes to affordable makeup, ColourPop is killing the game. They're about to launch their first-ever permanent pressed shadow pigments and fixed palettes. That, alone, is enough to get excited for, but once you can contain your enthusiasm, it's time to get down to the serious questions. Do the ColourPop Pressed Powder Eye Shadow Palettes come with a mirror? I'm glad you asked.
The two brand spanking new items launch on Jan. 13 at exactly 1 p.m. ET/10 a.m. PT. Each one contains four shades and retails for $18. The fact that you can snatch four products for less than 20 bucks is pretty incredible, but when you learn that these do, in fact, come with a mirror, you're going to be more than ready to fork over the cash.
Now that the products have been revealed online, it's clear that both the Hi-Maintenace Palette (which is full of vampy burgundy colors) and the Lo-Key Palette (containing everyday neutrals and peaches) have small mirrors included in the packaging. The only thing you'll need to complete the set is a brush or two, but given that ColourPop already teased these tools once, I'm hoping they'll be able to shop eventually too. If that happens, you can officially make ColourPop your one-stop shop for unbeatable eye makeup!
Gorgeous colors and pretty, functional packaging? What more could you ask for?
These babies have it all.
And I'm not gonna lie, you can create some stellar looks with them.
Your glam game will be strong with these hues on-hand.
If you just can't get enough of the all-new formula, then feel free to shop shades individually, too. More new colors drop the same time the palettes do.
Because really, you can never have too many shadows.
All you need now are some brushes to make your collection complete. ColourPop hasn't made these part of their permanent range just yet, but I'd love for them to make a comeback.
Either way, the brand's first pressed powder efforts look very promising, especially with a mirror included.