Gabby Giffords Wants To Expose Just How Tight Trump Is With The NRA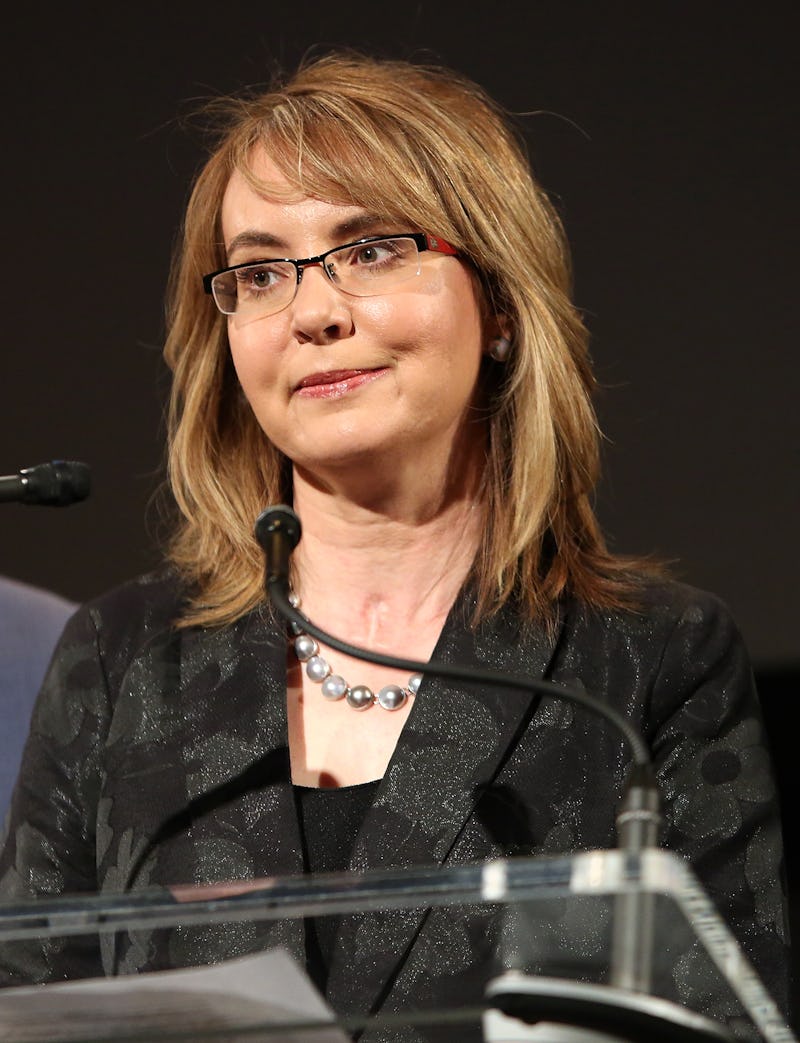 Monica Schipper/Getty Images Entertainment/Getty Images
If there's one politician who is no stranger to gun violence, it's former Rep. Gabby Giffords of Arizona. The then-Democratic lawmaker survived a gunshot to the head in an assassination attempt back in 2011, an incident that left six others dead. Now, Giffords' gun control group is suing the Trump administration in an attempt to obtain any possible documented communication between the National Rifle Association and White House officials.
The Giffords Law Center to Prevent Gun Violence is seeking information about whether the National Rifle Association is influencing President Trump's gun policies. Giffords' group claims that, despite multiple FOIA requests for related documents, the Bureau of Alcohol, Tobacco, Firearms and Explosives has refused to cooperate. In response, the organization filed a lawsuit against the bureau on Tuesday in the U.S. District Court for the District of Columbia. (At the time of writing, the bureau had declined to publicly comment on the lawsuit.)
Giffords' gun control organization had specifically requested documents detailing Trump's policies on concealed carry reciprocity, exports of gun silencers, bump stocks and assault weapons, evidence that Donald Trump Jr. lobbied improperly on behalf of gun manufacturing companies, communication between gun lobbying groups and senior officials in the Trump administration after the Las Vegas massacre, and attempts by the NRA to work with the Bureau of Alcohol, Tobacco, Firearms and Explosives to review bump stock regulations.
The gunman in the Las Vegas mass shooting is thought to have modified his guns with bump stocks, enabling him to shoot in rapid fire. In other words, bump stocks can convert a semi-automatic rifle like an AR-15 into something just short of a machine gun, discharging 100 rounds in seven seconds.
Even the NRA broke their silence after the Las Vegas mass shooting to endorse regulations for bump stocks. In the same statement, the NRA claimed gun control laws would not stop further attacks. It also advocated a "right-to-carry" reciprocity law that would allow gun owners to carry weapons across state lines and disregard local carrying laws.
There's also a reason why Gifford's gun control advocacy group is digging into Donald Trump Jr.'s possibly inappropriate gun lobbying. While the President's oldest son is better known for his involvement with the alleged Trump-Russia collusion investigation, Trump Jr. also campaigns to overturn gun restrictions. He even starred in a promo video for a gun silencer manufacturer:
"The Trump administration appears willing to let the National Rifle Association dictate its federal gun safety policy, which includes remaining silent on how to stem our nation's gun violence epidemic," said Robyn Thomas, executive director of the Giffords Law Center, in a statement given to the Huffington Post. "Protecting the safety of Americans should be the top priority of any president. Unfortunately, gun lobby profits seem to be more important to President Trump."
Republican lawmakers have been caught reeling off gun policy arguments that sound like the NRA's talking points — talking points which the NRA reportedly distributed to the Trump administration. Since 1998, the NRA has spent more than $203 million on political activities, most of which was spent on independent campaigns, although contributions to politicians also make up a slice of the pie. At the time of writing, the NRA had not publicly commented on the Giffords Law Center lawsuit against the Trump administration.
President Trump has come under both criticism and praise for his comments following this week's Sutherland Springs mass shooting where a gunman killed 26 people in a Baptist church. He said a press conference that "hundreds more" would have died if the United States vetted gun buyers like it does immigrants. Trump also called the mass shooting a mental health problem, not a gun situation.
Trump has referred to himself as "a true friend" to the NRA and their "champion in the White House." His declaration came after he signed a resolution in February overturning a rule that would have prevented an estimated 75,000 people with mental disorders from buying guns. Former President Obama had pushed the rule during his presidency following the 2012 mass shooting at Sandy Hook Elementary School in Newton, Connecticut.