Tom Brady Is Shy About His Allegiance To Trump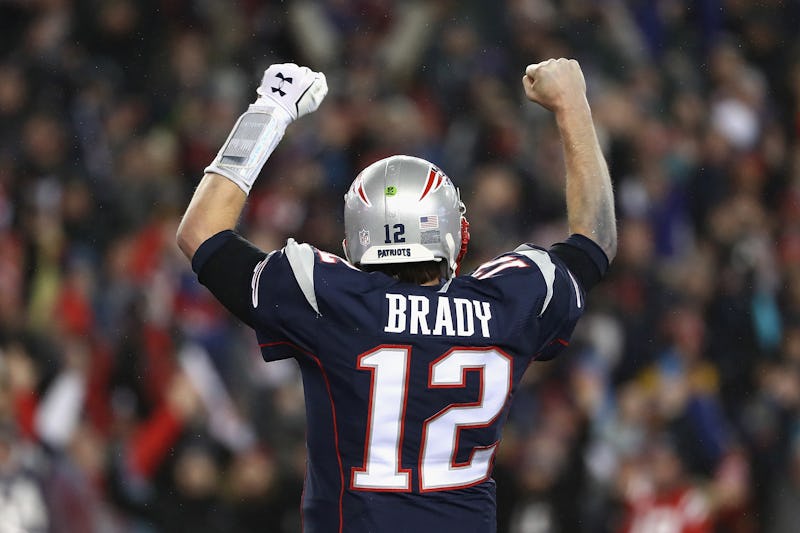 Elsa/Getty Images Sport/Getty Images
For American sports fans, the most exciting day of the year has finally arrived: Super Bowl Sunday. This year, the New England Patriots face off against the Atlanta Falcons. But as the country's political actions seem more headline-grabbing than ever, there's some palpable tension between the much-loved sport and the topic of our country's leader. Many are wondering: does Patriots quarterback Tom Brady support President Donald Trump?
It's complicated. While Trump has claimed that Brady supported him, and even voted for him in the election, Brady never really confirmed this himself. At media day before the Super Bowl, reporters asked Brady about his relationship with and support for Trump, and he said he would not talk about politics.
What we do know is that Brady and Trump are friends, which Trump said in his pre-Super Bowl interview with Bill O'Reilly: "Tom Brady is my friend." Specifically, they seem to have bonded over their love of golf. According to the Boston Globe, they met in 2002 and spent time golfing together. Long before the election, a reporter asked Brady if he thought Trump had what it takes to be president, and Brady answered that he hoped so, and that Trump would probably have a putting green on the White House lawn.
He was also seen with a Make America Great Again hat in his locker room, though when asked about it, said it was just nice memorabilia, according to the Boston Globe. Right.
While Brady is hesitant to speak about the president, his wife Gisele Bundchen claimed on social media that they did not vote for Trump. This sends yet another confusing message about Brady's alliances with the administration.
However timid Brady is about his relationship with Trump, the president is certainly not representing it in the same way. During Trump's pre-Super Bowl interview with O'Reilly, he once again referenced his friendship with Brady, as well as Patriots coach Bill Belichick and owner Bob Kraft. Even Trump's advisor Kellyanne Conway thanked Brady for his loyalty. On one hand, the Trump administration is known for their "alternative facts," but if it were untrue, it would seem like Brady would say so.
So, we may never know for sure whether Brady definitely does or does not support Trump, or supported him at one time during his campaign. We know that they are friends and Brady himself has not spoken out against the president's policies. Trump's team's comments lead the public to believe that Brady has offered his support, but because of the quarterback's reluctance to confirm this, we can't know what he truly thinks.