Tom Petty's Daughters Are Artists In Their Own Right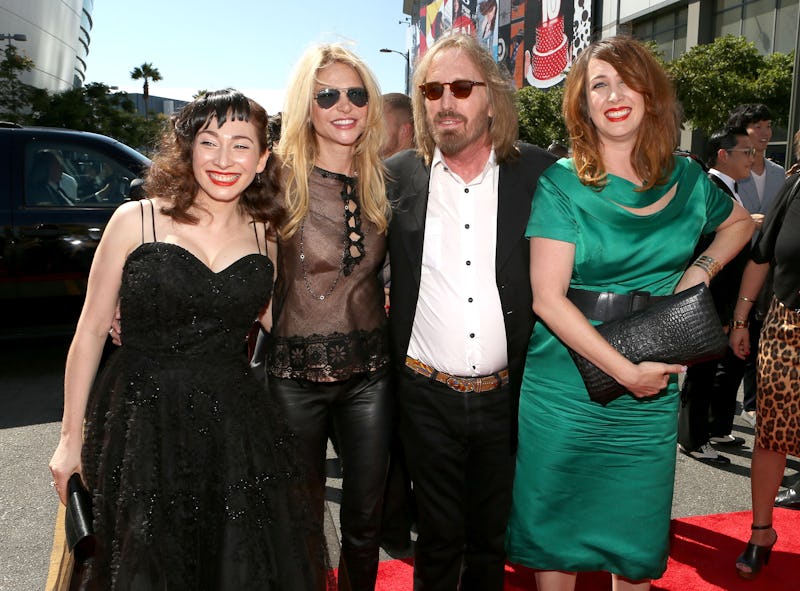 Christopher Polk/Getty Images Entertainment/Getty Images
Update: Late Monday night, manager Tony Dimitriades confirmed that singer Tom Petty "died peacefully at 8:40 p.m. PT surrounded by family, bandmates and friends." He said that Petty could not be revived after going into cardiac arrest in his Malibu home.
Update: At 4:55 p.m. on Oct. 2, the LAPD tweeted that they had "no information about the passing of singer Tom Petty.. Initial information was inadvertantly [sic] provided to some media sources. However, the LAPD has no investigative role in this matter. We apologize for any inconvenience in this reporting." Bustle had reached out to Petty's reps and the LAPD for confirmation, but did not receive a response by the time of publication.
Update: According to a Monday tweet from ABC News' Clayton Sandell, there is no official confirmation of Petty's death, but the Los Angeles County Sheriff's Department said Petty was transported to the hospital, but cannot confirm his condition. TMZ also reported Monday the LAPD confirmation of his death is inaccurate and the LA Sheriff's Department handled the emergency. Per TMZ, Petty is alive, but "the singer is not expected to live throughout the day, but he's still clinging to life."
Earlier: On Monday, news broke that Tom Petty "was rushed to the hospital Sunday night after he was found unconscious, not breathing and in full cardiac arrest," per a report from TMZ. This shocking report was not confirmed by the LAPD or Petty's reps when Bustle reached out for comment; they could not be reached. CBS This Morning tweeted on Monday that Petty had died at the age of 66 and CBS News confirmed, but the tweet has now been deleted and ABC News reporter Clayton Sandell tweeted that the only thing the LA County Sheriff would confirm is that "Petty was transported [to the hospital] but cannot confirm his condition." Concerned fans are now looking for updates wherever they can, and may be turning to Petty's family for information. That begs the question, does Tom Petty have any kids?
Petty does indeed have two children of his own, both daughters, from his first marriage to Jane Benyo. He also has a step-son from his second marriage. According to Billboard, Petty and Benyo divorced in 1996, but not before she gave birth to two daughters with Petty. Both women have followed in their father's artistic footsteps. Per Billboard, Adria is now 42 and a video director and AnnaKim is 34 and an artist. Billboard also reported that Petty has a 24-year-old stepson named Dylan from his second wife's Dana York's previous marriage. (Petty married York in 2001, according to Parade.)
Petty was no doubt very proud of his talented children, and he was always keen to talk about them in interviews. In that Parade article, he spoke highly of his life and celebrated following one's passion. He also said he tried to instill that in his children. "I have a very blessed life," he told the outlet. "I think any time you're making a living at what you love to do, you're blessed. That's what I try to instill in my kids. Go after what you really love and find a way to make that work for you, and then you'll be a happy person."
Clearly his daughters did that, since they both chased creative dreams. According to her website, Adria has worked on music videos with such famous names as Beyoncé, Chris Martin, and Rihanna, among others. She's also directed documentaries and shorts. Her love of video was discovered in part because of her late father. "My dad actually pushed me into film. I think he knew that I was visual. As soon as I shot some film I was like this is absolutely what I want to do," she said in the below video interview.
AnnaKim is an artist with a individualized fashion sense and myriad unique projects she's worked on. She told LA Weekly in 2010, "I've lived an eccentric life and I'm a boring person, so I don't have to defend it."
As for his step-son Dylan, Paste magazine reported that he "had other aspirations outside of music," but that didn't keep them from being close. Here's a photo of the pair at the 11th Annual Golden Heart Awards in 2011. Other than that, not much else is known about him, though, or what he's doing now.
So far, none of Petty's family has spoken out about these tragic reports or confirmed how Petty is. But that's perfectly understandable. It's unimaginably hard to lose a loved one, let alone having to grieve in the public eye — and if reports of his passing aren't true, that adds a whole layer of complication. Here's hoping the Pettys get the space they deserve to deal with things in their own time. But, at the very least, they have each other and their passions to help them cope in the time ahead.