Those Grammar Errors You Notice In Trump's Tweets Might Be There On Purpose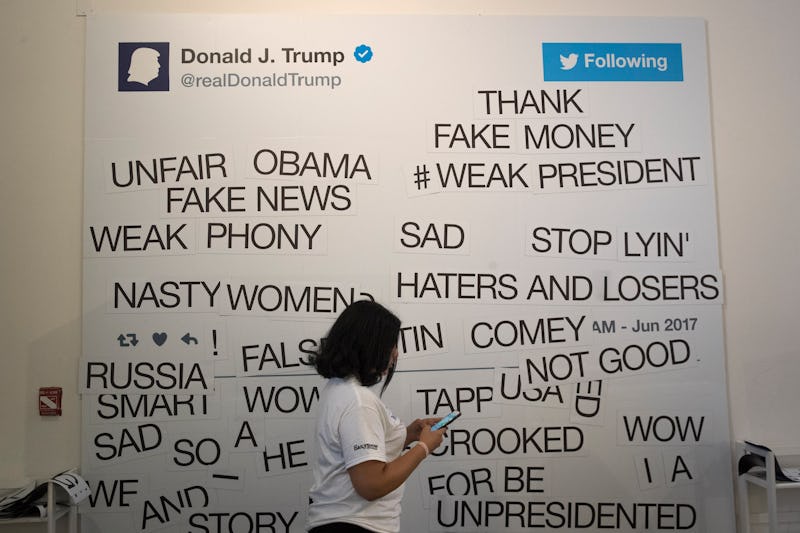 Drew Angerer/Getty Images News/Getty Images
On Monday, the Boston Globe revealed a surprising new report about the president's already controversial Twitter account. The newspaper reported that when staffers draft a tweet for Trump, they include grammatical errors as a way of supposedly ensuring the posts authentically represent his voice. Bustle has reached out to the White House for comment on the Boston Globe's report.
The Boston Globe report is based on claims from two people familiar with the presidential communications process in the White House. They say that communications staffers often use improper grammar and what writer Annie Linskey described as "staccato syntax" in order to make tweets seem more Trump-like. As the article noted, some of stylistic tools staffers rely on include overusing the exclamation point, writing in sentence fragments, and capitalizing random words, among others.
The paper also offered some intriguing insight into how staff-composed tweets are ultimately chosen by the president. As the Boston Globe revealed, when a staff member desires that the president tweet about an issue, they will compose three to four potential tweets on the subject. The tweets will then be sent to the president, who will choose the tweet he prefers.
Since he began campaigning for the presidency, Trump's tweets — and their grammatically-questionable style — have often been a subject of public discussion. Indeed, the New York Daily News has a comprehensive list of presidential social media faux pas, which includes some of Trump's most notable Twitter gaffes.
For example, on May 30, 2017, Trump wrote, "Despite the constant negative press covfefe," leaving social media users to wonder what he meant by both the unfinished sentence and the nonsensical "covfefe" word. Trump himself even leaned into the confusion, deleting the original covfefe tweet and then subsequently tweeting, "Who can figure out the true meaning of 'covfefe' ??? Enjoy!" a few hours later.
Trump also garnered significant attention back in December of 2016, when he chastised the Chinese navy for taking a U.S. Navy drone, characterizing it as an "unpresidented act" as opposed to the grammatically correct "unprecedented act." Trump eventually deleted the tweet and replaced it with one in which "unprecedented" was spelled correctly.
According to the Boston Globe's report, despite sometimes using improper grammar to mimic the president's style, White House staffers never intentionally misspell names or words.
Despite Trump's penchant for Twitter errors, however, many experts believe that his unique Twitter style is key to galvanizing support for him and his policies. As George Lakoff, a Professor Emeritus a the University of California, Berkeley and expert on cognitive science and linguistics told The Independent back in January 2018, "Trump uses social media as a weapon to control the news cycle. It works like a charm. His tweets are tactical rather than substantive."
Indeed, Trump's colloquial language on Twitter and his grammatical errors often constitute part of his appeal to supporters. As Stephen Farnsworth, a political science professor at the University of Mary Washington in Virginia, told the Boston Globe, "If the political conversation is about Donald Trump's typos, that plays into the narrative that the coastal elites don't understand ordinary Americans who make typos."
Martha Brockenbrough, the founder of the Society for the Promotion of Good Grammar, offered similar thoughts to the paper, noting,
Grammatical conventions tend to be elitist and always have been ... The lack of regard for it, and the fact that he's now having American tax dollars fund people to ape his style, is meant to poke people like you and me in the eye — people for whom language matters.
Overall, Trump's grammatically incorrect tweets have clearly become such a part of his identity that staffers now seek to compose tweets in the same way. It seems apparent that Trump's atypical Twitter style is quite appealing to supporters — and will likely continue throughout his presidency.