Here's The Evidence That, Yes, Trump Wears Orange Makeup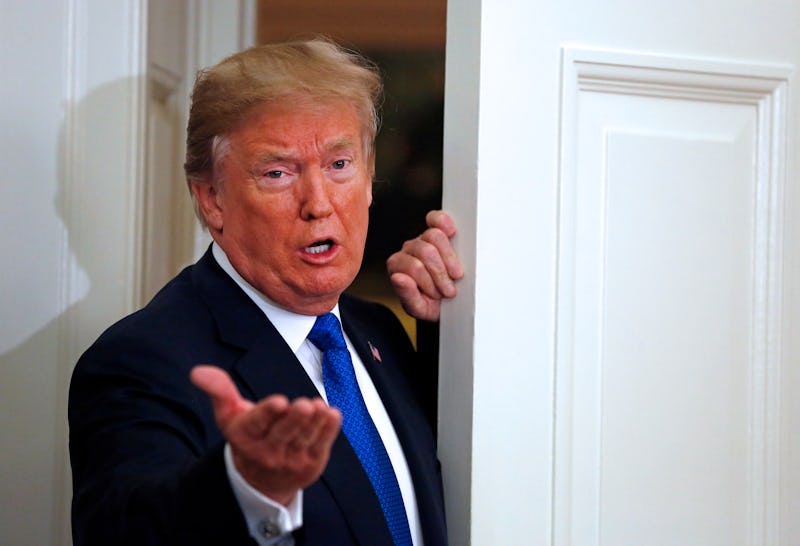 Pool/Getty Images News/Getty Images
A New York Times report by journalist Miriam Jordan from Thursday sheds light on the challenges of two Latin American immigrant women (one of them currently undocumented) who worked at the Trump National Golf Club in Bedminster, New Jersey. But it also briefly touches upon a topic that you may have wondered about: Does Donald Trump wear makeup?
Based on Jordan's conversation with one of the women who previously worked at the golf club, Sandra Diaz, the president is reportedly particular about stains on his clothes, including the kind possibly left behind by his purported makeup. Jordan reported that Trump had an outburst in 2012 "over some orange stains on the collar of his white golf shirt, which Diaz described as stubborn remnants of his makeup that she had difficulty removing."
It's possible, too, that those "orange stains" may have been left behind by an artificial tan. Over time, the president's tan has been a frequently discussed topic. A Marie Claire piece on the president's complexion delved into the different shades of his tan with photos from 1986 up to 2017.
According to the publication, makeup artist Jason Kelly took care of Trump's final touches at the 2016 Republican National Convention. While the then-candidate had "minimal" makeup done, Kelly told Marie Claire, "He didn't have any liquid or cream foundation on, or spray tan actually. The newer ones nowadays are a lot better, but I have an eye for it and I can spot it a mile away."
People have their own thoughts about how the president ought to do his makeup, including his reported tan, if at all. For Kelly, he shared his vision in 2016 while talking to Harper's Bazaar. This was before the makeup artist did his light touching for Trump.
At the time, Kelly said, "I'm prepared if it does happen. I know exactly what he does to himself — the tanning bed, the spray tan, he wears the goggles and you can see the hyper-pigmentation around his eyes. What I'll do is use a slightly deeper color and blend it into his tan so there's not an abrupt contrast. I'm ready for it."
In 2017, Kelly said that he believed Trump didn't use tanning sprays but went for tanning beds. "I could tell he definitely does the tanning bed —or some sort of tanning with some sort of light — because he has that abrupt contrast around his eyes where they wear those goggles," he said.
While it may surprise some people, it is pretty much understood that a lot of politicians, including male members of the political arena, wear makeup. Whether it's for personal reasons or to charm their supporter bases with a perfect crop of hair and primer, or to simply look good on television, politicians are no strangers to the occasional dabbing of blush or concealer.
In fact, this topic has gotten its fair share of investigation, too. In 2016, Mic reported that many American politicians wore makeup, including Trump. "Lots and lots of it," the outlet claimed.