People Are Leaving Their Dogs Outside & They're Actually Freezing To Death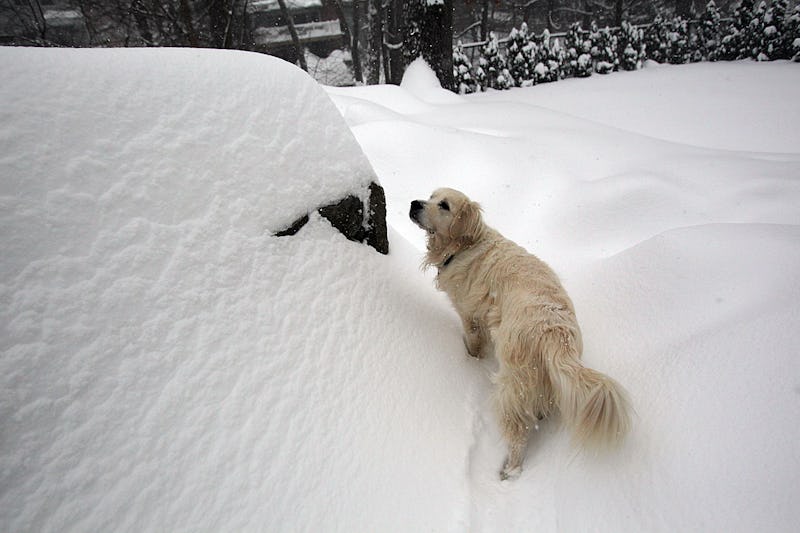 Boston Globe/Boston Globe/Getty Images
The bomb cyclone that battered most of the East Coast with snow and freezing temperatures this week is no joke, having already led to the deaths of nearly a dozen people. Yet the brutal cold doesn't just affect humans — it impacts animals, too. While the winter storm is leaving cold-blooded animals like iguanas immobile, it's having a more fatal affect on warm-blooded pets. In fact, a number of dogs have been reported dead after being left outside to freeze in the cold.
Law enforcement officials in Ohio have charged the owners of a dog found dead in an uninsulated doghouse with "cruelty to a companion animal," according to a statement from the Butler County Sheriff's Office on Wednesday. Officers reportedly found the dog "frozen to death due to the severe cold weather."
Elsewhere in the state, another dog was found frozen to death on a porch in Toledo, the Toledo Blade reported. The dog's owner, who was reportedly not staying at the property where the dog was found, told the paper he wasn't sure how the dog had gotten outside. Another was found alive but malnourished inside the home, where utilities had recently been shut off. Another three dogs were found frozen to death earlier this week in Franklin County, Ohio, according to a report from the Washington Post.
Police in Hartford, Connecticut, charged a woman with animal cruelty earlier this week after she left the animal out to die in a doghouse outside her home, the Hartford Courant reported. A local veterinarian asked to examine the deceased pet reported it was malnourished and "frozen solid."
Earlier in the week, a dog rescue group in Detroit, Michigan, reported finding a frozen dog dead outside of their office. Video footage appears to show the dog being abandoned by its owner at the Detroit Dog Rescue's office. The group also reported working with a Detroit Animal Control officer to rescue another dog found attempting to escape the frigid temperatures by hiding in a barrel left outside. Although the dog was rescued before he could freeze to death, he is reported to have suffered frostbite in his paw pads and penis.
"Trying to escape the frigid temperatures he curled up and crouched down, but even his underbelly and penis began to freeze," the group said of the dog in a recent Facebook post. "His feet are so painful he doesn't want to stand."
In Knox County, Illinois, the owner of a black lab mix found eight newborn puppies frozen to death in the snow last week. According to local broadcaster WQAD, the owner claimed not to have known his dog, whom he kept outside despite below-freezing temperatures, was pregnant. Only one puppy survived.
In light of the cold weather, animal welfare groups are urging pet owners to keep their furry friends inside. Animal advocates have also urged people to immediately report any animal they find that has been left to weather severe winter storms outside to local law enforcement. "Dogs, cats and horses depend on our care, especially during life-threatening cold snaps," the Humane Society of the United States President and Chief Executive Wayne Pacelle said in a statement, the Washington Post reported. "Take the animals in, or somehow provide a safe environment for them."
The Humane Society recommends keeping pets bundled up and protected inside or in a dry, draft-free, insulated shelter during extreme weather conditions. For small animals like feral cats that can't be brought inside when bad weather strikes, the organization has budget-friendly tips for creating a suitable winter-proof shelter. The organization also has tips on how to report animals suffering from winter-time neglect.