This Is Why Mental Health First Aid At Work Is WAY More Important Than You Think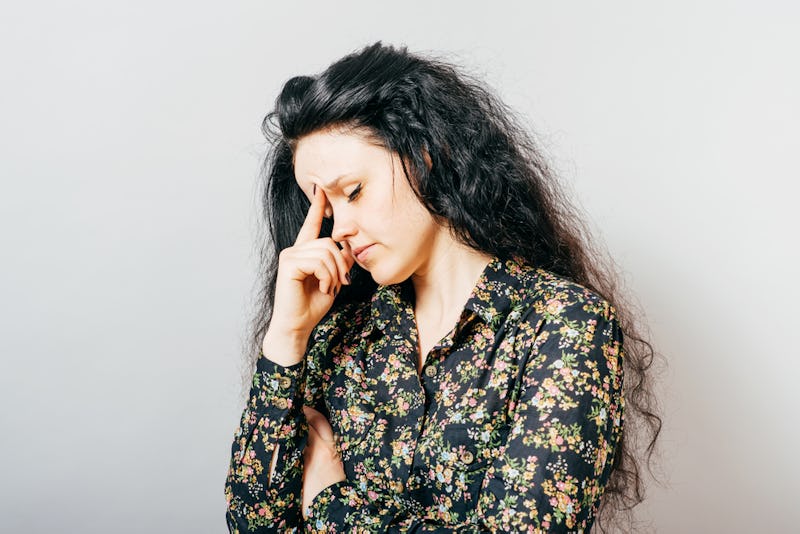 file404/Shutterstock
Many of us find it awkward to tell our boss about our health problems. Whether it's an ongoing issue or the fact that we're having a particularly heavy period and need to go home, it's common to think it's easier to keep quiet. When the problem relates to mental health, that desire to keep everything bottled up often only becomes stronger. But a new campaign is asking the government to make mental health first aid in the workplace compulsory, allowing people to finally feel comfortable talking openly about their problems.
More than 50 business heads have signed a letter calling on Theresa May to add this new clause into pre-existing health and safety legislation. Effectively, they're asking the government to make companies treat mental health problems in the same way they would treat a fall or other physical injury.
A petition has also garnered over 200,000 signatures and was delivered to Downing Street last month. However, people are still being encouraged to sign. "The workplace is where we spend most of our adult lives but unfortunately it's also a place that, in my experience, mental wellbeing is the most neglected," petition starter Natasha Devon wrote. "We feel the need to soldier on when we are struggling with mental illness in a way we never would if we had the flu or broken a leg."
The campaign is being spurred on by Mental Health First Aid England (MHFA). The organisation is pointing out that the Prime Minister had already promised to make these changes in her election manifesto, but has so far failed to stick to her word.
People are hoping that highlighting the financial benefits of mental health first aid will convince the government to change the law sooner rather than later. According to the Centre for Mental Health, mental health issues cost the UK economy almost £35 billion in 2017. That's an average cost of £1,300 per employee.
Employees who are quietly suffering internally will often struggle to remain productive, costing businesses the aforementioned huge sum of money. Of course, people's mental health should be regarded more highly than their monetary value but it's not a hidden fact that money talks.
Although some employers are undoubtedly working to improve the mental health of their staff, companies won't take the issue seriously until they are legally forced to. The campaign envisages companies training certain members of staff to guide and support people suffering with mental health issues.
This will not only give people a free kind of counselling — a godsend for those who feel they have no one to talk to — but will also encourage the entire population to take care of their mental health. It's clearly needed as Mental health charity Mind found that 14 percent of people had resigned due to workplace stress and 30 percent felt they were unable to talk to their boss about their issues.
Transforming mental health from a taboo into a normal topic of conversation is possible. But, as with anything in this world, it takes commitment and a whole lot of convincing.