Oreo Cookie Spread Exists & Here's How To Get It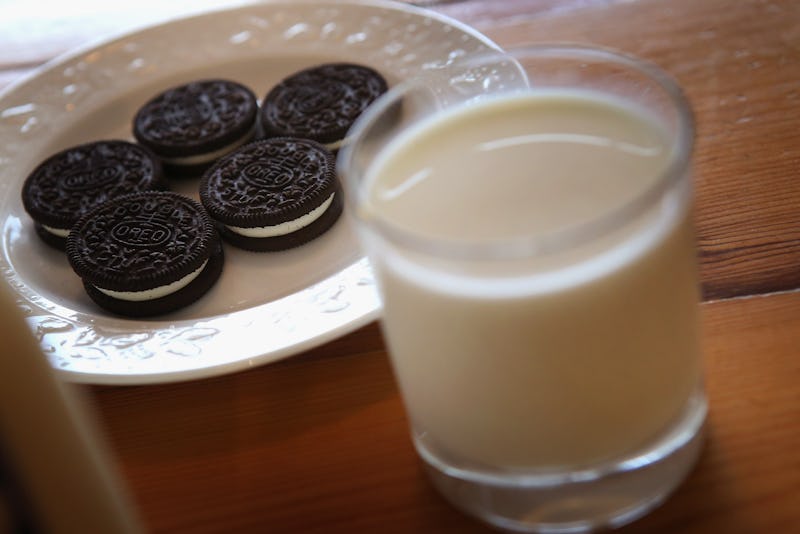 Scott Olson/Getty Images News/Getty Images
Instagram's favorite pastry chef has done it again. Not content with inventing the iconic Cronut and watching most, if not all, of his subsequent creations go viral, Dominique Ansel has created a gourmet Oreo cookie spread just a few years after trying one for the first time in 2014. Back then, the cookies inspired him to create a milk-and-cookie shot that went on to be one of his most famous recipes so far, but apparently, he wasn't done with the Oreo yet.
According to Eater, Ansel has partnered with the Nabisco corporation as a promotion for the #MyOreoCreation contest, which allows fans to submit their ideas for the next Oreo flavor. Given that he's a world-renowned pastry chef, Ansel's creation is probably a little fancier than most of the entries in the competition, but it's not as pricey as you might expect. In fact, it doesn't have a price at all. On Jun. 10 and Jun. 11, the Dominique Ansel Bakery in Soho will be giving out the cookie spread for free until it runs out. I repeat: This weekend, you can get what amounts to luxury Oreo cookie butter for free. Go ahead and cancel all your Saturday morning plans; I'll wait.
The spread combines milk-flavored ganache and a dark chocolate ganache containing chocolate cookies. To evoke an Oreo, the milk ganache is sandwiched between two layers of the chocolate flavor, and it all comes packaged in an ever-so-Instagrammable jar emblazoned with the name of the contest (naturally). A representative for the bakery told Teen Vogue that the spread is best enjoyed on crepes or fruit, although if you're really getting into the theme, you can eat it with a cookie.
Ansel hasn't shied away from brand partnerships. In 2014, he gave out free Cronut holes filled with Nutella in honor of their 50th anniversary, and before that, he collaborated with Belgian chocolate company Neuhaus. (He also trademarked the Cronut soon after it hit the market in 2013 — not that it stopped others from trying their hand at croissant-doughnut hybrids.)
If the Oreo spread is as popular as any of Ansel's other creations, Oreo-loving New Yorkers may want to plan to get to the bakery early to get their hands on a jar before they run out. Bonne chance!