Domino's Entire Pizza Menu Is 50 Percent Off This Week — Here's How To Get It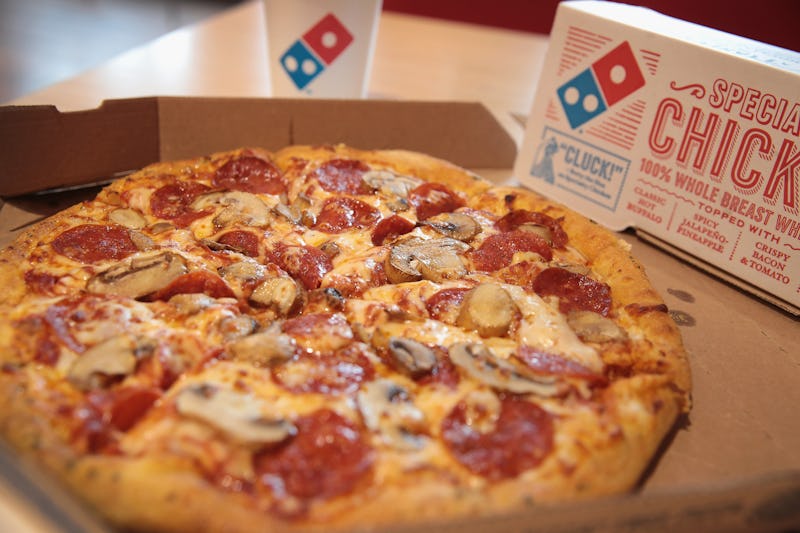 Scott Olson/Getty Images News/Getty Images
Chances are you're sick of hearing about Black Friday and Cyber Monday sales at this point, especially if you've been bombarded with emails about discount codes. But, if you like pizza and you like paying less money than you normally would for pizza, then you might find a place in your wallet and stomach for this one. Domino's is offering 50 percent off all pizzas this week. Yes, it's for Cyber Monday, but you can try to ignore that part and just accept your half-off meal.
The 50 percent off sale applies to all menu priced pizzas (so, not in addition to other deals) and runs from Monday, November 26 to Sunday, December 2. Also, the "cyber" part of this is that the sale doesn't apply to pizzas ordered in-store. To get half-off, orders can be placed for delivery or pickup via the Domino's site, through their app, or through Domino's AnyWare using Facebook Messenger, Slack, Alexa, or Google Home.
Domino's spokesperson Jenny Fouracre said in a press release, "Cyber Monday is a huge day for online shoppers, and now it's a huge day for pizza lovers as well. The online deals don't stop at the retail level — now hungry shoppers can get a great deal on their pizza too."
The chain also has other offers available at the moment, though they can't be combined with the 50 percent off sale. There's the Mix & Match deal where, if you order two or more items — including medium two-topping pizzas, salads, chicken dishes, pastas, and more — each item cost $5.99 each. There's also a Weeklong Carryout Deal where large three-topping pizzas and medium three-topping pan pizzas are $7.99 each. For this deal you have to order online and pick up in-store.
While there aren't a lot of restaurant deals for Cyber Monday (the point of the day is it being an online thing, after all), there are some more food-related sales out there. Meal delivery service Hello Fresh has a Thanksgiving sale that's still going on in which customers can get $20 off their first four boxes. Thrillist also has a list of Cyber Monday food deals. For instance, the site reports that Moe's Southwest Grill is offering a free adult meal with the purchase of a kid's meal from November 26 to the 30th, if you have the app, and Mrs. Fields is offering 25 percent off everything online with the code "CYBER".
And if you're looking to cook for yourself, you're in luck. There are plenty of cooking-related items on sale across the world wide web. Epicurious has a huge list, including sales on kitchen and home products from Bed Bath & Beyond, Food52, and Nordstrom. Is it time to finally get that KitchenAid mixer? Do you want to buy someone an espresso machine? Now might be the time.
And, when you're done doing your Christmas shopping (and shopping for yourself), Domino's is there for you with half-off pizza. See what they did there?