This App Will Auto-Deliver Domino's If You Leave Your Fridge Open For Too Long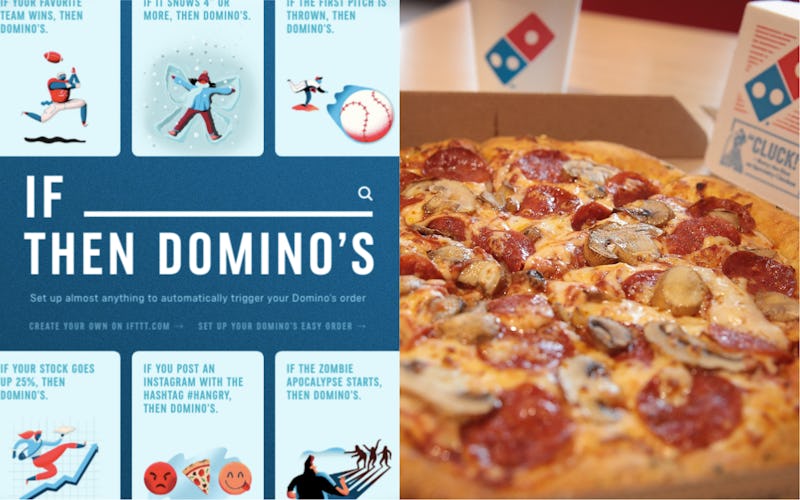 Scott Olson/Getty Images News/Getty Images; IFTT
Being able to order food online is one of the greatest conveniences of modern life. Instead of cooking or going to a store or picking up the phone (the horror!), you can log on to an app or open a webpage and choose exactly what you want to have delivered to your door. And now, Domino's is trying to make things even more convenient — or at least more fun. IFTTT and Domino's teamed up for If This, Then Domino's, which will allow Domino's fans to get their pizza with the push of a button whenever a certain event happens.
Want a pizza delivered when your favorite sports team plays a game on a Monday night? How about when you work past 9 p.m.? Or maybe when your power goes out? Domino's new partnership can make all of these — and plenty more — a reality.
IFTTT stands for If This, Then That. It's an online service that allows users to link their phone's apps together to do different actions. For instance, if you post a photo on Instagram, you can set it up so that your phone then posts the same photo to Twitter without it being a link. You can also get songs you like on YouTube to automatically become a Spotify playlist, or get your lights at home to turn on when you leave work. (Given that you have smart home lights that are connected to your phone. Those of us who don't still have to turn on the lights the old fashioned way.)
Domino's IFTTT pairing means that Domino's lovers can get a pizza delivered when an event of their choosing occurs. So, say you choose that you want Domino's if a bill gets passed in Congress (this is a real suggestion from Domino's). If that happens, then you'll receive a text asking if you want your Domino's Easy Order, you just reply yes or no, and pizza is on it's way! Or not! Domino's lists a bunch of possible alerts on its site, but users can also add their own through IFTTT. To use the service, anyone signing up will need an IFTTT account or can log in through Google or Facebook.
For those not familiar, Easy Order is a way for frequent Domino's costumers to order pizza in one step using Domino's AnyWare. You register a profile with your favorite order (thus, your Easy Order) on the Domino's site, and are then able to order pizza with the push of a button — and the choice of that button is yours, too, since Domino's AnyWare works with numerous apps and devices. You can even tweet a pizza emoji to @Dominos.
Since this whole Domino's AnyWare thing already existed, the partnership with IFTTT is mostly just adding some more fun to the equation and also reminding people that they might want pizza, even if they aren't already thinking about it. (Cha-ching!) For example, if someone sets up an alert for "if it's raining, then Domino's", they might be tempted to say "yes" when that text comes through about getting pizza, even if they weren't consciously planning on having any. It could be fun, though, to choose one of the alerts that is a less common occurrence, like "if an astronaut goes into space, then Domino's". Seems like a good enough reason to have surprise pizza.