Domino's Unveiled A Pizza-Shaped Engagement Ring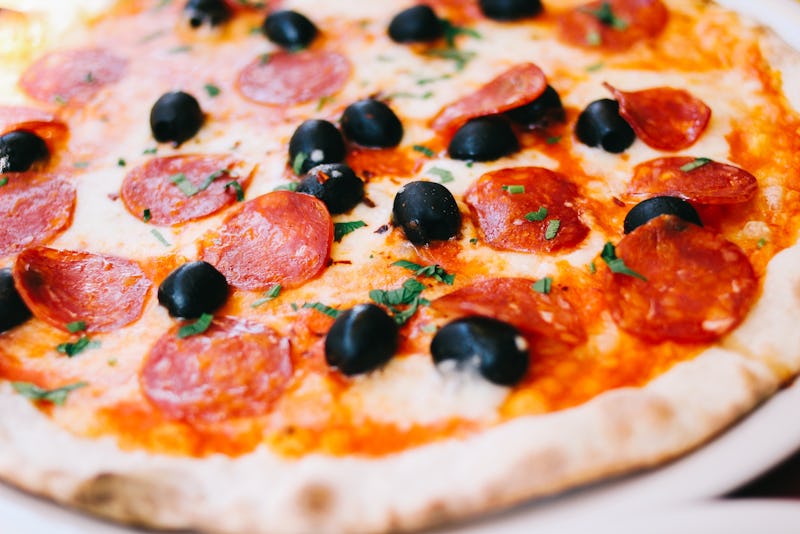 carissagan/Unsplash
If there's one thing you love more than anything in the world, it's pizza, right? Umm, duh! Well, clearly, Domino's just gets it, because they offered the chance for you to display your affection of a giant slice and oh, yeah, your SO, at the same time. Domino's gave away a pizza-shaped engagement ring in honor of Valentine's Day. So, yeah, whoever walks away with this little number on their finger is definitely winning at life.
According to Domino's UK Facebook account, UK residents were allowed to enter to win a 22-carart pizza-shaped engagement ring on Feb. 13. The time to enter may have lapsed, but this is still able to provide tons of out-of-the-pizza-box (haha get it?!) ideas for rings. So, before your lover pops the question — make sure they've considered all of their options as far as food-ring mash-ups are concerned. Taco diamond ring, anyone? Honestly, seems like a pretty good idea to me!
The piece of jewelry featured a single slice of pizza made out of gold complete with little diamond "pepperoni." How awesome does that sound? According to the terms and conditions of the contest, the lucky winner will be announced after 10 p.m. on Feb. 13, so, could you be the lucky person to receive a pizza-shaped diamond after your love pops the question? Only time will tell! But, if you are the one who receives this incredibly unique ring, all I can say is wear it and wear it well, you know, just for the rest of the pizza lovers out there!
There are no words.
What an incredible way to pop the question!
Because, yes. Love is like pizza. Hot 'n ready, saucy, spicy. Not to mention, it's the longest committed relationship most of us have ever known.
Nothing says "love" quite like this.
Can an affair of this kind ever really go too far, though?
Me, do you take you to live happily ever after? I do!
This is drool-worthy for sure.
Would you say "I dough" to this proposal? I know I certainly would!
Here's to the happy couple, whomever you may be. May you two and pizza live together in perfect harmony!