Donald Glover Response To Lando Being Pansexual In 'Solo' Will Make You Applaud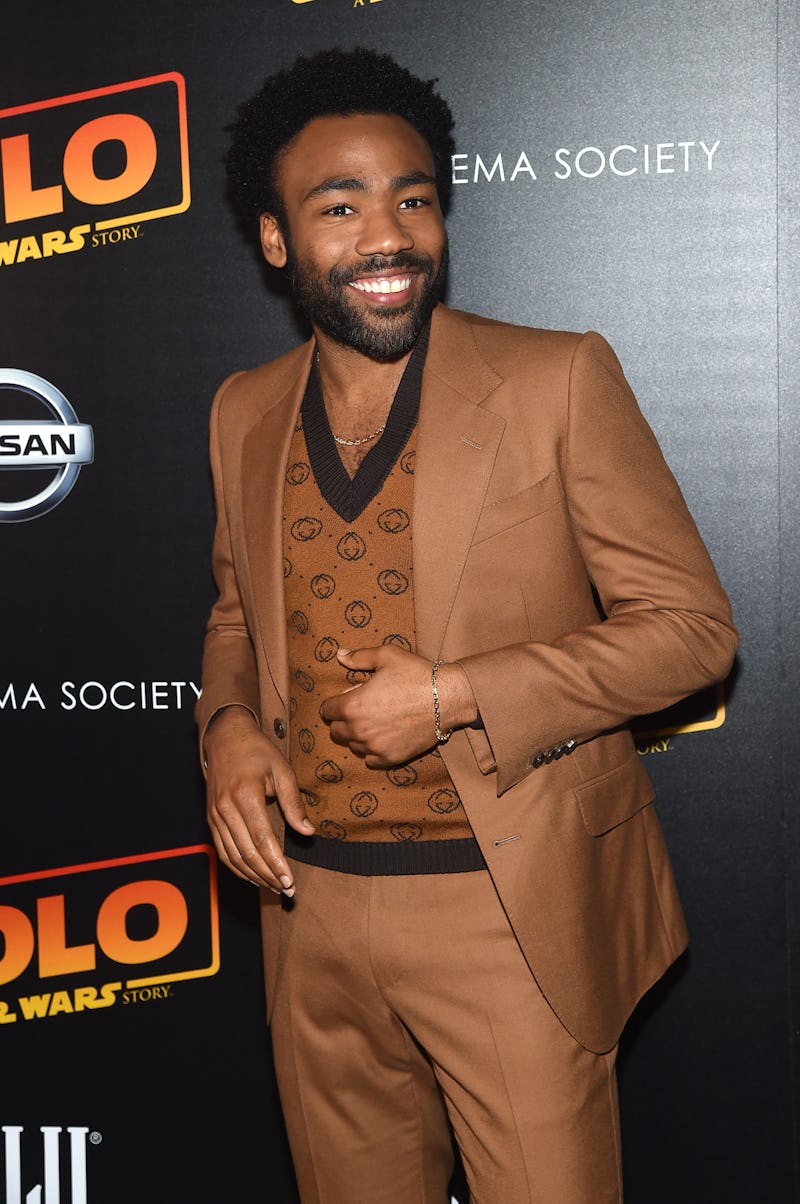 Jamie McCarthy/Getty Images Entertainment/Getty Images
Eager Star Wars enthusiasts are anxiously awaiting the arrival of the franchise's newest installment, Solo: A Star Wars Story, which hits theaters this Friday, May 25. With its debut just days away, the buzz has kicked up about those elements of the film that fans are particularly excited (or particularly apprehensive) to see. Last week, one of those elements concerned the sexuality of Lando Calrissian, who screenwriters say is pansexual. Well, Donald Glover commented on his Solo character's pansexuality, per a Tuesday morning, May 22, appearance on SiriusXM's Entertainment Weekly Radio program. And, suffice to say, the famously sharp-witted star responded in the perfect way.
Alongside Solo cast mates Emilia Clarke, Alden Ehrenreich, and Paul Bettany, Glover sat down with EW to share some thoughts on Solo ahead of its upcoming release. In light of last week's news regarding Lando's pansexuality, the host asked Glover if he was aware of his character's sexual orientation when he was preparing for the role. And, while his fellow Solo crew seemed pretty obviously surprised at the mention of Lando's sexuality, Glover was totally unfazed. "How can you not be pansexual in space?" he said. "There are so many things to have sex with."
According to GLAAD, being pansexual means "being attracted to all gender identities, or attracted to people regardless of gender." Understandably, that definition probably takes on at least a slightly different meaning within the context of Solo's other-worldly intergalactic premise. But, for anyone feeling bewildered as to what pansexuality might have looked like "a long, long time ago in a galaxy far, far away," it's probably worth giving the rest of Glover's Tuesday comments a read. Because, as he told EW, when he found out about Lando's pansexuality himself, Glover didn't need to think too hard about it.
"I didn't think that was that weird," he said, adding, "Yeah, he's coming on to everybody. I mean, yeah, whatever." Elaborating on the lack of weirdness he felt upon learning of Lando's pansexuality, Glover segued into perhaps the most fitting rationale possible, given the Star Wars-themed circumstances:
"It just didn't seem that weird to me 'cause I feel like if you're in space it's kind of like, the door is open! It's like, no "only guys or girls." No, it's anything. This thing is literally a blob. Are you a man or a woman? Like, who cares? Have good time out here."
For those who've yet to study up on the context surrounding Solo, here's the gist: The film centers on the origin story of its title character, Han Solo, whose original iteration (portrayed, quite iconically, by Harrison Ford) earned him the unofficial distinction of everyone's favorite scrappy outer-space pilot. Lando, the famously flirtatious gambler (played by Billy Dee Williams) who cropped up several times throughout the original Star Wars trilogy and was first introduced as an "old friend" of Han's, sees some pretty serious screen time in Solo. Seasoned fans finally get the pair's friendship origin story, which unfurls during an inordinately long journey aboard — you guessed it — the Millennium Falcon.
But despite last week's "reveal," in which Solo screenwriter Jonathan Kasden told the Huffington Post that Lando is indeed pansexual, it doesn't sound like that particular aspect of his character sees a whole lot of on-screen action. Still, responding to a straightforward inquiry from HuffPost asking, "Is Lando pansexual?" Kasden said,
"I would say yes. There's a fluidity to Donald and Billy Dee Williams' [portrayal of Lando's] sexuality. I mean, I would have loved to have gotten a more explicitly LGBT character into this movie. I think it's time, certainly, for that, and I love the fluidity ― sort of the spectrum of sexuality that Donald appeals to and that droids are a part of."
Some fans are weary of Kasden's remarks on Lando's pansexuality, but, at least they can rest assured knowing that Glover seems to have done his due diligence in thinking through the ramifications of that particular aspect of his character's identity.