Donald Glover Improvised The Dialogue In This Famous 'Girls' Scene, According To Lena Dunham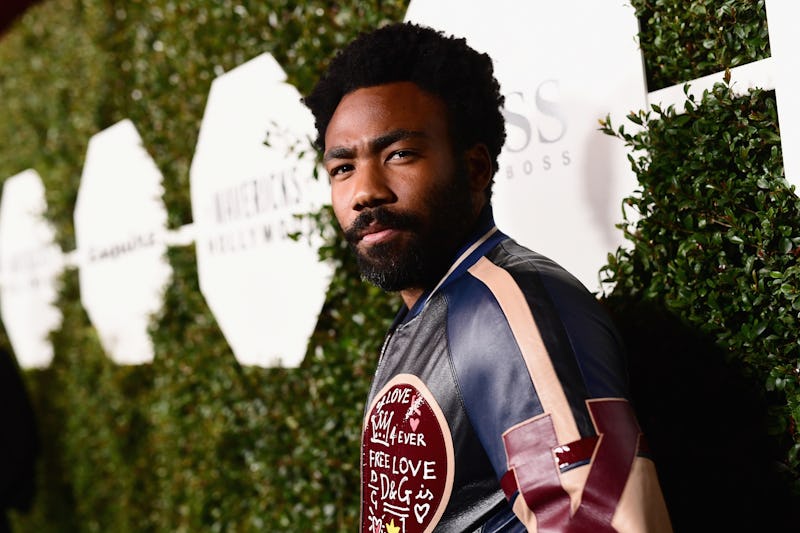 Emma McIntyre/Getty Images Entertainment/Getty Images
Right around the middle of his prime-time television career — post-Community, pre-Atlanta — Donald Glover improvised a dramatic moment on Girls, according to show creator Lena Dunham, who was interviewed in a Feb. 26 New Yorker profile on Glover. The moment in a 2013 episode is a one-two punch that put Hannah Horvath (Lena Dunham) squarely back into her (very privileged) place.
In Season 2 of Girls, Glover played Sandy, a black Republican that Horvath casually dates. Their eventual break-up scene was pretty intense, and according to Dunham in The New Yorker, Glover was the sole architect of his characters' biting dialogue. When Hannah breaks up with Sandy —  because, according to Horvath, "I think our political beliefs are just too different," — Sandy lays into Horvath's white privilege.
"I knew this. This always happens," Sandy says. "'Oh, I'm a white girl and I moved to New York and I'm having a great time and oh, I've got a fixed gear bike and I'm going to date a black guy, and we're going to go to a dangerous part of town' ... I know this. I've seen it happen a million times. Then they can't deal with who I am."
Dunham spoke to writer Tad Friend for a recent profile of Glover in The New Yorker, and told Friend that Glover improvised that particular piece of dialogue. "Every massive insult of white women was one hundred per cent him," Dunham said.
The Girls creator continued, "I e-mailed him later to say 'I hope you feel the part on Girls didn't tokenize you,' and his response was really Donald-y and enigmatic: 'Let's not think back on mistakes we made in the past, let's just focus on what lies in front of us.'"
Dunhams concern about "tokenizing" Glover's character was likely in response to criticisms the show had faced for a lack of diversity back in the show's first few seasons. According to a 2013 interview with Vulture, however, Dunham claimed that Glover was cast before the criticisms arose. "We cast Donald [Glover] because of a love of his work," she said. "But having such a conscientious person with so many particular opinions on the topic, it seemed only correct that we should play around together on that."
This wasn't the first time in Glover's television career, however, that he'd been trusted to carry a scene with his own dialogue. According to Community creator Dan Harmon, "By the end of Season 2, I literally was writing scenes that ended 'and then Donald says something to button the scene.' I'm a pretty narcissistic guy," Harmon told The New Yorker, "so for me to do that I had to know that, one, he was more talented than I was and, two, he was a better person than I was, that he wouldn't misuse his power over me."
As the head writer (and creator, sometimes-director, and star) of his award-winning FX series, Atlanta, Glover continues to make the decisions about dialogue. Of course, he has a dedicated team to help him out — "a young, untried, all-black writing staff, most of them members of Royalty, a crew of men in Glover's circle who modeled themselves on the Kennedy clan," according to The New Yorker — but Glover's career actually began behind the camera.
Glover was just 23 when he scored his first job as a writer for 30 Rock in 2006, but even back then he did things his own way. Tina Fey told The New Yorker that, instead of pitching ideas "the way you'd expect" for Tracy Morgan's character, Tracy Jordan, he pitched ideas for Kenneth — the goofy, naive NBC page from Stone Mountain, Georgia, which is where Glover himself hails from.
"I did have more in common with Kenneth than with Tracy at that point," Glover said to the New Yorker. "I was a wide-eyed kid, eager to please." Glover continued writing on 30 Rock for the next three years, after which — six days after, to be exact — he was cast as Troy on NBC's Community. Since then, it seems as if everything Glover touches turns to gold .
When asked if there was anyone in particular he looked up to, Glover told The New Yorker: "I don't see anyone out there who's better." Seeing as how he continues to be successful, Glover just might not be wrong.