Trump Finally Spoke Up About All The Suspicious Packages Targeting Top Democrats & CNN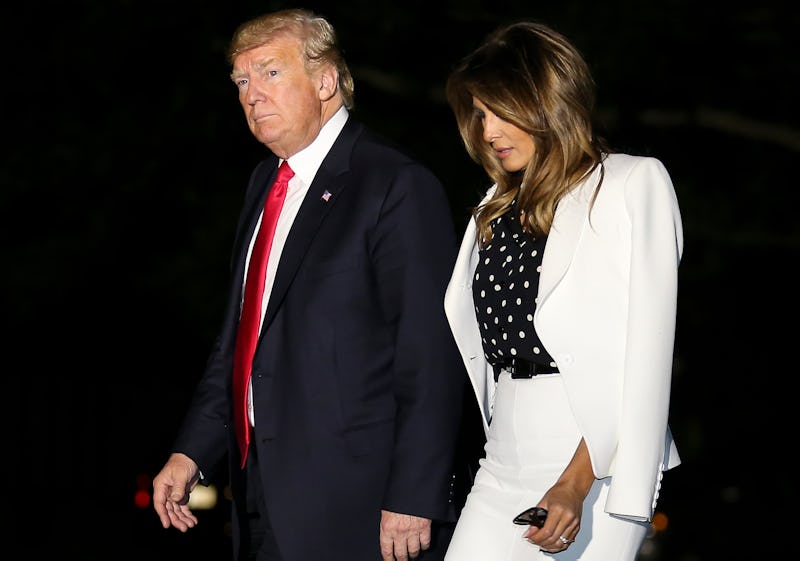 Pool/Getty Images News/Getty Images
On Wednesday, high-profile Democrats and news organizations were sent pipe bombs and other suspicious packages in the mail, according to the New York Times. No injuries have been reported so far, and in separate remarks later in the day, Donald and Melania Trump both condemned the suspicious packages and bombs that top Democrats and media organizations received.
"We cannot tolerate those cowardly attacks and I strongly condemn all who choose violence," Melania said at a White House event. In her remarks, she named Barack Obama and Hillary Clinton as two of the officials who received the bombs; packages were also sent to Democratic megadonor George Soros and the headquarters of CNN.
At a speech otherwise focused on the opioid crisis, Donald called the mailings "despicable" and said that a federal investigation into them is under way.
"The full weight of our government is being deployed to conduct this investigation and bring those responsible for these despicable acts to justice," the president said. "We will spare no resources or expense in this effort. In these times, we have to unify. We have to come together, and send one clear, strong unmistakable message that acts or threats of political violence of any kind have no place in the United States of America."
According to various reports, suspicious packages were sent to Hillary and Bill Clinton's home in Chappaqua, New York; Barack and Michelle Obama's home in Washington D.C.; the home state offices of New York Gov. Andrew Cuomo and Florida Rep. Debbie Wasserman Schultz, respectively; Rep. Maxine Waters; former Attorney General Eric Holder; CNN's New York bureau, with former CIA director and MSNBC contributor John Brennan listed as the recipient; the offices of the San Diego Tribune; and Soros' home in Bedford, New York.
Not all of the packages were explosives. According to the Associated Press, actual pipe bombs were sent to the Clintons, the Obamas, CNN, and Soros. However, the package received by Cuomo was later determined to be harmless and unrelated to the bombs, the New York Daily News reports, while the parcels sent to the Tribune's office were found to contain innocuous, everyday items.
FBI technicians are currently testing the package that Schultz received; CBS Miami reports that it was originally addressed to Holder, but included the wrong address and was redirected to its return address instead — which was that of Schultz's offices. According to the Miami Herald, Schultz's office was also listed as the return address on the package sent to Soros. The package intended for Waters was intercepted at a congressional mail sorting facility in Maryland, and it is also still under investigation.
John Miller, the New York Police Department's head of intelligence and counterterrorism, told reporters that all three of the confirmed explosives appear to have been sent by the same person or persons.
As of this writing, no suspicious packages were sent to Republican officials or former officials. On Twitter, pro-Trump pundits immediately rejected the possibility that the bombs were sent by conservatives, and several insisted that the packages were sent by progressives as a "false flag" operation intended to make Republicans look bad. There is no evidence that this is the case.