This New Report Sheds Some Light On Trump & Melania's Relationship In The White House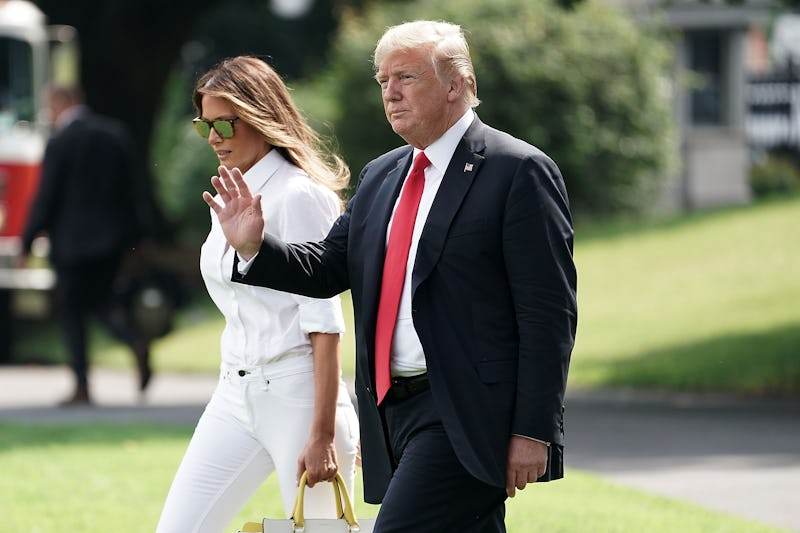 Alex Wong/Getty Images News/Getty Images
To most outside observers, Donald and Melania Trump's relationship dynamic has long been a source of fascination and mystery. Many people have wondered: Has Donald's ascension to the presidency, and their subsequent move to Washington D.C., fundamentally changed the way the couple relates to one another? Maybe not: According to a new report in the New York Times, the nature of Trumps' relationship hasn't really changed very much since they moved into the White House a year and a half ago.
Melania has always kept a much lower profile than most of her predecessors. She didn't move into the White House until five months into her husband's presidency, and at one point didn't appear in public for almost a month. According to the Washington Post, Melania has a staff of only 10 — a sparse team in comparison to the 25-person staffs that Michelle Obama and Laura Bush had. Furthermore, her signature policy initiative, the Be Best campaign, has only held three public events since she launched it in May. And although she's supported her husband's political career since day one, Melania has also occasionally broken with Donald on high-profile policy issues, which is rather unusual for first ladies.
Nevertheless, the Times reports that Donald and Melania's relationship is largely the same as it was before they became the nation's first couple. One friend told the Times that Melania married Donald with "her eyes open" when they tied the knot 13 years ago, and that she's endured his many controversies and scandals mainly for the benefit of Barron, their 12-year-old son.
A former White House official told the Times that while Donald and Melania appear to like one another, the rapport they share "is not particularly warm." Another source told the paper that Melania seems much more relaxed when she isn't in Donald's presence, and multiple news organizations have reported that the couple sleeps in different beds.
A similar picture of the couple's relationship emerged in a Washington Post profile in May. The Post reported that Melania and Donald don't spend very much time together even when they're on vacation, and that they often eat separately in the White House. Stephanie Grisham, Melania's communications director, disputed this, telling the Post that "aside from the president's solo trips, the family spends most evenings together."
Others say that the couple is closer than they appear. Stephanie Winston Wolkoff, a longtime friend of Melania's, told the Post that the first lady "is a dignified, private person, and she'll deal with her personal life in private and it's no one's business."
"They are not that couple that holds hands just because," Walkoff added. "She is old-world European and it's not who she is."
Tom Barrack, a real estate investor and longtime friend of Donald's, told the Times that the couple is closer than they appear, and that Melania is in fact one of the president's closest advisers.
"He listens to her more intently than anyone and respects her advice and counsel not only because she is his wife, but because her loyalty, grace, trust, elegance under fire, intellect and instincts are time tested and proven," Barrack told the Times.
In her comments to the Post in May, Grisham said that Melania, by carving out a profile for herself separate from the president, "is staying true to the independent woman that she is by doing things her own way."
"This should be celebrated, not criticized," Grisham said. "Her priorities remain her family, her personal health and her role as first lady."