Here's Your Chance To Score The Cake That's Apparently From Trump & Melania's Wedding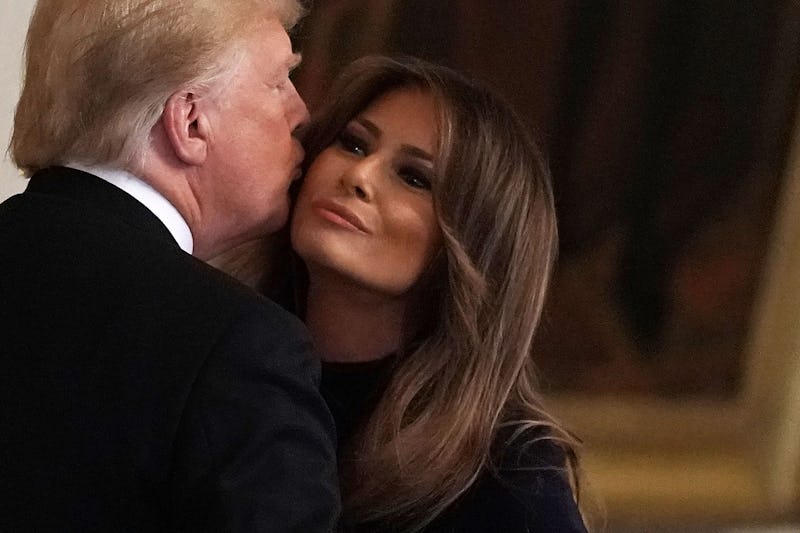 Alex Wong/Getty Images News/Getty Images
Some people might say it's one of the stranger things to go on the auction block. A souvenir cake from Donald and Melania Trump's 2005 wedding reception is up on the RR Auction website, according to Us Weekly on Monday. If the ideal bidder comes along, the chocolate cake could sell for as high as $1,500.
The RR Auction website described the cake as a "sought-after souvenir" from the first couple's wedding that took place in January 2005. The item is apparently three inches tall and has received only four bids so far. Bustle has reached out to the White House for comment on whether the first couple authorized or approved the auction, and will update accordingly.
Apparently, the 14-year-old chocolate cake souvenir is a smaller version of Trump and Melania's actual wedding cake, which was a seven-tier behemoth that reportedly cost a whopping $50,000 and weighed some 200 pounds, according to The Hill. The publication also reported that some people at the wedding weren't able to eat the cake as it "contained too much wire for guests to consume."
This won't be the first time that the president's memorabilia ended up for auction. In 2017, Julien's Auctions put up another souvenir chocolate truffle cake from Trump's wedding on its website, and the winning bid came in at $2,240, according to the page.
Considering that this cake would be well over a decade old, there might be some concern about the condition it's in. Trump and Melania's souvenir cake, which is a "chocolate truffle cake with single sugar-spun buttercream rose and gold flakes" according to the RR Auction website, may not be fit for consumption today; visually, however, it seems rather intact, according to the photo on the website. RR Auction noted that the cake comes in an "off-white paper box" carrying "MDT" in gold letters.
According to the RR Auction website, it was originally inspired by the first couple's seven-tier cake at the wedding. That massive dessert piece was a yellow sponge cake, which was "flavored with orange zest, filled with butter cream, soaked in Grand Marnier, and adorned with 2,000 individually constructed sugar-spun flowers," per RR Auction.
The website added that "the centerpiece cake was not served to guests due to the intricate wire infrastructure."
For those interested in owning the souvenir wedding cake, RR Auction would require you to log in to the domain and make a bid. Not many seem to be vying for the item at the moment, though. The current bid, as of Monday evening, stands at at $267, which is not that much more than the minimum bid of $200. But things could change, as is evident from the winning bid over at Julien's Auctions from 2017.
Back in 2005, this souvenir cake was presented to some big names from politics, modeling, entertainment, and sports who were at the Trumps' wedding. People like Shaquille O'Neal, Heidi Klum, then-New York Sen. Hillary Clinton (before she and Trump ran against each other in the 2016 presidential election), and others attended the glamorous affair.
Considering Trump's political rise all these years later, some people just might look at this cake as more of a piece of history than simply a sweet treat.