Trump Claims "The Press" Isn't Reporting Terrorism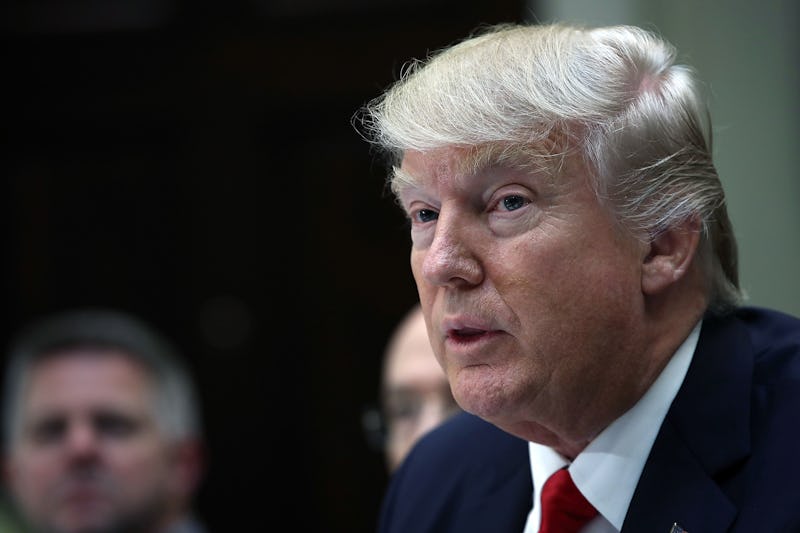 Win McNamee/Getty Images News/Getty Images
In a Feb. 6 speech at Central Command Headquarters (CENTCOM) in Tampa, President Donald Trump claimed that "the very, very dishonest press" is not reporting on "radical Islamic terrorists." His first time speaking to military troops as Commander in Chief, Trump discussed terrorist attacks, saying, "All over Europe it's happening. It's gotten to a point where it's not even being reported."
The examples he cited when first talking about terrorism incidents — the September 11 attacks, the Boston Marathon bombing, the Pulse nightclub shooting, the San Bernadino shooting, the Île-de-France attacks, and the Nice Bastille Day attack — have all been extensively reported on by news outlets across the globe.
Trump went on to imply that the press has nefarious motives, adding, "And in many cases, the very, very dishonest press doesn't want to report it. They have their reasons and you understand that."
Besides using the speech as another opportunity to speak out against "the press," Trump spoke to the gathered military leaders about "unfair" NATO alliances, increasing investment in the armed forces, and ISIS. The entirety of his speech was broadcast live on CNN, an outlet Trump has decried as "fake news." Several journalists called Trump out on his unsubstantiated claim that the media does not want to cover terrorist attacks.
Trump's remarks at CENTCOM continue his and his team's ongoing unsubstantiated criticisms of American news outlets. They come on the heels of Kellyanne Conway's accusation on Feb. 2 that the nonexistent Bowling Green massacre "didn't get covered." And who can forget press secretary Sean Spicer's first White House press conference on Jan. 23, where he lied about the size of the crowds at Trump's inauguration? But the president's insinuation that news outlets and journalists would cover up terrorist attacks in his first address to the military signals that his fight against "the press" has reached a new level.
Despite Trump's serious accusation, it's important to keep in mind that major news outlets like the New York Times do not cover every single "terrorist" attack that happens, as FiveThirtyEight reported on in July 2016 — as the definition of "terrorism" often varies, especially considering countries that see terrorist attacks daily. But considering Trump didn't offer those lesser covered and uncovered attacks as evidence, we can't assume he knows of any.
During his speech at CENTCOM, Trump appeared to be reading from prepared remarks but seemed to have gone off-script several times, his claims about news media being one of those times. Another, where Trump said, "We need strong programs so that people that love us and want to love our country and will end up loving our country are allowed in. Not people that want to destroy us and destroy our country," drew applause from the audience.