Donald Trump Calls Bill O'Reilly "A Good Person"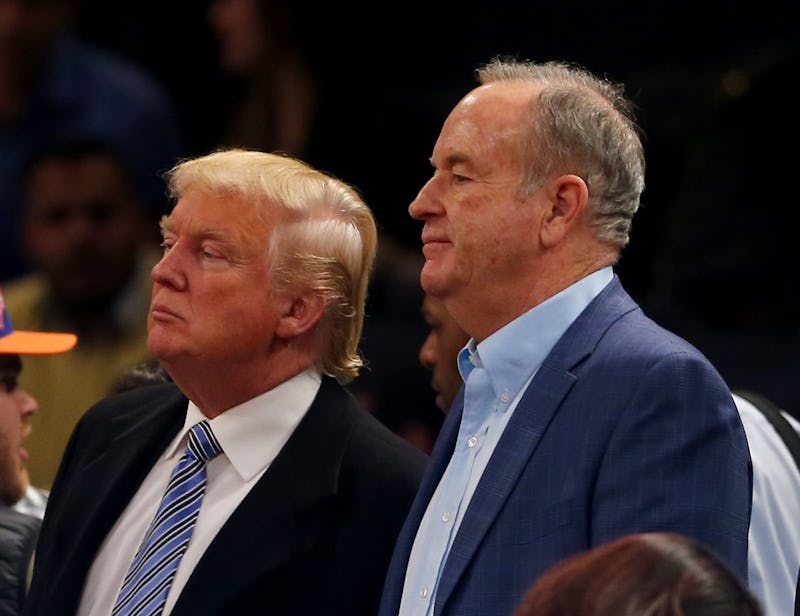 Elsa/Getty Images Sport/Getty Images
During an interview with the New York Times on April 5, President Donald Trump spoke out on Bill O'Reilly, saying, "He is a good person." Recent reports reveal the conservative talk show host has been accused of sexual harassment multiple times. 21st Century Fox said in a statement that O'Reilly denied "the merits of the claims;" reports indicate that five women received settlements from O'Reilly and Fox News. Trump went on to voice his opinion that O'Reilly should not have settled the lawsuits, supporting his innocence, because O'Reilly "should have taken it all the way."
Trump has been a guest on The O'Reilly Factor multiple times, most recently in February. The two have had a vacillating friendship over the years but always seem to remain cordial with one another. Trump's support for O'Reilly echoes statements he made supporting Roger Ailes in 2016: "It's very sad. Because he's a very good person. I've always found him to be just a very, very good person. And by the way, a very, very talented person. Look what he's done. So I feel very badly." At that time the television executive had resigned as CEO of Fox News after anchor Gretchen Carlson sued him for sexual harassment. Ailes released a statement about the lawsuit via his lawyer, calling the allegations "false." Fox and Carlson later settled the lawsuit.
As several people have taken to social media to point out, Trump's support for O'Reilly comes less than a week after he proclaimed April Sexual Assault Awareness and Prevention Month, a tradition Barack Obama started in 2009. During the lead up to the 2016 election, several sexual assault allegations against Trump surfaced, though he has denied them all.
Since a New York Times article about the sexual harassment allegations against O'Reilly was published on April 1, The O'Reilly Factor has lost a number of advertisers including BMW, Mitsubishi, and Allstate. That same article reported that O'Reilly's show brought in $446 million in advertising revenue from 2014 through 2016. Fox News' Executive Vice President of Advertising Sales Paul Rittenberg told CNBC, "At this time, the ad buys of those clients have been re-expressed into other FNC programs." A March Fox News press release reports that the O'Reilly Factor enjoyed its highest-rated quarter since first coming on the air in 1996. Additionally, it had the highest quarterly viewership of any cable news show ever.
So, though Trump is supportive of O'Reilly, he's surely far from the only one. O'Reilly Factor viewership and ratings will end up being the national thermometer when it comes to O'Reilly. Until then, all eyes are on what Fox News does or does not do in response to the media firestorm.