The Resolution Of Inquiry On Trump Is A Big Deal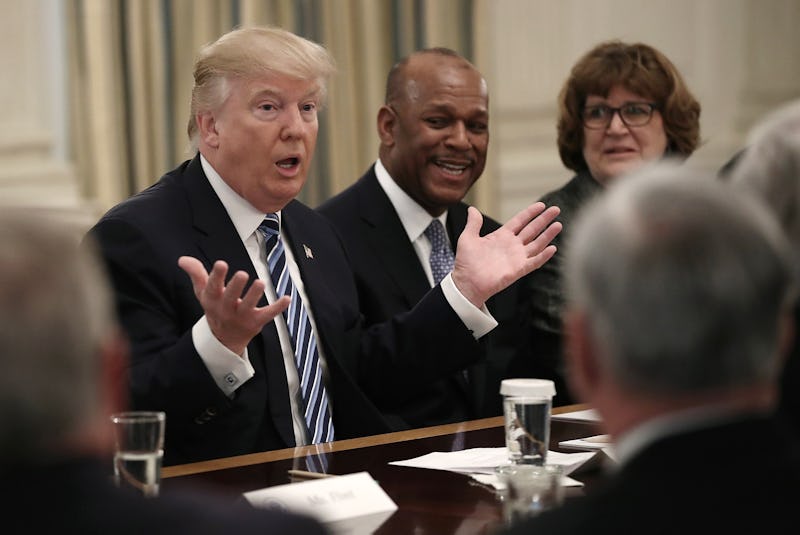 Win McNamee/Getty Images News/Getty Images
President Donald Trump has often been scrutinized for his many possible conflicts of interest — including his recent criticism of Nordstrom via tweet for dropping his daughter Ivanka's clothing line (the company claims the decision was not political but rather due to sales numbers). But now Trump is facing his first "resolution of inquiry" related to those potential conflicts of interest — and it could be the first to make it to the House floor since 1995.
Resolutions of inquiry are a method the U.S. House of Representatives uses to get information from the executive branch. They're frequently introduced, usually by the opposition party to the president, but they very rarely target the president as directly as this one does, the Washington Post reported.
The first resolution of inquiry of the 115th Congress was introduced by Democratic Rep. Jerrold Nadler of New York, a member of the House Judiciary Committee. Nadler's resolution directs the Department of Justice to provide House of Representatives "with any and all information relevant to an inquiry into President Trump and his associates' conflicts of interest, ethical violations—including the Emoluments Clause—and Russia ties." (The Emoluments Clause mostly has to do with limiting foreign influence — the president can't accept gifts, such as salaries or fees, from foreign governments or foreign nobility.)
Trump has claimed he doesn't have conflicts of interest, at least when related to Russia, despite his multiple business dealings within the country. "Russia has never tried to use leverage over me. I HAVE NOTHING TO DO WITH RUSSIA - NO DEALS, NO LOANS, NO NOTHING!" the president tweeted in January. But Nadler's resolution doesn't just target Trump's alleged ties to Russian President Vladimir Putin; it also looks into those of "any employee of the Executive Office of the President," including National Security Adviser Michael Flynn. (Flynn has put forth the viewpoint that the United States and Russia should work together to fight ISIS, CNN reported.)
"All of this demands investigation, and of course they've refused," Nadler said, according to the Washington Post. "This resolution will force them to confront the issue."
Two formal requests preceded the resolution of inquiry: one made to House Judiciary Chairman Bob Goodlatte in Nov. of 2016, and another on Jan. 24, according to Nadler's website. A letter was also reportedly sent to Speaker Paul Ryan.
The House Judiciary Committee has 14 legislative days to schedule a debate and vote on the resolution by the committee, also known as a Markup. If there is no Markup, the resolution becomes privileged and can be brought to the House floor to be voted upon.
We'll have to see what happens to Nadler's resolution; the congressman told the Washington Post it likely won't be the last from Democrats in the coming months.