Don Jr. Posted A Dog-Eating Meme To Attack Alexandria Ocasio-Cortez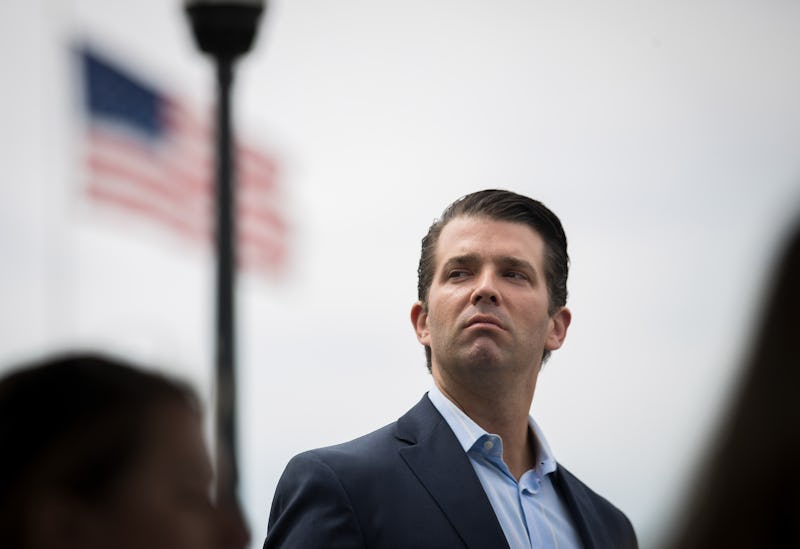 Drew Angerer/Getty Images News/Getty Images
Like father, like son: The president's son took to social media late Thursday to attack one of Congress' newest members. Donald Trump Jr. attacked Alexandria Ocasio-Cortez with a meme suggesting the self-proclaimed democratic socialist's policies would lead to Americans eating dogs.
Trump Jr. shared a meme to his official Instagram account Thursday that featured a photo of Rep.-elect Ocasio-Cortez, who has previously identified herself as a democratic socialist, appearing to ask, "Why are you so afraid of a socialist economy?" Below the photo of Ocasio-Cortez is one of President Donald Trump, appearing to answer, "Because Americans want to walk their dogs, not eat them."
"It's funny cuz it's true," Trump Jr. wrote in the post's caption, and tossed in a mix of laughing and American flag emojis for good measure.
While the meme touches on racist stereotypes, it is likely a reference to Venezuela, a socialist country that has, in the last few years, has been suffering an economic collapse. In 2016, a number of publications — including USA Today — reported that the mayor of Chacao's Caracas district said food shortages had led to people "hunting dogs and cats in the streets, and pigeons in the plazas to eat."
But while a number of conservatives argued that Venezuela's current crisis is proof that socialism doesn't work, others maintain that the country's problems stem more from corruption and mismanagement within the government.
Indeed, in an August opinion piece in The Washington Post, Francisco Toro argued that conservatives who bring up Venezuela are using the country "as a rhetorical club, a verbal firebomb you throw at the opposing ideological barricade." Toro claims conservatives bring up Venezuela as an example of socialism in an effort to "delegitimize vast sectors of the left."
Earlier this year, Ocasio-Cortez defeated 10-term incumbent Rep. Joe Crowley in an surprising upset during the Democratic primary. She then went on to defeat Republican Anthony Pappas in November, to become the representative-elect of New York's 14th Congressional District. She is the youngest woman ever elected to Congress and will be the youngest to serve when the 116th U.S. Congress convenes in January.
Earlier this year, she told NBC's Meet the Press that while her democratic socialist label was "a very important distinction," it wasn't "all" of who she is. "I'm not trying to impose an ideology on all several hundred members of Congress," she said. "But I do think that, once again, it's not about selling an '-ism,' or an ideology, or a label, or a color. This is about selling our values."
Ocasio-Cortez responded to Trump Jr.'s meme Friday, warning the president's son that she'd soon be part of a governing body with subpoena power.
"I have noticed that Junior here has a habit of posting nonsense about me whenever the Mueller investigation heats up," she tweeted. "Please, keep it coming Jr - it's definitely a 'very, very large brain' idea to troll a member of a body that will have subpoena power in a month. Have fun!"
The newly-elected member of Congress has apparently been keeping a list of those she says have "gone after" her since her election victory. According to the representative-elect, that list includes a former Republican vice presidential candidate, a sitting Republican U.S. senator, a former Republican governor, the U.S. senator that "killed the Public Option," and an "Entire Conservative Cable News Channel + YouTube universe."
"I'm not even sworn in yet," she tweeted Dec. 2 when sharing the list. "Don't y'all have jobs to do?"
Now, she can add the president's eldest son to the list.