Donald Trump Jr. Contradicts His Dad's Comey Claim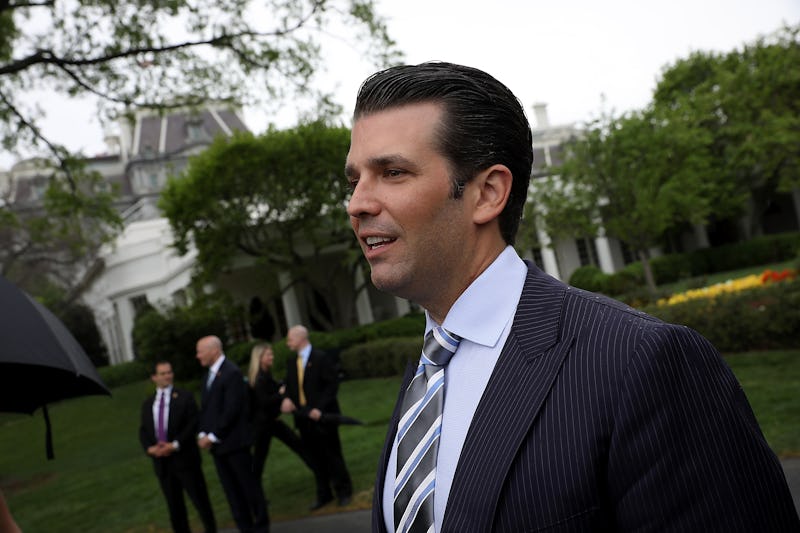 Win McNamee/Getty Images News/Getty Images
The White House and First Family are hard at work spinning the latest news out of James Comey's testimony before the Senate Intelligence Committee, which Donald Trump says both fully vindicates him of any wrongdoing and proves that Comey is a liar. That confusing logic may have caught up with one of Trump's sons during an interview this week, and could have some serious blowback for the president. It seems that Donald Trump Jr. contradicted his father's statements on Comey, implying that his father did in fact tell the former FBI director to drop the investigation into former national security advisor Michael Flynn.
"Everything that went on in the Comey testimony was basically ridiculous," Trump Jr. said during an appearance on Fox News' Justice with Judge Jeanine. "When [my father] tells you to do something, guess what, there's no ambiguity in it. There's no 'hey, I'm hoping.'"
"'Hey I hope this happens, but you gotta do your job,' that's what [my father] told Comey."
Trump Jr.'s statement is a little difficult to interpret, but he seems to be indicating that his father did in fact say to Comey that he hoped the FBI could ease up on the Flynn investigation, which was looking into his payments from the Russian and Turkish governments, and that statement should be interpreted a certain way.
POTUS had refuted that assertion during a Rose Garden press conference earlier this week, adamantly insisting that he did not ask Comey to drop the Flynn investigation. "I didn't say that," Trump said at the presser on Friday. "And there'd be nothing wrong if I did say it."
Trump's last statement, that there would have been nothing wrong if he had told Comey to drop the investigation, is the reason that none of this may matter in terms of the ongoing investigation. Even if tapes revealed that Trump did tell Comey he hoped he would drop the investigation, that's not necessarily enough to build a case for obstruction of justice, or any other criminal charge. The real takeaway from this clip is that the White House is having difficulty aligning its statements, so if there are any more bombshell secrets waiting to be found, the surrogates are a good place to start digging for them.
It's entirely possible that Trump Jr. misspoke and meant to say that his father never told Comey anything related to dropping the Flynn investigation, but in trying to support the Trump family's strongman image, Trump Jr. just made his dad seem like a liar. It's so difficult to know what to believe from this White House, but this clip indicates, at the very least, that there are serious communication problems within the upper strata of the Trump administration, and even within the First Family.