Donald Trump Jr. & Kimberly Guilfoyle's Relationship Is Apparently In Full Swing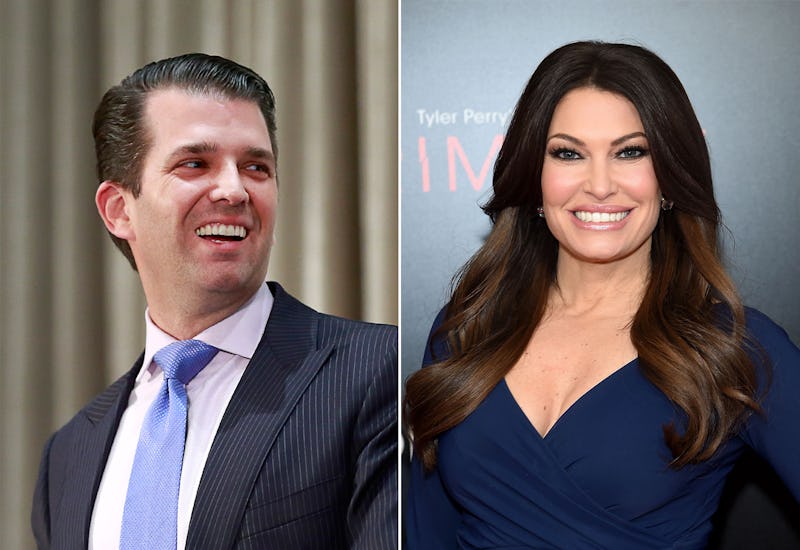 Jeff Vinnick/Getty Images News/Getty Images / Jamie McCarthy/Getty Images Entertainment/Getty Images
After news of Donald Trump Jr.'s divorce from his wife Vanessa Trump came out in mid-March, his love life has been the focus of much scrutiny. Now, according to a report from US Weekly, the relationship between Don Jr. and Kimberly Guilfoyle appears to be going strong.
"Donald stood up and kissed her on the lips when she arrived, and they hugged each other," a source who had reportedly seen the two together at a New York restaurant told US Weekly. "They were laughing all throughout lunch, and Donald and Kimberly took photos with two people who asked, they were very nice to everyone."
Another US Weekly source reported having seen the two together at Omar's, a private dining club in New York. "They were in the corner together. They were eating and drinking and with other people," the source told US Weekly.
Guilfoyle is a co-host on Fox News' The Five. Page Six reported in mid-May that at that point, Don Jr. and Guilfoyle had been dating for a couple of weeks already, meaning they've likely been seeing each other for at least a month or so. Bustle has reached out to both parties for comment on the reports of their relationship.
When Page Six first reported on their relationship in early May, their sources said that things were going well between the two despite the fact that Don Jr.'s divorce proceedings were still ongoing.
"Don Jr. and Kimberly are seeing each other, and are having a great time. While he wants to respect the privacy of his family, he is getting divorced, and he enjoys Kimberly's company," a source told Page Six.
At that point, Page Six was already reporting that the two had been seen together at multiple public events, including a party to honor President Trump's new ambassador to Germany, Richard Grenell.
In June, then, Page Six reported that the pair seemed to be getting even closer. "He was touching her, and they were holding hands all night," a source told Page Six. "They had dinner with one other woman — but you couldn't put a knife between them ... They didn't care who saw them."
Elite Daily noted that this is likely a relationship that Don Jr.'s father would approve of, as Guilfoyle often retweets multiple members of the Trump family on her Twitter feed. She also frequently supports the Trump administration on her Fox News show — Page Six even reported that she was briefly under consideration as a press secretary for the Trump administration, but then her new contract with Fox News went public.
According to her Fox News bio, Guilfoyle first joined the Fox team in 2006 as a legal analyst and the host of The Lineup, a show about crime. Before pursuing a career in broadcast journalism, Guilfoyle worked at the Los Angeles District Attorney's Office and served as the assistant district attorney in San Francisco. She has an international education, having earned her bachelor's from the University of California, Davis and her law degree from the University of San Francisco and Trinity College in Dublin, Ireland.
In March, Page Six reported that Vanessa Trump had filed for divorce from Don Jr., and the two released an amicable statement announcing the split. Since then, Vanessa has managed to stay mostly out of the spotlight; Don Jr., on the other hand, has remained very much in the public eye.