Trump Jr. Retweeted A Conspiracy Theory About Missing Journalist Jamal Khashoggi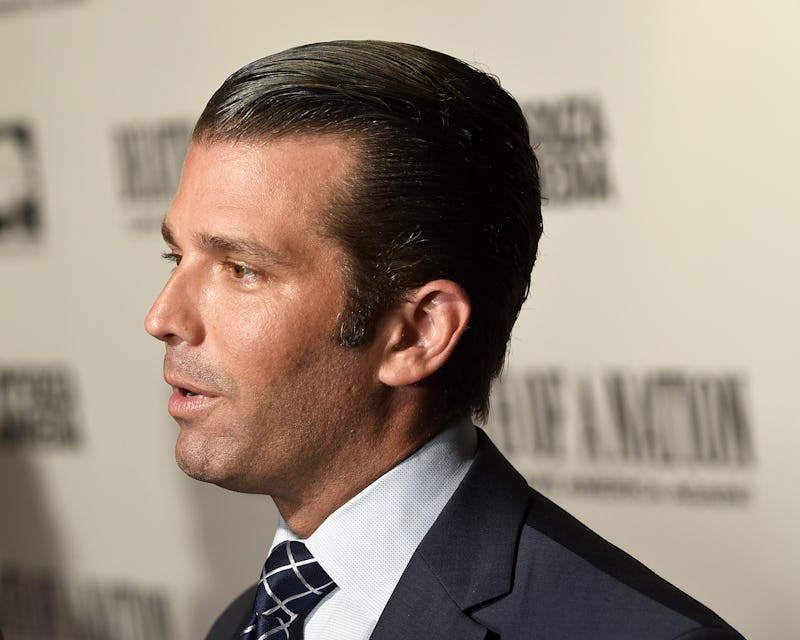 Shannon Finney/Getty Images Entertainment/Getty Images
On Friday, Trump Organization Senior Vice President Donald Trump Jr. retweeted an unverified theory about missing journalist Jamal Khashoggi. Khashoggi — a Saudi journalist who has been critical of the government — has not been seen since he went into the Saudi consulate on Oct. 2 in Istanbul to obtain marriage paperwork for himself and his Turkish fiancée, according to The New York Times.
CNN reported that authorities in Turkey said they believe Khashoggi was killed inside the consulate, an accusation the Saudi government called "false" in a Times report.
Trump retweeted an unverified claim that Khashoggi, a columnist for The Washington Post, is a sympathizer or friend of Osama bin Laden, the founder of al Qaeda, according to CNN. The tweet from Patrick Poole — who lists himself as a national security and terrorism correspondent for @PJMedia_com on Twitter — posted photos of a decades-old newspaper piece by Khashoggi about the mujahedeen.
The article was published along with a photo of Khashoggi and men who were identified as members of the extremist group. Another photo Poole shared shows a published photograph of bin Laden and various associates.
"I didn't realize until yesterday that Jamal Khashoggi was the author of this notorious 1988 Arab News article of him tooling around Afghanistan with Osama bin Laden and al-Qaeda co-founder Abdullah Azzam. He's just a democrat reformer journalist holding a RPG with jihadists," Poole wrote.
Poole is not the only conservative writer online furthering the theory. Federalist co-founder Sean Davis retweeted Poole with the comment, "Huh. It's almost like reality is quite different than the evidence-free narratives peddled by media with a long history of cooperating with or getting duped by Iran echo chamber architects."
Trump Jr. then retweeted Davis' commentary and by extension, Poole's original tweet.
President Donald Trump has been reluctant to cut ties with the Saudi government, a key ally to the United States. On Friday, Trump said answers about what happened to Khashoggi after he entered that consulate will be revealed "sooner than people think," according to CNN.
Trump also insisted that "nobody knows quite yet" what went on, according to CNN. "A lot of people are looking to find out because it is potentially a really, really terrible situation, so we'll see what happens," Trump told reporters, according to the news network.
In an interview with CBS's 60 Minutes that will air Sunday, Trump repeated that the Saudi government has denied involvement. "They deny it every way you can imagine. In the not too distant future I think we'll know an answer," Trump told journalist CBS journalist Lesley Stahl, according to an excerpt released on Saturday morning.
Trump said it is possible that the Saudis are to blame for Khashoggi's disappearance. "As of this moment, they deny it, and they deny it vehemently. Could it be them? Yes," Trump told Stahl. The interview will air Sunday evening.
Trump said there's "a lot at stake" in the American-Saudi relationship. "There are other ways of punishing, to use a word that's a pretty harsh word, but it's true," he said in the 60 Minutes interview excerpt.
Trump said Khashoggi's role as a critic of the government could play a role.
"There's a lot at stake, and maybe especially so because this man was a reporter," Trump told Stahl. "There's something -- you'll be surprised to hear me say that, there's something really terrible and disgusting about that if that was the case so we're going to have to see. We're going to get to the bottom of it and there will be severe punishment."