Donald Trump Jr. Tweeted About Self-Awareness & Twitter Just Laughed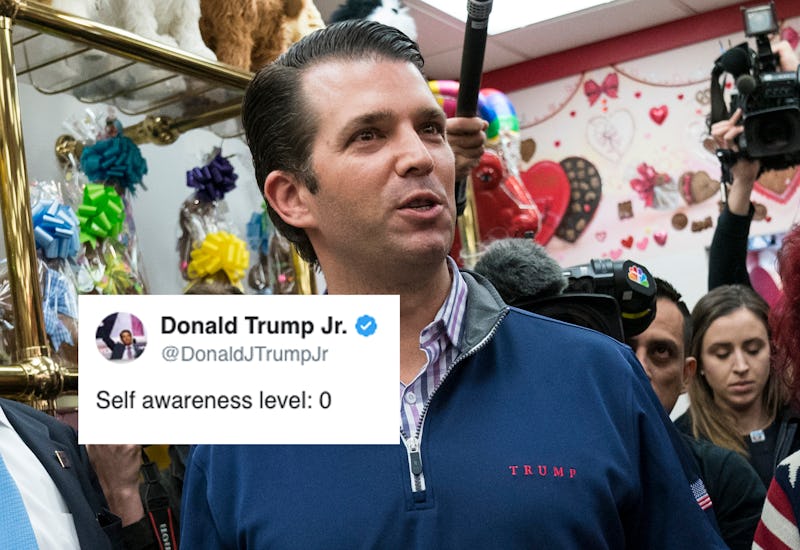 Drew Angerer/Getty Images News/Getty Images
Donald Trump Jr. seems to spend almost as much time on Twitter as his father does, which means that he also puts himself in the path of a fair amount of criticism. Some tweets, however, end up drawing special attention — like how Trump Jr. tweeted about self-awareness in reference to recently resigned New York Attorney General Eric Schneiderman's recent sexual assault allegations (which he denies).
After The New Yorker broke the story about Schneiderman on Monday evening, Trump Jr. shared the story on Twitter, and since then he's posted several tweets commenting on it and unearthing old tweets from Schneiderman, President Trump, and others.
In one of the examples that drew the greatest response, Trump Jr. retweeted a Schneiderman tweet from April, celebrating the #MeToo movement and the Pulitzers that The New York Times and The New Yorker had received for their reporting work that furthered it. The president's son then added his own caption to it.
"Self awareness level: 0," Trump wrote. "Or substantially less than that."
The commentary then began flowing in, much of it from people noting that self-awareness, in this case, seemed to be a thing that Trump Jr. himself was missing.
One particularly common theme was the idea that Trump Jr.'s father has also been accused of sexual harassment repeatedly, although he has repeatedly and categorically denied all those claims and he has not suffered any consequences for them, the way that Schneiderman now has.
"The son of the president, who has been accused of sexual misconduct by 13 women, tweets about self-awareness," wrote Washington Post employee Drew Harwell on Twitter, posting a link to The Post's complete list of President Trump's accusers.
"Worth noting that your father has been accused of sexual assault and harassment by more than a dozen women," wrote Newsweek reporter Zach Schonfeld on Twitter, moving in the same direction as Harwell. Another twitter user, @PostimusMaximus, further limited his captioning and let a link about Trump's accusers do the trick, writing only, "Self awareness level : 0."
Others drew on other scandals that have rocked the Trump administration so far. Twitter user @BAKKOOONN wrote "i [sic] would maybe slow your roll there a little bit there smart guy," along with a screenshot of the New York Times article reporting that Trump wanted to bring back former aide Rob Porter, who left the White House amid claims that he had abused his two former wives.
This case is particularly relevant to Schneiderman, as the four women accusing Schneiderman all claim that he subjected them to "nonconsensual physical violence." Porter was accused of domestic violence (he said that he was innocent), and rather than celebrating his leaving, President Trump said, "We certainly wish him well" in a series of remarks at the Oval Office.
Some, like Twitter user @underwhelmed04, went a little bit more general in their criticism of Trump Jr. "Your glass house is fragile, idk if I'd be throwing stones at other people's houses if I were you," @underwhelmed04 wrote. Several people mentioned the claims swirling about the recent dissolution of Trump Jr.'s marriage, namely that he had an affair while he was married to Vanessa Trump (Trump Jr. has not commented on this claim). Still others commented on his intelligence, which frequently comes into question from Trump Jr.'s critics. "Intelligence level: 0," wrote Twitter user @BrendaJeanCDN. "Or substantially less than that."
Trump Jr. is still tweeting about Eric Schneiderman, but it's still less than 24 hours since the allegations hit the front page. When it's no longer fresh in his mind, he'll surely come up with something else to entertain his multitudes of followers.