Trump Signs Executive Order Banning Refugees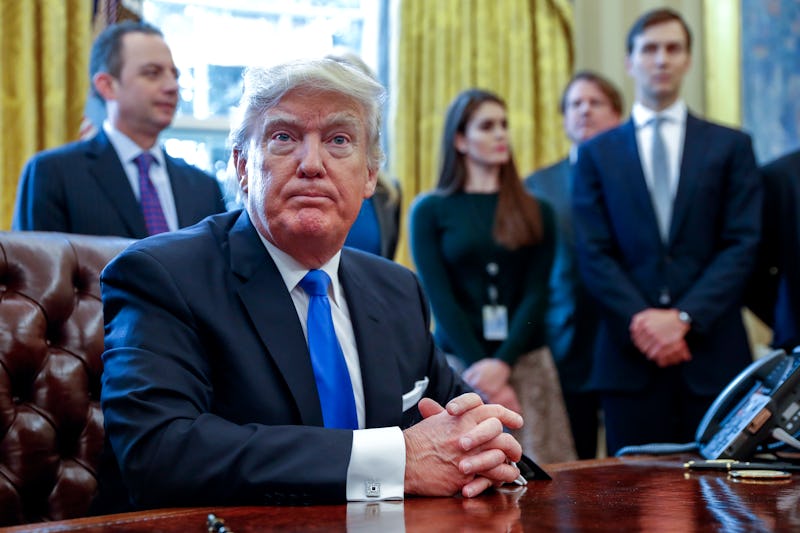 Pool/Getty Images News/Getty Images
Capping off a busy first week in office, President Donald Trump signed an executive order establishing "new vetting measures" Friday in a move he said was designed "to keep radical Islamic terrorists out of the United States." Although the White House has yet to release specific details about the order, which CNN reported was titled "Protection of the Nation From Foreign Terrorist Entry Into the United States," recent reports have suggested it will temporarily suspend refugees from seven Middle Eastern and African countries, including Syria.
"I'm establishing new vetting measures to keep radical Islamic terrorists out of the United States of America," Trump said in a statement delivered at a signing ceremony held at the Pentagon. "We don't want them here. We want to ensure that we are not admitting into our country the very threats our soldiers are fighting overseas. We only want to admit those into our country who will support our country and love deeply our people."
While it was not made clear during the signing ceremony what the "new vetting measures" the president was ordering would entail, the executive order Trump signed Friday is undoubtedly a policy that evolved from his controversial campaign promise to ban Muslims from entering the country.
Along with temporarily banning refugees from countries deemed to be of concern by Trump's administration, the order is also expected to temporarily suspend citizens from Iran, Iraq, Libya, Somalia, Sudan, Syria, and Yemen. from obtaining U.S. visas. According to political blog the Hill, the order is also expected to immediately suspend all refugee admissions for 120 days and potentially block refugees from Syria from entering the United States indefinitely.
Trump said his decision to sign an executive action ordering new vetting measures was meant to honor those who had lost their lives at the Pentagon in the attacks of Sept. 11, 2001.
"We will never forget the lessons of 9/11 nor the heroes who lost their lives at the Pentagon," Trump said Friday. "They were the best of us. We will honor them not only with our words but with our actions and that's what we're doing today."
The American Civil Liberties Union condemned Trump's executive order for extreme vetting as "discrimination against Muslims" in a statement released shortly after Trump signed the order. "'Extreme vetting' is just a euphemism for discrimination against Muslims," ACLU Executive Director Anthony D. Romero said in a statement. "Identifying specific countries with Muslim majorities and carving out exceptions for minority religions flies in the face of the constitutional principle that bans the government from either favoring or discriminating against particular religions. Any effort to discriminate against Muslims and favor other religions runs afoul of the First Amendment."
While at the Pentagon on Friday Trump also signed two other executive orders, including one for the "rebuilding of the United States armed forces."