Trump Wants To Streamline The Executive Branch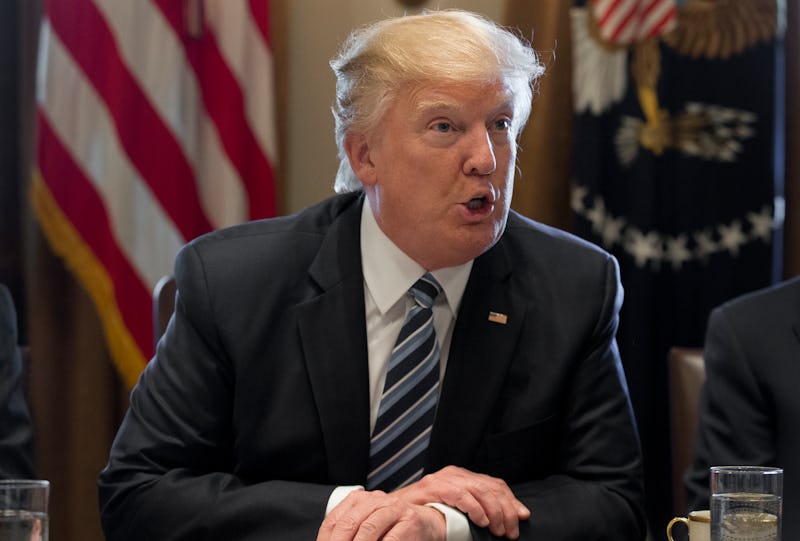 Pool/Getty Images News/Getty Images
President Donald Trump signed an executive order called "Comprehensive Plan For Organizing The Executive Branch" on Monday. According to the Associated Press, Trump signed the order to streamline the executive branch, saying that it aims to examine every federal department and agency "to see where the money is being wasted, how services can be improved, and whether programs are truly serving American citizens." It was signed by the president in the Oval Office among Cabinet members.
While criticizing the wastage of monetary resources, Trump claimed that "there is duplication and redundancy everywhere." According to Tribune Media, he said, "Today we're beginning the process of a long-overdue reorganizing of our federal departments and agencies. We've assembled one of the greatest cabinets in history and — I believe that so strongly — and we want to empower them to make their agencies as lean and effective as possible, and they know how to to it."
According to the president, the Office of Management and Budget will conduct the assessment. Trump said Office of Management and Budget Director Mick Mulvaney is expected to consult with experts within the government as well as the public, according to NPR. The plan would be submitted to the Congress for implementation after it is evaluated.
"Billions and billions of dollars are being wasted on activities that are not delivering results for hardworking American taxpayers, and not even coming close," Trump said.
Agency heads have been asked to provide recommendations within the time frame of six months to Mulvaney, who would then submit them to the Congress.
According to The Hill, the executive order has not explicitly stated any set amount of cuts but it could lead to the elimination of "entire federal agencies" or decrease the size of the federal workforce. Federal agencies that are reportedly on the chopping block, according to The Hill, include the Corporation for Public Broadcasting, National Endowment For The Arts, National Endowment For The Humanities, Minority Business Development Agency, Economic Development Administration, Office of Violence Against Women, and the Civil Rights Division of the Justice Department among others.
The president is expected to release a budget blueprint on Thursday which calls for significant cuts in funding for federal agencies. These deductions are supposed to cover the cost for a "major military buildup," according to The Hill.
The deductions in funding may potentially affect finances for conservation funding, research for climate change, foreign aid, support for public housing projects, and the federal workforce.
While Trump claims that the cuts in funding to the aforementioned federal agencies is an attempt to tackle the national debt, the planned streamlining seems to be more targeted at slashing projects praised by Democrats such as empowerment for women, minorities, preservation of the natural environment, promotion and protection of civil rights, and public broadcasting.