Trump Defends O'Reilly During Sexual Assault Awareness Month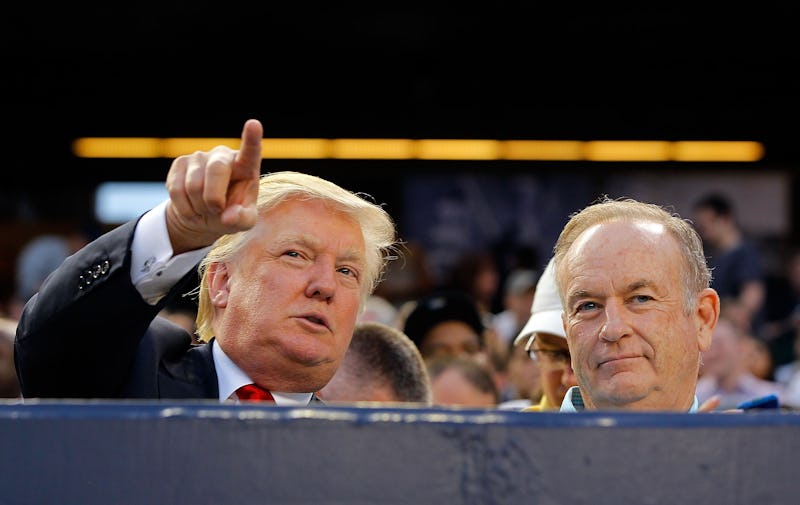 Jim McIsaac/Getty Images Sport/Getty Images
Look, let's face it: America doesn't have any kind of role model in the White House right now. But even so, what President Donald Trump told Maggie Haberman and Glenn Thrush of the New York Times in an interview released Wednesday almost defies belief ― except that it doesn't, because of everything else he's said during his relatively short political career. Discussing the ongoing scandal embroiling arguably Fox News' biggest on-air star, Trump defended Bill O'Reilly on sexual assault awareness month.
O'Reilly has long been a ratings standout for the conservative cable news channel, despite multiple allegations of sexual harassment that have been brought against him from women within the company. O'Reilly has denied any wrongdoing, saying in a statement that he "put to rest any controversies" regarding sexual harassment at Fox News in order to "spare my children." He also described himself as "a target for those who would harm me and my employer."
The statement is, if nothing else, at least more polished than what Trump himself gave during the 2016 presidential race, when he was accused of sexually predatory behavior by more than a dozen women. Trump similarly denied all the allegations, saying "the events never happened," and once calling his accusers "horrible liars."
It's uncomfortable to have the same man facing all those accusations also be the president who officially designated April as sexual assault awareness month, but that's the essential context for fully appreciating what Trump told Thrush and Haberman about O'Reilly. The crucial point: He doesn't think the 67-year-old anchor did anything wrong, and says O'Reilly shouldn't have settled.
I think he's a person I know well — he is a good person... I think he shouldn't have settled; personally I think he shouldn't have settled. Because you should have taken it all the way. I don't think Bill did anything wrong.
According to the New York Times, five women have reached settlements with O'Reilly throughout his Fox News tenure, costing him about $13 million. Many advertisers have severed ties with O'Reilly program since the report's release.
Now, if Trump's take sounds like the sort of thing a president shouldn't say just days after giving a speech about preventing sexual assault, you might be on to something. It's pretty bizarre and nightmarish, and in all likelihood, it'll only exacerbate the trauma that Trump's victory, especially in the wake of the release of the now-infamous Access Hollywood tape, caused for so many women across America.
His defense of O'Reilly is also how he defended former Fox News chief Roger Ailes amid the sexual harassment allegations that ended his career. Ailes denied all of the allegations. Despite reports detailing several women's claims, including on-air hosts like Megyn Kelly and Gretchen Carlson, Trump called the controversy "sad," because Ailes was "a very good person," and seemed to suggest Ailes' accusers couldn't be trusted.
He's been a friend of mine for a long time, and I can tell you that some of the women that are complaining, I know how much he's helped them, and even recently. And when they write books that are fairly recently released, and they say wonderful things about him, and now, all of a sudden, they're saying these horrible things about him. It's very sad, because he's a very good person. I've always found him to be just a very, very good person. And, by the way, a very, very talented person. Look what he's done. So I feel very badly.
Trump definitely is helping to raise awareness about sexual assault, but in the worst way possible: by defending a rich, powerful man accused of sexual harassment, and reminding the whole world of his own slew of allegations as well. Trump is also currently being sued by one of his accusers for defamation; his attorneys, however, have insisted he's immune from such a lawsuit.