Donald Trump & The NFL Have A History Of Drama (Even Before The Anthem Protests)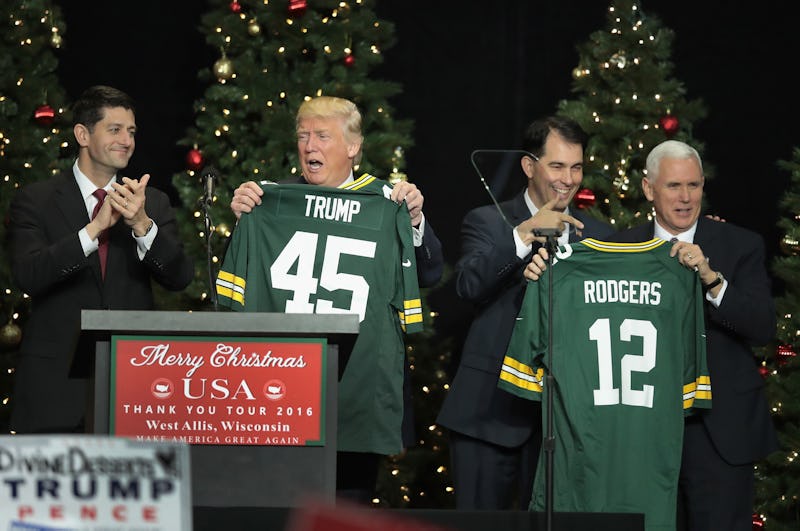 Scott Olson/Getty Images News/Getty Images
If you're a football fan with a penchant for politics, you might be wondering about Donald Trump's relationship with the NFL. It's a complicated, dramatic, and undoubtedly interesting dynamic. From trying to buy a football team in the 1980s, attempting to pit the United States Football League (USFL) against the National Football League (NFL), to condemning protesting NFL athletes, Trump's back-and-forth with the NFL is full of controversy.
In 1983, the average rate for buying an NFL team was $80 million, but according to The Washington Post, Trump invested $6 million into the USFL New Jersey Generals, at the time, a rival league of the NFL. From 1983 to 1985, the USFL was proposed by New Orleans sports executive David Dixon as a competing league against the much more powerful and financially-loaded NFL. Ultimately, Dixon's league ended before its fourth season.
Trump explained his decision to stick with USFL and said during a 1984 interview with the New York Times:
I've could've bought an NFL team if I wanted to ... but I'd rather create something from scratch. I feel sorry for the poor guy who is going to buy the Dallas Cowboys. It's a no-win situation for him, because if he wins, well, so what, they've won through the years, and if he loses ... he'll be known to the world as a loser.
Later on in 1986, Trump persuaded USFL owners to sue NFL by accusing the league of antitrust violations. In response, attorneys for the league claimed that Trump was using the USFL to get into the NFL. The jury ruled that while the NFL broke an antitrust law, Trump was taking advantage of the USFL to enter its bigger rival league. By the end of the controversial trial, Trump won $3 — and the USFL folded completely.
While Trump's USFL escapade sounds like a lot, the president's relationship with the NFL doesn't end there. From trying to buy teams to swearing at NFL athletes, Trump's dynamic with the league is still alive.
1. He Considered Buying The Dallas Cowboys
By 1985, Trump's ownership of the New Jersey Generals was pretty much over and had cost him an estimated $22 million. But two years before owning the Generals, Trump initially considered buying the Dallas Cowboys in 1983. He eventually decided not to do so because, according to Trump, people only win "laterally" in the NFL.
2. He Also Considered Buying The New England Patriots
In 1988, Trump considered buying the New England Patriots from then-owner Billy Sullivan but stepped back. This last-minute pullback was apparently a cautionary move. According to a source close to Trump who spoke with The Boston Globe, Trump "had a real interest and he felt the Sullivan family was honorable in their dealings with him." The reason for not buying the Patriots, according to the insider, was that Sullivan's "people told him between the team and the stadium there was $104 million in debt, and that was too much for [Trump] to handle."
3. Trump Considered Owning The Buffalo Bills, Too
In 2014, Trump considered buying the Buffalo Bills. In the case of this particular team, Trump offered $1 billion but Terry and Kim Pegula, who also own the Buffalo Sabres hockey team, bought the Bills for a reported $1.1 billion, at least. Once again, Trump's dream to own an NFL team was dashed.
4. Trump & Patriots Quarterback Tom Brady
You might remember that there was a Make America Great Again hat in Brady's locker in 2015. The Patriots quarterback told Boston's radio station WEEI that Trump "always gives me a call and different types of motivational speeches at different times. So now that he's running for president, he sent me a hat, and he gave it to [Patriots owner Robert Kraft] a couple weeks ago. So it found its way to my locker." However, according to a recent 2017 New York Times profile of the president, the bromance seems to be over. The Times wrote that Trump "expresses disappointment that Tom Brady, the New England Patriots quarterback, has distanced himself."
5. Trump Calls Protesting NFL Athletes "Sons of B*tches"
In September 2017, Trump delivered a public speech in Alabama where he indirectly called former San Francisco 49ers player Colin Kaepernick a "son of a b*tch" for refusing to stand during the national anthem. To a jeering crowd, Trump said, "Wouldn't you love to see one of these NFL owners, when somebody disrespects our flag, to say, 'get that son of a b*tch off the field right now. He is fired. He's fired!'"
However, during his heated diatribe, the president did not mention or explain why Kaepernick refused to stand. In 2016, the former football player told the NFL, "I am not going to stand up to show pride in a flag for a country that oppresses black people and people of color. To me, this is bigger than football and it would be selfish on my part to look the other way. There are bodies in the street and people getting paid leave and getting away with murder."
6. Trump Refuses To Do A Pre-Super Bowl Interview
In the most recent football-related news, Trump ditched the decades-long presidential tradition of doing a pre-Super Bowl interview after he said no to NBC News' request for a rendezvous. So far, the president hasn't given a specific reason for his refusal either.
From trying to own the Dallas Cowboys, New England Patriots, and Buffalo Bills, expressing dismay over an apparently sour bromance with Brady, hurtling invective at NFL athletes for protesting police brutality, to simply refusing to follow a pre-Super Bowl interview, you could say Trump's relationship with the NFL is certainly full of ups and downs.