Donald Trump Asks If We're Living In Nazi Germany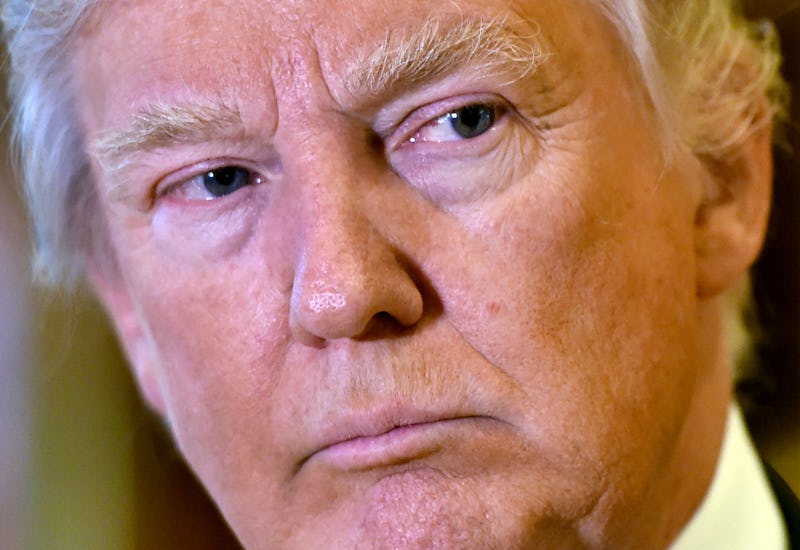 TIMOTHY A. CLARY/AFP/Getty Images
Less than two months after neo-Nazis met to salute the president-elect, Donald Trump asked if we're living in Nazi Germany on Twitter. This was part of a fiery rant defending himself against allegations that Russia has some compromising personal information on the president-elect that they could use as leverage. Trump repeated what Russia said, that the Kremlin denies the reports as a "total fabrication." Then began the impassioned defense — much of which was written in all caps on the social media site.
The Nazi reference comes up later. First he took a swipe at political opponents in the United States when repeating Russia's denial. "Russia just said the unverified report paid for by political opponents is 'A COMPLETE AND TOTAL FABRICATION, UTTER NONSENSE.' Very unfair!" Trump tweeted. Then he said the Kremlin has never blackmailed him. "Russia has never tried to use leverage over me. I HAVE NOTHING TO DO WITH RUSSIA - NO DEALS, NO LOANS, NO NOTHING!"
Next opponents and implicitly the media saw jabs. "I win an election easily, a great 'movement' is verified, and crooked opponents try to belittle our victory with FAKE NEWS. A sorry state!" Trump wrote, before finally getting to the Nazi reference. It's in the context of an attack on the nation's intelligence agencies. Not Obama or the Democrats but instead intelligence agencies like the CIA or NSA. He tweeted:
Intelligence agencies should never have allowed this fake news to "leak" into the public. One last shot at me. Are we living in Nazi Germany?
This is in defense of the report referenced first by CNN Tuesday that alleges Russia has compromising personal and financial information on Trump that it could use to blackmail him, including video of controversial sex acts that include urination and prostitutes (hence the trending hashtag #GoldenShowerGate). We know the contents because Tuesday Buzzfeed published the full report and it goes into detail — again, all of which hasn't been confirmed and has been denied now by Trump and Russia.
Obama and Trump were briefed by intelligence officials last week on the report, which also alleged individuals from Trump's presidential campaign and business conspired with Russian operatives. That contradicts what Trump adviser Kellyanne Conway told Seth Meyers Tuesday night on Late Night. She said, "He has said he's not aware of that." So exactly when the president-elect found out about the allegations is unclear, which in itself is troubling.
The briefing was a two-page addendum to the larger report on Russian efforts to influence the U.S. election, something Trump downplayed until arguably Sunday. That's when Reince Priebus, the president-elect's incoming chief-of-staff, claimed that Trump acknowledged Russia's role in the election hacks. "He accepts the fact that this particular case was entities in Russia, so that's not the issue," Priebus said on Fox News Sunday.
That seemed to run up against the Trump's team's statement on Friday — after seeing the hacking report. At the time they did not specifically call out Russia. Instead, they said that "Russia, China, other countries, outside groups and people are consistently trying to break through the cyber infrastructure of our governmental institutions."
While some might agree with Trump about the Nazi Germany comparisons, it's surely not for the same reasons. What needs to happen now is a thorough investigation, not more incendiary tweets.