Trump Made An Impassioned Call For Roy Moore & You Can Hear It For Yourself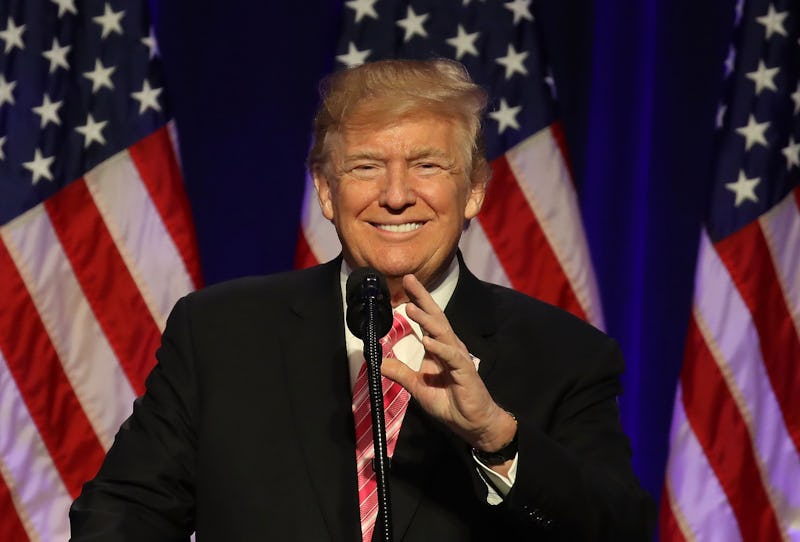 Joe Raedle/Getty Images News/Getty Images
In a recording aired by Fox News on Sunday, you can hear Donald Trump's robocall for Roy Moore, Alabama's pick for the Senate. The recording is scheduled to go out to Alabama locals on Monday, only a day before the state carries out its election.
While endorsing Moore, the president can be heard saying, "Hi, this is President Donald Trump, and I need Alabama to go vote for Roy Moore. We're already making America great again. I'm going to make America safer and stronger and better than ever before. We need that seat. We need Roy voting for us."
The initial report of Trump recording a robocall in support of Moore came out in Politico and was later on confirmed by deputy White House press secretary Raj Shah on Saturday. To rally support from locals against Moore's Democratic contender, Doug Jones, Trump talked about "illegal immigration" and said that Jones would undermine the supposed "progress" the Trump administration has made under its America First policy.
In addition to railing against immigrants, the president stoked conservative issues and claimed the Alabama runner would be the right person to protect and further the constitutional right to bear arms and the Republican party's commitment to its anti-abortion philosophy.
The president called Jones a "puppet" of Sen. Chuck Schumer and Rep. Nancy Pelosi. "I am stopping illegal immigration and crime," Trump said in the call. "We're building a stronger military and protecting the Second Amendment and our pro-life values. But if Alabama elects liberal Democrat Doug Jones, all of our progress will be stopped cold. We already know Democrat Doug Jones is a puppet of Nancy Pelosi and Chuck Schumer, and he will vote with the Washington liberals every single time."
In spite of the allegations of sexual harassment and assault against Moore, the president's support remains. The Alabama runner was accused of sexually harassing teenage girls, including one accusation of sexually assaulting a 14-year-old when Moore himself was in his 30s. He has denied all allegations and described them as "dirty politics" and "ritual defamation." He has denied knowing any of the accusers and said, "I do not know them. I had no encounter with them. I have never molested anyone. When I saw the pictures on the advertisements of my opponent, I did not recognize any of these people."
In addition to the robocall, Trump made his support for Moore clear at a rally in Florida on Friday. To a cheering crowd, Trump said, "Get out and vote for Roy Moore. Do it. Do it." Similar to the rhetoric in his robocall, Trump rallied his supporters to support Moore on issues of immigration policy, police force, and border security. Trump said, "We cannot afford, the future of this country cannot afford to lose the seat" and that Americans "need somebody in that Senate seat who will vote for our Make America Great Again agenda, which involves tough on crime, strong on borders, strong on immigration."
For Trump, Moore's support is seemingly critical. Dean Young, Moore's main political strategist, told ABC News' This Week that without Moore's support, Trump could see ideological opposition in the southern state. "If the people of Alabama vote for this liberal Democrat Doug Jones, they're voting against the president who they put in office at the highest level. So it's very important for Donald Trump." He also added, "If they can beat him, they can beat his agenda, because Judge Moore stands with Donald Trump and his agenda."
At this point with his own robocall and Young's remarks, it seems that for Trump his party's dominance over the country is more critical than giving serious thought to the accusations dogging Moore.