Trump's Most Awkward Handshakes, Ranked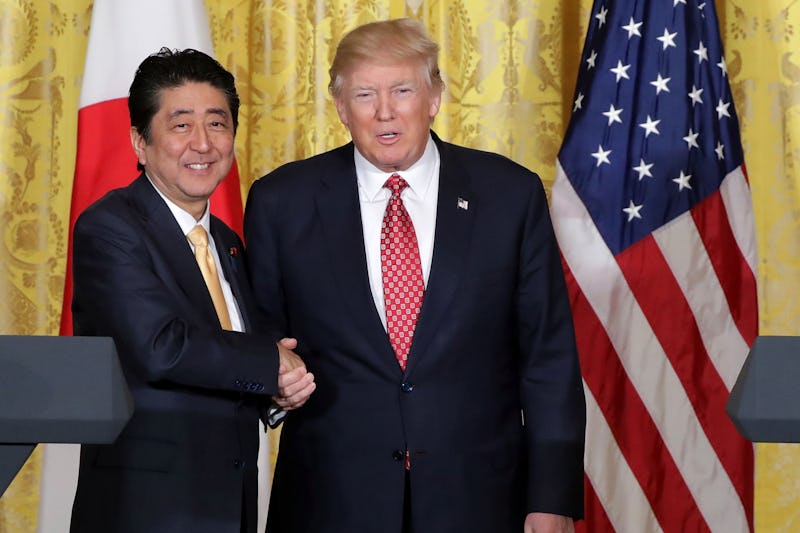 Chip Somodevilla/Getty Images News/Getty Images
Canadian Prime Minister Justin Trudeau arrived in Washington, D.C. on Monday, and was promptly greeted by one of President Trump's signature long handshakes. Trudeau appeared more prepared for the six-second shake than many of the others who've encountered The Donald's odd yanks and squeezes, but this seems like the perfect moment to rank Trump's most awkward handshakes.
Following Friday's widely mocked shake between Japanese Prime Minister Shinzō Abe and the POTUS, Trump's greeting game has come under the microscope. Body language experts have described his style as an attempt to establish dominance during meetings. Others have speculated that self-proclaimed germaphobe Trump, who has referred to the act of shaking hands as "barbaric," simply lacks practice.
His book The Art of the Comeback contains this passage detailing his hatred for handshaking:
One of the curses of American society is the simple act of shaking hands, and the more successful and famous one becomes the worse this terrible custom seems to get. I happen to be a clean hands freak. I feel much better after I thoroughly wash my hands, which I do as much as possible.
Still, now that he's president and has to deal with foreign leaders on a regular basis, it's time for Trump to start brushing up on his handshaking skills. Here are Trump's top five most awkward hand-to-hand encounters with other public figures.
5. Yanking On Pence
Why does he always yank?
4. Pulling On Gorsuch
In the space of three seconds, Trump managed to fit in multiple yanks and the double-pat while congratulating Judge Neil Gorsuch on his Supreme Court nomination.
3. Pretending To Like Chris Christie
Christie and Trump insulted each other many times, both as people and as potential presidents, during the Republican primaries, but the New Jersey governor was one of the first candidates to endorse Trump after dropping out of the race. In this GIF, we can see the two men shaking hands for 10 seconds and mugging for the cameras.
2. This Thing With Apprentice Winner Bill Rancic
This is a serious struggle.
1. Of Course This Is #1
The 19-second handshake with the Japanese prime minister was unnecessarily long, and included Trump's signature yank, double-pat, and tight grip. Prime Minister Abe's feelings were all over his face when it was over.
Trump is definitely going to have to start reading up on some handshake tutorials. Someone as involved with business meetings as he has been for decades should've probably gone over quite a few already.
Images: Giphy (6)