Trump Reportedly Doesn't Snack On Steak With Ketchup So Much Anymore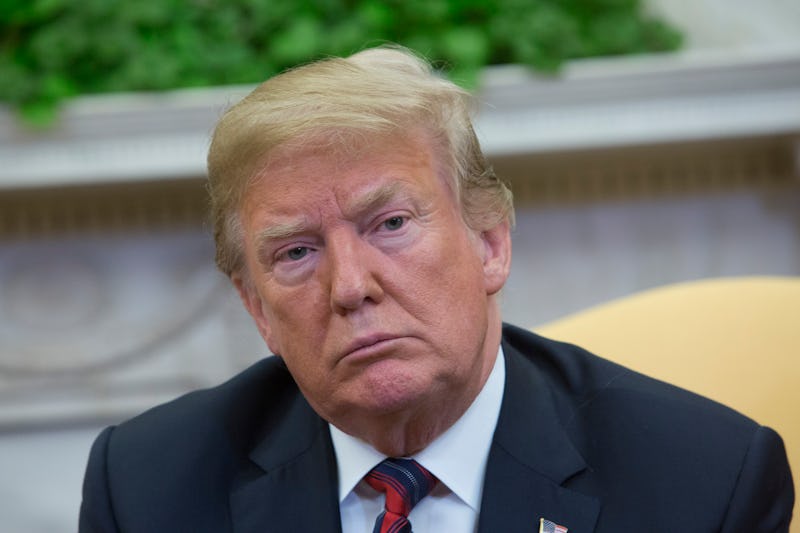 Pool/Getty Images News/Getty Images
The president of the United States is reportedly no longer enjoying his favorite steak and ketchup meal that often anymore. On Wednesday, CNN reported that Trump has a new diet in the White House, swapping out steak for fish and adding vegetables to his plate in a bid to get him to eat healthier.
Sources close to the president told CNN that Trump has said in private that he needs to lose weight. One way that Trump is reportedly trying to shed that weight, according to CNN, is to replace steak (which he likes to eat with ketchup) with Dover sole, a kind of fish that Trump likes, according to BLT Prime executive chef David Burke. Another change involves eating only one side of a hamburger bun. Previously, Trump touched upon changing his diet in January while talking to Reuters,
The people that do the food at the White House are extraordinary, but I think they can maybe make the portions a little bit smaller and maybe we'll cut out some of the more fattening ingredients.
Eating only one side of the bun is something that Trump's attorney and former New York City mayor, Rudy Giuliani, does as well. While speaking with The Washington Post in May, Giuliani said, "I do that, too, sometimes. It's a good way to do it."
It's a change that arrives a few months after White House physician Ronny Jackson discussed Trump's health report with the media. According to Jackson's assessment, Trump's coronary calcium score was 34 in 2009 and 98 in 2013 — a 64 point increase in four years. In early 2018, Trump's coronary calcium score was 133.
According to Mayo Clinic, a coronary calcium score can help understand the likelihood of a heart attack. A higher score means a higher risk for a heart attack, and a lower score indicates a healthy and strong heart. A score between 100 to 300 means that the person has a moderate amount of plaque build-up in their blood vessels.
Cardiologist Rachel Bond told CNN that while the 133 score is cause for some concern as it shows plaque build-up in Trump's blood vessels, it's not out of the ordinary for someone his age. "His score is 133 and he is 71 years of age, which puts him in the 46 percentile. What does this indicate? Yes, he certainly has coronary artery disease because calcium is present. But this is also common for someone his gender, race, and age," Bond said.
While insiders close to Trump say that the president has gradually tweaked his meals to improve his health — particularly his cholesterol intake — the president has reportedly avoided increasing his physical activity beyond his weekend golf activities. Even then, CNN reported, Trump travels the golf grounds with the "assistance of a cart."
The Wednesday report from CNN comes the same day that Trump publicly extolled the importance of physical fitness and health. The president delivered his public address on the White House South Lawn alongside White House adviser and daughter Ivanka Trump, Olympic gold medalist Misty May-Treanor, former NFL player Herschel Walker, and New York Yankees pitcher Mariano Rivera.
In the past, however, Trump has downplayed the significance of working out. "I get exercise. I mean I walk, I this, I that. I run over to a building next door. I get more exercise than people think," Trump told Reuters in a January interview. "A lot of people go to the gym and they'll work out for two hours and all. ... then they get their new knees when they're 55 years old and they get their new hips and they do all those things. I don't have those problems."
These little reported tweaks to Trump's fitness plan could be a surprise to some observers who may recall Trump telling journalist Anderson Cooper that fast food like McDonald's Big Macs and Kentucky Fried Chicken was "great stuff" in 2016. But that was two years ago; it looks like things may have changed on Pennsylvania Avenue.
Correction: A previous version of this article misstated David Burke's title. It has been updated.