This Is A Window Into How Trump Views POC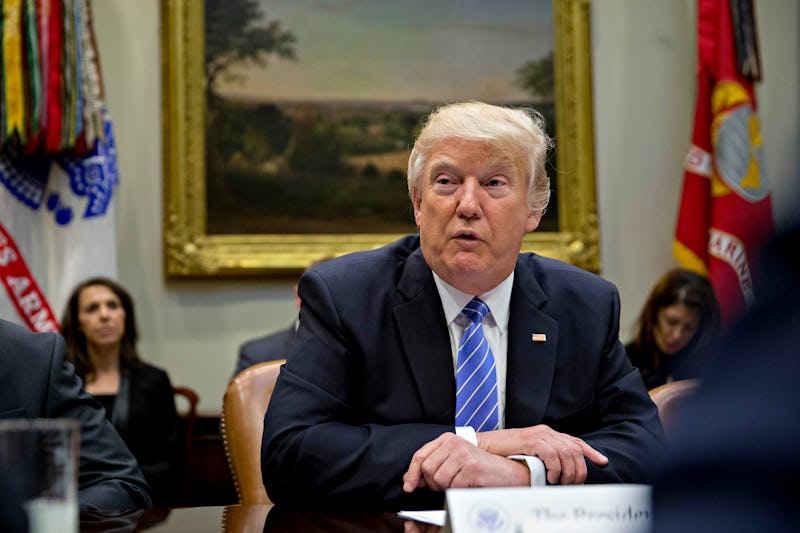 Pool/Getty Images News/Getty Images
Even for a president with a well-established dislike of the media, it was a uniquely tense moment. During a press conference Thursday, Donald Trump reportedly asked a black journalist to set up a meeting with the Congressional Black Caucus (CBC). The reporter, April Ryan of the American Urban Radio Networks, was asking the president a question about whether he intended to include the CBC in his upcoming discussions about his urban agenda, when he interrupted: "Well, I would. I tell you what, do you want to set up the meeting?"
Ryan explained that she was "just a reporter," at which point Trump asked, "Are they friends of yours? No, go ahead. Set up the meeting."
The exchange occurred during a press conference. It could not have been more obvious that Ryan was questioning the president in her capacity as a journalist, not as a representative of the CBC or any other non-media organization. Furthermore, Ryan has covered the White House for 20 years and has interviewed most of the presidents and first ladies the United States has had in that time. She might not be a household name outside of Washington, but she should certainly be recognizable to top government officials in the Beltway.
What, then, was behind the president's bizarre behavior?
Was Trump just trying to antagonize Ryan or did he actually believe that it was appropriate to order her to set up a meeting with a group she isn't a member of? Did he just assume — as some on Twitter have suggested — that she was in contact with the CBC because Ryan herself is black?
Whether his comments were intended as a power move or whether he genuinely believed that Ryan would be able to set up this meeting, neither possibility reflects well on the president.
This is the Trump administration's second conflict with Ryan in a week; on Tuesday, CNN reported that Omarosa Manigault, White House communications official, had been secretly recording conversations with Ryan. Ryan alleged that Manigault threatened her with a "dossier" that the administration allegedly compiled about her and other journalists. Ryan also told reporters that Manigault "stood right up in my face like she was going to hit me" during the interaction.
Ryan, who on Thursday retweeted a link to a video of the exchange with Trump, also posted on Twitter shortly after the press conference. "I am a journalist not a convener!" she wrote, "But thank you for answering my questions."
The Congressional Black Caucus itself also fired off a response on Twitter after the press conference, in which they said they'd already tried to reach out to an unresponsive Trump.
One of the most basic tasks a president faces is to treat inquisitive reporters with dignity and respect. Despite this, Donald Trump has made no secret of his disdain for the media. Just this morning, his team sent an email to supporters that began, "You know that I don't trust the media to report on anything we achieve."
But even with this in mind, the video of Trump's interaction with April Ryan is highly disconcerting. Watching the president of the United States be aggressively disrespectful to a black, female reporter — including, apparently, assuming she is friends with all the other black people in Washington — is uniquely stomach-churning. Add to this the CBC's new allegation that he ignored their letter and the anti-VRA rhetoric espoused by Trump's Attorney General, and Americans would be right to be concerned.