Trump's First Military Raid Is Being Investigated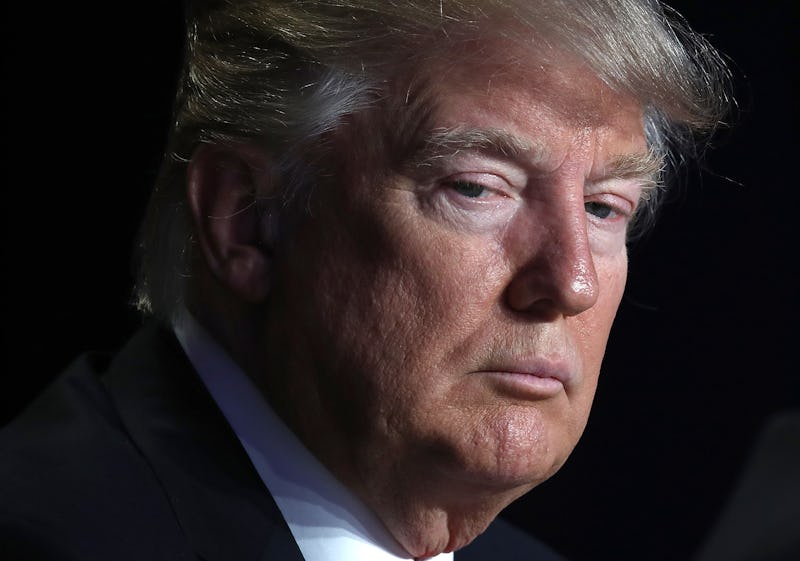 Win McNamee/Getty Images News/Getty Images
Donald Trump's first military raid targeted the house of an al Qaeda leader in Yemen on Sunday, Jan. 29. A U.S. SEAL team carried out the operation by engaging in a firefight with suspected al Qaeda members in a local compound. Although initial reports revealed that U.S. Navy SEAL member William "Ryan" Owens and 14 militants were killed in the raid, Trump's first counterterrorism attack may have killed more civilians than expected.
President Trump visited Dover Air Force Base in Delaware on Wednesday, Feb. 1, to meet and pay his respects to Owens' family.
According to Reuters, medics at the scene of the raid estimated 30 civilians, including 10 women and children, were killed in the attack. This estimation was later corroborated by the U.S. Central Command, which said in a statement, "A team designated by the operational task force commander has concluded regrettably that civilian non-combatants were likely killed in the midst of a firefight during a raid in Yemen Jan. 29. Casualties may include children."
Now, the U.S. military is conducting an investigation into the civilian casualties of Trump's first military raid. The investigation "seeks to determine if there were any still-undetected civilian casualties in the ferocious firefight," according to a statement from the U.S. Central Command.
An 8-year-old girl was among the children reportedly killed in the attack, according to BBC News. She was the daughter of al Qaeda militant Anwar al-Awiaki, who was killed in a 2011 U.S. drone strike.
Many began to show support for the investigation after the Pentagon announced it would look into whether more civilians were killed in the Yemen attack.
Although the al Qaeda leader's compound had been identified before Barack Obama left office, he denied to approve the raid during the final days of his presidency. Furthermore, White House officials told Reuters that the raid was delayed for "operational reasons" and that the previous defense secretary had signed off on it. However, President Trump allegedly approved and executed this counterterrorism attack without sufficient ground support or a backup plan in Yemen, and reportedly without adequate intelligence briefings, according to what White House officials told Reuters.
The U.S. Central Command spokesman Colonel John Thomas further explained the reason for the attacks in a statement. "CENTCOM asks for operations we believe have a good chance for success and when we ask for authorization we certainly believe there is a chance of successful operations based on our planning," he said. "Any operation where you are going to put operators on the ground has inherent risks."
Many have not been happy about the latest reports of civilian casualties under President Trump's first military attack, specifically because of his alleged lack of preparation.
Before taking office, Trump said he didn't need daily intelligence briefings as president. "You know, I'm, like, a smart person. I don't have to be told the same thing in the same words every single day for the next eight years," Trump told Fox News. Closer to inauguration, Trump told Axios that he wanted "as little as possible" in his intel briefings. "I like bullets or I like as little as possible. I don't need, you know, 200-page reports on something that can be handled on a page. That I can tell you," Trump said.
While Trump has insisted that his generals and Vice President Mike Pence receive daily briefings, the unintended consequences of the Yemen attack raise questions about whether Trump should be receiving more intelligence.