Trump's Bromantic Tweet To Kanye West Has EVERYONE'S Head Exploding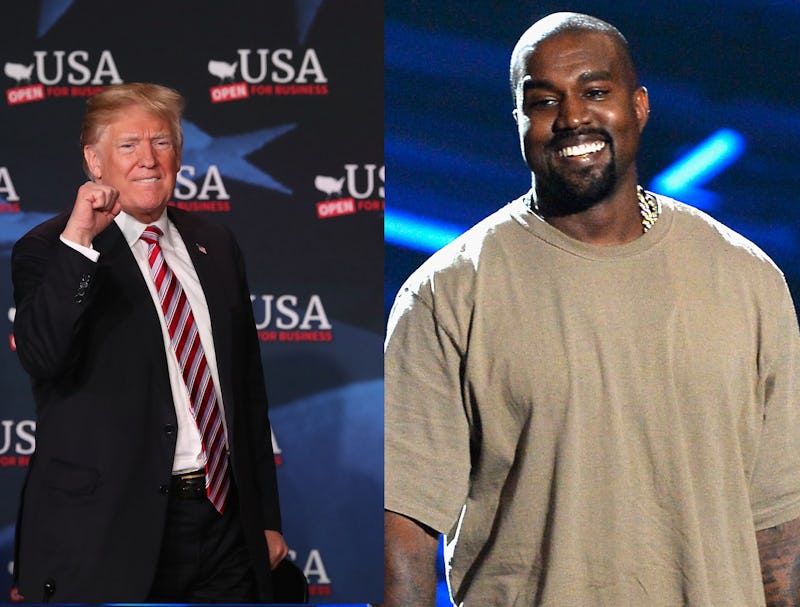 Joe Raedle; Kevork Djansezian/Getty Images
On Wednesday, star rapper Kanye West tweeted out a message of support for President Donald Trump, saying that he feels "love" for the president and that they both have "dragon energy." And the commander-in-chief clearly took notice ― Trump tweeted "very cool" to Kanye in response to his support online.
This isn't the first time West has expressed affinity for Trump. In Dec. 2016, in the immediate aftermath of Trump's unexpected victory in the presidential election, her turned up at the Trump Tower skyscraper in New York City, and participated in a photo-op with the then-president elect.
He also shouted-out his support for Trump during a San Jose concert after the election, part of his 2016 Saint Pablo tour. Pausing between songs while standing on an elevated stage, West commented that if he had voted in the election, he would have voted for Trump. This revelation drew boos from the crowd.
The tweet that Trump highlighted on Wednesday was posted by West just hours prior, and among other things, it asserted that both he and the president possessed something called "dragon energy."
"You don't have to agree with trump but the mob can't make me not love him," West tweeted. "We are both dragon energy. He is my brother. I love everyone. I don't agree with everything anyone does. That's what makes us individuals. And we have the right to independent thought."
Kim Kardashian West has responded to all the controversy and scrutiny being directed towards her husband, tweeting on Wednesday that people were being trying to "demonize" him.
"To the media trying to demonize my husband let me just say this... your commentary on Kanye being erratic & his tweets being disturbing is actually scary. So quick to label him as having mental health issues for just being himself when he has always been expressive is not fair," she tweeted on Wednesday, shortly before Trump chimed in with his approval.
Her tweet defending her husband's embrace of Trump was definitely noticed by the Trump family. Donald Trump Jr. quote-tweeted the comment, including the hashtag #ImWithHer, the hashtag former Democratic presidential nominee Hillary Clinton used for her 2016 campaign. Ivanka Trump also retweeted West and added the caption "#truth."
West has since tweeted out a photo of the screen of a smartphone, showing Trump's shout-out, although it didn't include any text.
There was a time when West was not nearly as chummy with a sitting Republican president. Back in 2005, in the aftermath of Hurricane Katrina's devastating impact on the city of New Orleans, West famously went off-script during a fundraising program, claiming on live TV that "George Bush doesn't care about black people." He ultimately apologized to Bush in 2015.
Given the hyper-polarized nature of American politics at the moment, as well as just how deeply divisive and controversial Trump's presidency has been, West publicly declaring his fondness for Trump ― even though it's not necessarily new, given that he'd already acknowledged he would have voted for him ― has resulted in him losing some Twitter followers.
Of course, it could also result in him gaining some new followers in the form of pro-Trump conservatives, who now find themselves with a popular and high-profile celebrity backing their favorite politician. West also stirred controversy last week when he tweeted approvingly about conservative commentator Candace Owens, earning him praise from right-wing social media users and criticism from progressive ones.
West, for his part, has made it quite clear that he doesn't appreciate people trying to tell him what to think or who to support ― he specifically ended his tweet supporting Trump by saying "we have the right to independent thought."