Trump's Super Bowl Prediction Is Actually Solid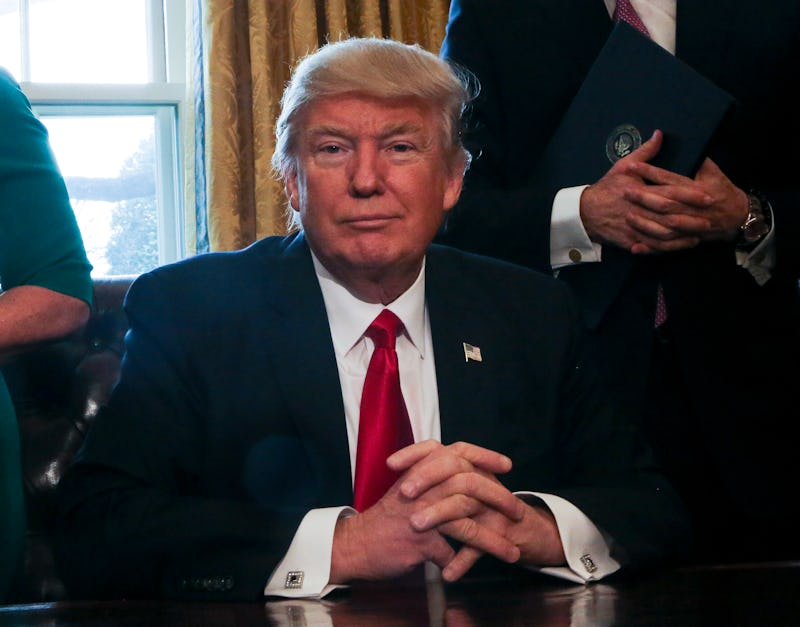 Pool/Getty Images News/Getty Images
In an interview with Fox News' Bill O'Reilly that aired Sunday, President Donald Trump made his Super Bowl prediction, albeit with a bit of prodding. O'Reilly asked the president for his thoughts on the matchup for Super Bowl LI, the New England Patriots versus the Atlanta Falcons. With a touch of hedging, the president picked the Patriots as the winner — an answer that surprised no one who has observed his reportedly positive relationship with a number of members of the Patriots organization.
"Football. how do you see this game?," O'Reilly asked Trump. "Well I like Bob Kraft. I like Coach Belichick and Tom Brady's my friend," the president responded. When O'Reilly asked Trump if he was rooting for the Patriots, Trump equivocated slightly. "I think the other team [the Falcons] is fantastic though. No I think it's a fantastic team, turns out to be a good quarterback," Trump said, adding, "But you know there's less pressure on the Patriots because they've been there. You know once you've won, and you've done it, and they've done it, once you've done it there's a lot less pressure. So we'll see what happens but you know you have to stick up for your friends, right?"
Finally, O'Reilly held the president's feet to the fire on this hot-button issue, somewhere in the league of how to respond to Syrian refugees or Vladimir Putin's reported election interference. "Sure, now Fox Sports is demanding I ask you to make a prediction," O'Reilly said, almost seeming to apologize as he inquired.
The president pushed back, "Well I hate to make predictions," but O'Reilly was no pushover. "You have to," he countered against the president.
While Trump once again pleaded, "I hate to do it," and added "I don't even know the odds," he relented. The president predicted the Patriots would ultimately win and by eight points.
The president's predictions is actually pretty solid. According to the Las Vegas Super Bowl odds, the Patriots are predicted to win, but in a fairly tight victory. The Pats have a +3 edge in the betting spread, which has been the prediction since two weeks ago when they won the AFC Champion.
Thus, Trump's prediction that the Patriots would win and specifically win by eight points is certainly reasonable.
However, it would also be no surprise if he saw the Patriots through rose-colored glasses. As the New York Times Mark Leibovich, noted, Trump is friends with the team's star quarterback, Tom Brady, its coach, Bill Belichick, and its owner, Robert Kraft. "No sports team has been more closely associated with a new president, or perhaps any president, at least since Richard Nixon very publicly adopted the Washington Redskins as his own and even called occasional plays for Coach George Allen," Leibovich wrote.
Nevertheless, Trump's Super Bowl prediction is well within the realm of possible and suggests he's got at least some football knowledge under his belt. Considering his private companies' dealing with foreign powers and the possibility he has already violated the Emoluments Clause, Trump may have a better grip on football than the Constitution.