Trump's Donation To The National Park Service Isn't What It Seems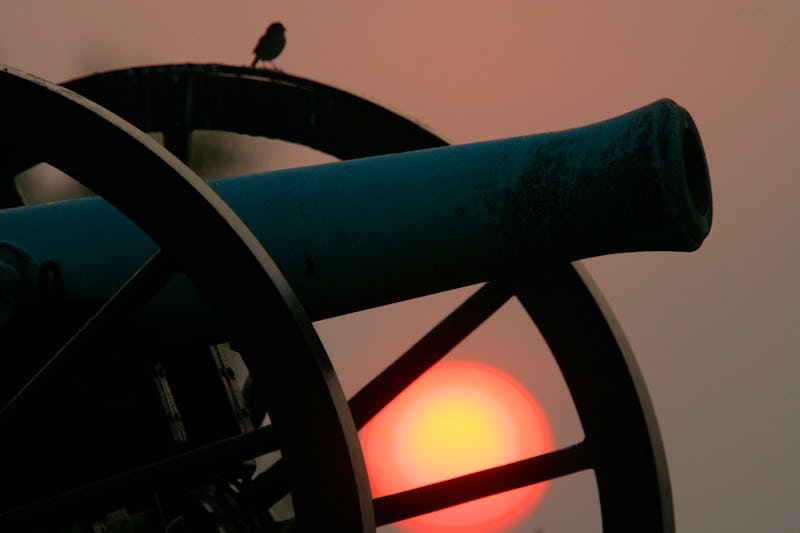 Joe Raedle/Getty Images News/Getty Images
Millionaire-turned-president Donald Trump pledged to donate all of his presidential salary to government entities if elected to office, and in April he promised his first check to the National Park Service. But this charitable, $78,333.32 gesture may not be what it seems. Trump's check will help preserve a Civil War battlefield in Maryland, while his budget proposal calls for $350 million budget cut to the National Park Service as a whole.
Trump signed his check over to Ryan Zinke, the interior secretary who oversees the park service, in April. On Wednesday, Zinke travelled to the Antietam National Battlefield, 70 miles outside of Washington, D.C., to announce his decision that Trump's first-quarter salary would be solely dedicated to the maintenance of the field where 23,000 Union and Confederate soldiers were killed in 1862.
In an address, Zinke spoke of the significance of the gesture.
I can find no better investment in our country than our battlefields. It's about preserving our heritage of why we fight. We fight for our family, we fight for our friends, we fight for our country, and we fight for our freedom.
This decision is somewhat bizarre for many reasons. For starters, the president is federally required by law to accept his $400,000 annual salary, a provision that is intended to deter presidents from pursuing outside economic interests.
The President also made off-the-cuff remarks about the Civil War in May, questioning "why" the country couldn't solve the dispute over slavery and stating that Andrew Jackson, who died over a decade before the war started, was "angry" about it.
Perhaps most perplexingly, as many critics have pointed out, Trump's donation does little to make a dent in the funds that his proposed 2018 budget would strip away from the National Park Service and the Interior Department, which oversees the program.
Trump has proposed to cut more than $1.5 billion from the Interior Department, and to reduce the National Park Service's budget by 13 percent. Critics like Greg Zimmerman, the deputy director of the Center for Western Priorities, have been quick to point out the irony.
Honoring military sacrifice and conserving battlefields are things that all Americans can get behind. But this publicity stunt must be taken in context: President Trump and Secretary Zinke are proposing a crippling $1.6 billion budget cut to our national parks, battlefields, and other public lands.
According to the National Park Service, an anonymous donor and three nonprofit organizations added to Trump's donation, bringing the total dollar amount received by NPS to $264,213.