DoorDash Just Launched A Delivery Subscription Service With SUPER Convenient Perks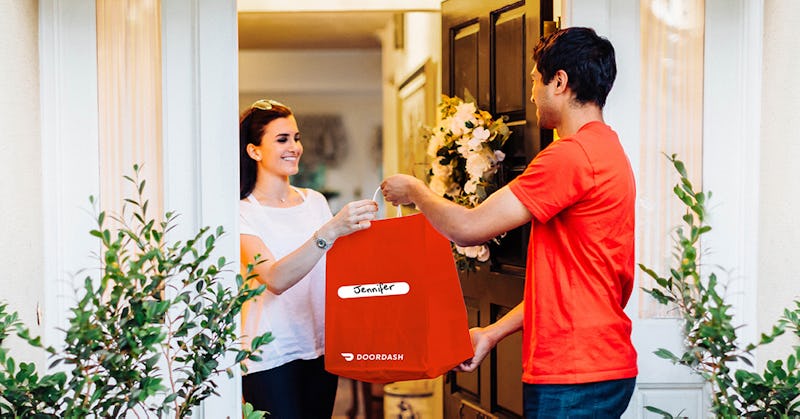 DoorDash
I think I underestimate the beauty of being alive in the era of in-app food delivery services. It's a convenience that comes in handy during late nights when you're cramming for a midterm and desperately need dinner, when you and your friends want to bring weekend brunch straight to the kitchen table instead of standing in line for 45 minutes, or simply whenever you'd prefer to eat at home. The delivery prices can rack up, though — which is why DoorDash's first ever subscription offering is a reason to jump for joy (and savings).
On August 8, DoorDash is launching DashPass, its brand new delivery subscription opportunity. Customers will be able to use the service to save money on the one thing that most of us hate when it comes to ordering food: delivery fees. DashPass will be available for $9.99 per month, and will allow subscribers to receive free delivery on orders with a total of $15 or more (if you're a regular food delivery app orderer like me, you know that price equals pretty much any full meal). "This means that a DashPass membership pays for itself with just 3 orders per month — plus you can cancel anytime, no strings attached," said DoorDash in a statement. That'll be easy, seeing as I often can't resist three orders per week.
DoorDash' DashPass will give subscribers unlimited access to countless fan-favorite spots — including Wendy's, The Cheesecake Factory, and California Pizza Kitchen — as well as tons of one-of-a-kind local restaurants. "It will also continue to give users the best experience possible via the selection, quality, and convenience that DoorDash customers love," the company said in a statement. There's several exclusives that DashPass customers will also be able to enjoy, including free food and drinks, discounts at a variety of restaurants, and more in the future. According to the company, the average DashPass subscriber saved over $20 each month during the pilot program.
If your life is busier than ever and waiting for delivery doesn't really work with your schedule, there are perks for you, too — DoorDash will now offer free order pickup as well. This makes the process of getting food from your favorite places so much easier. No waiting in long lines for your order, simply place it on DoorDash ahead of time and you can pick it up from the restaurant at no extra cost. DoorDash keeps note of your previous purchases, so if it's a go-to order, the process could be as simple as one "Order Again" click on the website or app. According to the company, "Pickup was most frequently used in downtown financial districts where professional workers are looking to grab a quick meal without the wait." They found that on average, Pickup orders were ready "within 17 minutes." 17 minutes? I've spent longer trying to make box pancakes in my own kitchen without burning them.
Affordability is the name of the game for a lot of us who are trying to balance a busy schedule while being able to enjoy good food at the same time — DoorDash's new subscription service might be worth trying out.