DoubleTree Is Giving Away Chocolate Chip Cookies This Weekend — Non-Guests Included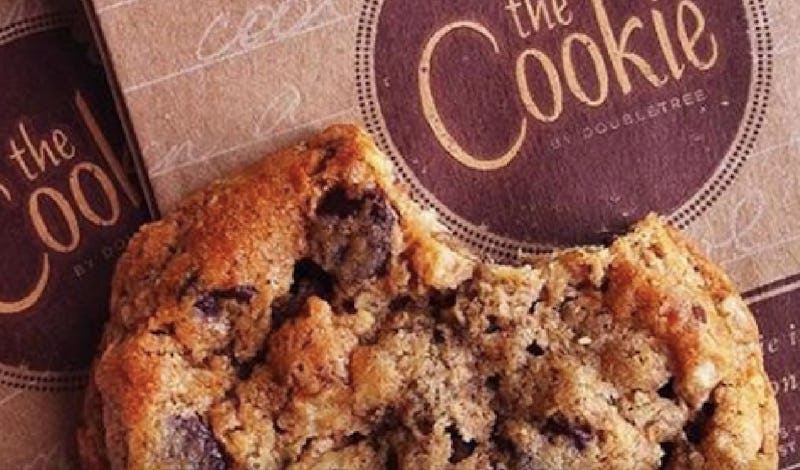 DoubleTree/Instagram
Nothing is better than a cookie. When flour sugar and butter are mixed and warmed, something really magical happens. A cookie is arguably the perfect sweet, as it is delicious on its own, but can also be a component of something downright decadent — like an ice cream sandwich. You can even picture that moment of breaking a freshly-baked cookie in half and watching the middle goo. See? Nothing is better than a cookie. Except, you know, a FREE cookie. This Saturday, you can snag a free chocolate chip cookie at any DoubleTree Hotel — whether or not you're actually a guest.
Those who have patronized a DoubleTree Hotel before know that offering guests warm, gooey, chocolate chip cookies is kind of its thing. While the luxury of a free cookie is typically afforded exclusively to guests staying at the hotel (which makes sense), for this weekend only, you can snag a free chocolate chip cookie from a DoubleTree Hotel even if you are not staying in the hotel. All you need to do is stroll into one, and bada bing — you will stroll out with a cookie. The promotion was organized to celebrate National Chocolate Chip Cookie Day, which falls on August 4. Though, it should be noted other sources claim the holiday takes place in May. Whatever the reason, who can say to to free dessert?
DoubleTree takes its cookies so seriously, it can be hard to remember the company is formally a hotel chain. Earlier this week, the company announced the addition of an employee whose sole duty is to oversee cookie production. Chef Roger Maune, a previous executive chef at the DoubleTree by Hilton Hotel in San Jose, California now wears the official title of inaugural DoubleTree by Hilton Chief Cookie Officer. In response to his promotion, Maune said in a statement, "My new role as the first-ever DoubleTree by Hilton Chief Cookie Officer is truly the sweetest job in the world. Every day, I see appreciation in guests' faces as I welcome them with a smile and warm DoubleTree Cookie."
DoubleTree by Hilton also announced a new endeavor in the form of a new cook(ie) book called Start with Cookies. The book features 29 recipes from DoubleTree by Hilton hotels from 16 different countries around the world, all off which incorporate the hotel's signature cookie in unique and inventive ways. Even more exciting, you can find the book for free online here. Maune also spearheaded this project, and is excited to see how guests respond to it. "I am honored to use my culinary expertise to share our cook(ie) book recipes and spread more warm welcomes to people around the world," he explained.
DoubleTree by Hilton hotels began offering guests warm, fresh cookies as they check-in in 1986. Each day, hotels worldwide give away more than 75,000 cookies. This ends up coming to around 27 million cookies given to guests each year, according to a press release.
The recipe for DoubleTree's chocolate chip cookies is a guarded secret, so if you don't live near one of the hotels, you won't be able to recreate the treat at home. Though, if you just HAVE to have a DoubleTree cookie, you can order some dough online from doubletreecookies.com. Happy National Chocolate Chip Day, one and all!