Doug Jones' Victory Speech Calls Out A Special Anniversary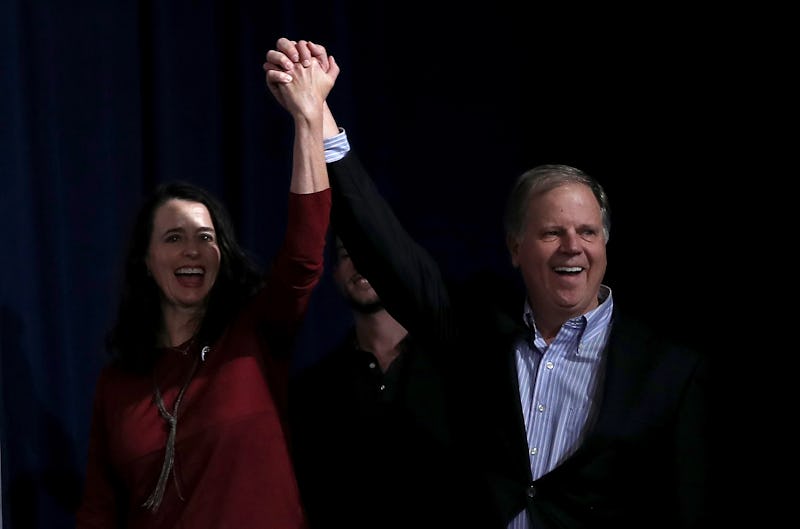 Justin Sullivan/Getty Images News/Getty Images
On Tuesday night, a former civil rights attorney and Democrat won the U.S. Senate election in Alabama, and it was one of the biggest upsets in recent political memory. Immediately after the race was called by the major media outlets, the winner took to a stage in Birmingham to thank his supporters, set the tone for his impending arrival on Capitol Hill, and mark another special occasion. Namely, Doug Jones' victory speech mentioned his 25th wedding anniversary, which just so happened to take place on the very same day as the election.
Jones defeated his Republican opponent Roy Moore by approximately 1.5 points, and although Moore has not yet conceded and has teased the notion of demanding a recount, he's facing a deficit of more than 20,000 votes. Even President Trump has clearly moved on already. In short, Jones is bound for the Senate, while Moore, the 70-year-old alleged child molester (Moore has vehemently denied the accusations against him, portraying them as politically motivated) is most likely at the end of his career in elected politics.
Here's what Jones said on Tuesday night about his anniversary, and his marriage to his wife of 25 years, Louise Jones, from CNN's transcript of his remarks.
You know, I have said throughout this campaign that I thought that December 12 was going to be a historic day. But — but I got to tell you, and you know where I'm headed, December 12 has always been a historic day for the Jones family. This is, as you know, mine and Louise's 25th wedding anniversary. My running mate, my partner. I could not — I could not have done this without her. The love, support, and the encouragement. Earlier in the evening when she just kind of kicked me in the rear end when I was down. So this has been a wonderful night.
Jones is the first Democrat to win a U.S. Senate race in Alabama in a quartet-century. The most recent Democrat to win an election as a senator from Alabama was Richard Shelby — he's still serving as the state's senior senator, but not as a Democrat. He switched parties in 1994 after eight years in the Democratic Party, amid a conservative takeover of Congress.
Jones didn't just celebrate his anniversary in his victory speech, to be clear. He also thanked all the supporters, volunteers, and organizers who helped pave his path to victory, as CNN detailed, insisting that the campaign has never been about him, and wasn't about the hyper-controversial Moore, either.
I have said from the very beginning this campaign has never been about me, it's never been about Roy Moore. It has been about every one of you, every one of you and your sons and daughters. It's all of those volunteers that knocked on 300,000 doors. It's the volunteers who made 1.2 million phone calls around this state.
Jones went on to thank several different communities who helped propel him to victory ― the "African American community," the "Latino community," and a specific Hanukkah greeting for his "Jewish friends." This was a notable acknowledgement, given that his opponent at various points throughout his career and campaign did and said things that proved offense to all those groups.
For a couple of prime examples, Moore's statement in September that the country was better off in the era of slavery, because "families were united even though we had slavery." Or his controversial attack on billionaire financier George Soros, a popular target of anti-Semitic conspiracy theories for the American right, and his wife Kayla's subsequent awkward proclamation that "one of our attorneys is a Jew."
Jones then said the campaign had been about "dignity" and "respect," and followed it up with a very specific call to action for his future colleagues on Capitol Hill. Namely, he urged Congress to act to fund the Children's Health Insurance Program (CHIP) before he's seated, saying that 150,000 kids in Birmingham alone depend on it for their insurance.
Take this election — take this election where the people of Alabama said we want to get something done, we want you to find common ground, we want you to talk. Take this opportunity in light of this election and go ahead and fund that CHIP program before I get up there. Put it aside and let's do it for those million kids and 150,000 here in Birmingham, Alabama.
There are only two real uncertainties left regarding Jones' election: when Moore will finally concede, whether he'll pursue a costly recount ― and since he's trailing by more than 20,000 votes, it'd be virtually assured to fail ― and when Jones will actually be seated.
Congressional Democrats are calling for Jones to be welcomed into the Senate as soon as possible, and demanding that no vote be held on the GOP's tax cut package until after he's able to cast a vote. Senate Majority Leader Mitch McConnell, however, appears ready to defy those demands and push for a quick vote, thus giving the party a chance to pass its massive upper-class tax cut before the math changes.