Dove's New Campaign Wants To Bust The Stigma Around Skin Conditions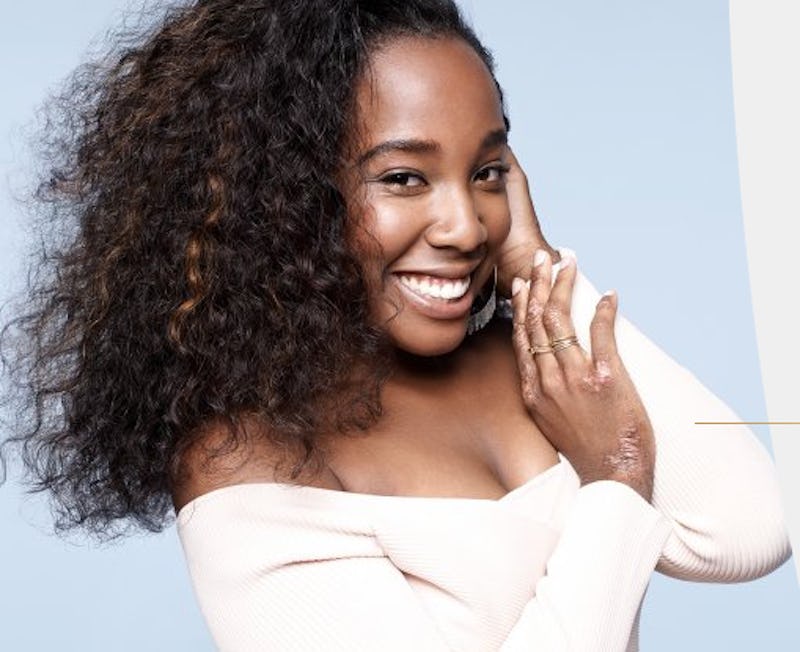 Dove
For years now, Dove has championed self-love and acceptance. The brand has years of tear-jerking campaigns under its belt, and the ads are the kind that make you want to hug your reflection in the mirror and apologize for ever being mean to yourself. From the "Real Beauty Sketches" campaign, where the brand hired an FBI-trained forensic artist to sketch women based on their own descriptions to explore the gap between how others perceive us and how we perceive ourselves, to the "Choose Beautiful" campaign, where women had to choose between entering a door labeled "beautiful" or "average" in an attempt to show that we define our own selves, there are a lot of powerful films in Dove's roster. And the newest campaign tackles something new: skin conditions.
The Dove campaign called Make Peace With Dry Skin launched on Jan. 29, and aims to support and represent the 1 in 4 Americans who are affected with skin conditions like eczema and psoriasis.
The brand believes that there is a lack of representation of people with skin conditions in the media and beauty world, which directly leads them to feelings of shame and isolation. And Dove wants to change that.
It's common that skin conditions are often wrongly assumed to be contagious by others, and people often react negatively when they see someone with an outbreak on their neck, face, or hands. In an effort to normalize skin conditions for both parties involved — those who have it and those who might fear it because of a lack of understanding — Dove's Make Peace With Dry Skin campaign is going to celebrate people with skin conditions. The brand will not only share the stories of real women living with skin conditions and their journey towards body positivity, but also feature them in their advertising to show skin conditions aren't scary, contagious, or shameful.
The stories of those featured are incredibly powerful, and a series of them can be found on Dove's website. For example, Reena, 36, lives with psoriasis and once had to go on disability leave because her flare-up was so bad and debilitating. Because of that particular episode, she decide to stop being embarrassed and start focusing on taking care of herself. With that, she learned to embrace her skin. "Real beauty is every person in their own unique way. I feel beautiful now, and when I look at photos of myself in the past, I know I was beautiful then," she shares.
The campaign is rolling out in collaboration with their Dove DermaSeries line, which is a dry skin and eczema relief collection.
But there's more to this campaign than just ads and interviews, arguably things that serve the Dove brand as much as those featured. Dove says it understands that it takes more than just a few commercial spots to help those who feel embarrassed over their skin conditions, so the brand is also launching an Instagram community — @InOurOwnSkin — where people with skin conditions can come together, talk about their own stories and encourage each other. Now that's pretty amazing.
It's fantastic to see a brand spotlight a community of people often times steadfastly ignored by the beauty world, and help increase representation of their experiences. One can imagine that a lot of people will find inspiration through this campaign.