Michelle Dockery Brought Stripes To The SAGs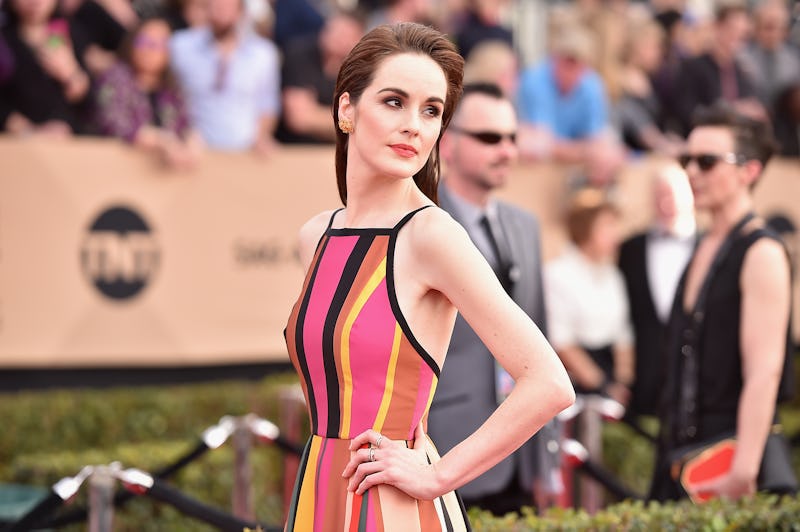 Alberto E. Rodriguez/Getty Images Entertainment/Getty Images
Awards season is in full swing and onetime members of the Downton Abbey cast cruised over to the 2017 SAG Awards in high style, making diehards miss the show and hope the Downton film becomes an eventual reality. Former lead actor Michelle Dockery wore a memorable and multi-colored striped gown and it made me feel like she was still repping the show, since she is so embedded in the perception and overall fabric of Downton Abbey, which was still nominated for Ensemble in a Drama Series.
Speaking of fabric, that of Dockery's dress was pretty bright and bold. The raven-haired actor wore her hair slicked back off her face and full, showing off her gorgeous, peaches and cream skin, coral lips, flushed cheeks, and those power brows. Her Elie Saab gown mixed pink, yellow, green, tan, and orange panels, divided by thick, black stripes. It had a playful and peek-a-boo element, as well, thanks to a "Wowza" slit.
Also, Downton's Laura Carmichael wore a black column gown with a square neck and a sprinkling of colorful, floral appliques all over the front.
Yep, seeing these two should totally make Downton fans rewatch the show in binge fashion.
Here's a look at Dockery at the 2017 SAGs.
It was certainly a vocal dress and was a rainbow of colors.
Remember what I said about the slit?
Carmichael's dress was all about the flowers and petals. It was simple but lovely.