'The Defiant Ones' Doesn't Gloss Over Dr. Dre's Problematic Past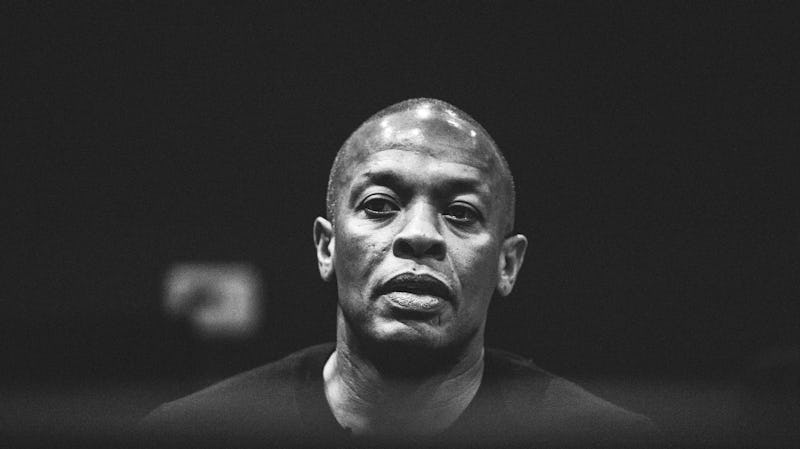 G L Askew II/HBO
Dr. Dre is one of music's most prolific and venerated producers, but behind his trove of industry triumphs is a problematic past. Since the '90s, his career has been trailed by reports of concerning incidents of violence against women, including the 1991 assault of journalist Dee Barnes, as well as searing accusations from ex-girlfriend Michel'le and onetime labelmate Tairrie B.(Dre plead no contest to misdemeanor battery against Barnes, and was fined, sentenced to community service, and given probation; he has denied Michel'le's allegations via his lawyer, and does not appear to have commented in the press regarding Tairrie B's claims. She never pressed charges.)
Save for a contentious statement of apology to The New York Times in 2015, Dre has only vaguely alluded to the allegations, but in HBO's new docuseries, The Defiant Ones, he addressed them in depth, if not in specifics — a startling frank testimony literally decades in the making. (Bustle has reached out to Dr. Dre for further comment on the allegations and his apology in The Defiant Ones, but has not yet received a response.) He said in the documentary:
"I've done a lot of stupid sh*t in my life, a lot of things that I wish I could go and take back. I've experienced abuse. I've watched my mother get abused. So there's absolutely no excuse for it. No woman should ever be treated that way. Any man that puts his hands on a female is a f*ckin idiot. He's out of his f*ckin mind, and I was out of my f*ckin mind at the time. I f*cked up. I paid for it. I'm sorry for it, and I apologize for it ... It's a major blemish on who I am as a man, and every time it comes up, it just makes me feel f*cked up. It's like, what do I do? What do I do to get rid of this dark cloud? I don't know what else to do. I'm learning. I'm trying to become a better person, become a better man."
It's a crucial and affecting moment, but it's also a course correction of sorts. When Straight Outta Compton — a biopic co-produced by Dre about the pioneering rise of his former rap group, N.W.A. — was released in 2015, it was chastised by many for glossing over what many believe to be misogynistic lyrics and outright ignoring the allegations against Dre. In response to the backlash, Dre told the Times in the aforementioned piece that he was sorry, that he "deeply regret[ted]" what he did, and that he was working every day to "never resemble that man again."
Dre neglected to mention any of the women he said he'd "hurt" by name, but it was nonetheless a monumental revelation from a man who had previously dodged, disregarded, and even bragged about his violent past ("It ain't no big thing – I just threw her through a door," he told Rolling Stone of his behavior toward Barnes in 1991). Michel'le publicly questioned the sincerity of Dre's eventual apology, noting that he didn't speak directly to any of the women that had accused him of assault and that it seemed prompted by a need for good publicity. Barnes, however, wrote in an essay for Gawker that his motivations were irrelevant, it was the act that mattered. She said:
"Is Dre himself really remorseful or just saving face? To me, the answers to these questions matter less than the fact that Dre stepped up and performed his social responsibility by finally taking accountability for his actions."
And in The Defiant Ones, her point stands. Whether or not Dre has genuinely atoned for his self-proclaimed mistakes, they are an integral part of who he is, what he represents. To overlook them would be to excuse physical violence, to prioritize success over human decency, and to erase Barnes' story, as well as those of the countless other women who have been subject to abuse at the hands of others.
"It was as if I had ruined his career by being that disturbing footnote in his legacy," Barnes said in The Defiant Ones of the fallout that came from taking Dre to court. She continued:
"But I went through the anger and the dismay. I worked those things out to where I got to a place of peace. Forgiveness is not really about the other person. Forgiveness is for you. You do it for yourself, because what are you gonna do with all of that anger?"
It's a small, albeit overdue victory for the documentary and Dr. Dre himself to address the allegations, but one that's no less necessary than it was 20, 10, or even two years ago. Though influential, much of N.W.A.'s music is unapologetically misogynistic, and seems to normalize violence against women — particularly black women — with abandon, as does Dre's previous dismissal of his transgressions. There's no rewriting history (or records) but the more we condemn it, the less merit it has, and having Dre be even a semi-active part of that conversation makes it a hell of a lot more powerful.