This Doctor Experimented On Black Women & People Are Outraged That His New York Statue Still Stands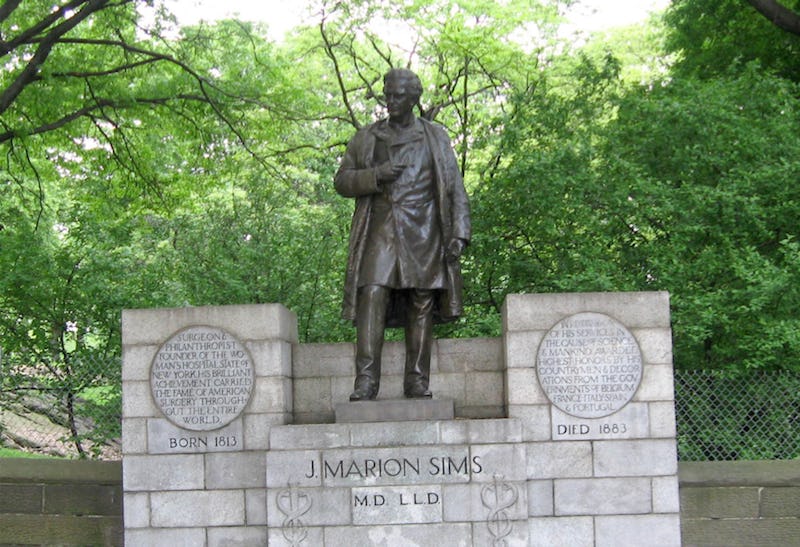 Jim Henderson/Wikimedia Commons
After the white supremacist rally in Charlottesville, Virginia on Aug. 12, the conversation on Confederate monuments throughout the United States has picked up unmistakable momentum. Various cities and municipalities are actively working on removing Confederate statues and plaques from public spaces. Among them, a recent protest held by Black Youth Project 100 has galvanized public calls to remove the controversial gynecologist Dr. J. Marion Sims' statue situated in front of the New York Academy of Medicine. Now social media users are raising their voices against Sims' statue while providing historical context as to why the medical figure is so offensive.
While Sims may be heralded as an Antebellum hero for his experimentation in medical science on the front of women's health, the white medical expert frequently conducted gynecological tests on African American women without anesthesia or their informed consent. Because of this reason, Sims is viewed as a symbol of white supremacy in the United States. To protest the statue, the Black Youth Project 100 carried out a demonstration while members spoke to New York Daily News to share their thoughts on the physician. One of them, Rossanna Mercedes, said, "Memorializing of imperialist slaveholders, murderers, and torturers like J. Marion Sims is white supremacy."
Online, too, Twitter users reminded others of what Sims represented to African Americans, especially African American women, and suggested that Sims' statue should spark outrage among all Americans.
1. Black Women Protest
Users shared photos from the demonstration where women doused their garments with red to denote the violence of Sims' legacy.
2. Against White Supremacy
Others highlighted the need to fight white supremacy by opposing Sims' statue.
3. "Father of Modern Gynecology"
BYP100 shared their original photo with the tweet, "J. Marion Sims, 'father of modern gynecology,' memorialized for performing genital surgery on Black woman [sic] slaves without anesthesia or consent."
4. New York Has Issues, Too
Some may assume that all of the Confederate issues are below the Mason-Dixon line but a user reminded others, "[In] New York City, we have issues as well, when are we going to remove Dr. Marion Sims from Central Park or does he get a pass?"
5. Black Women Stand Up
Many photos of the protesters were shared.
6. More Information On The Statue
This isn't the first time New Yorkers have brought attention to Sims' statue. A user shared a card with information highlighting the ongoing tussle over the removal of the statue between East Harlem preservation activists and the city's Parks and Recreation Department.
7. More Historical Context
Everyone protesting the statue centered their focus on what Sims did to black women as a gynecologist.
8. "Guinea Pigs"
One user said that Sims "used [black] women as guinea pigs for his untested experiments [with] no anesthesia yet his statue [is] in front of New York Academy of Medicine."
9. "Without Regard For Their Humanity"
Sims was condemned for "surgically experimenting on enslaved women without anesthesia or regard for their humanity."
10. A Simple Question
While tweeting back at NYC mayor Bill de Blasio's tweet on "no space for hate in New York City," one user asked a simple question: "Will the Harlem memorial of J. Marion Sims be taken down too, the butcher of slave women? The community has asked for this for years."
11. More Protest
More people demonstrated against the statue with one individual wearing a black mask to highlight the countless women of color "who suffered" at the hands of Sims.
So far, Sims' imposing bronze figure remains up in Central Park but it seems that with mounting public pressure from New Yorkers as well as from others in the country, the statue may just come down soon.