Dr. Pimple Popper Released A Game Where You Can Legit Pop Some Guy's Pimples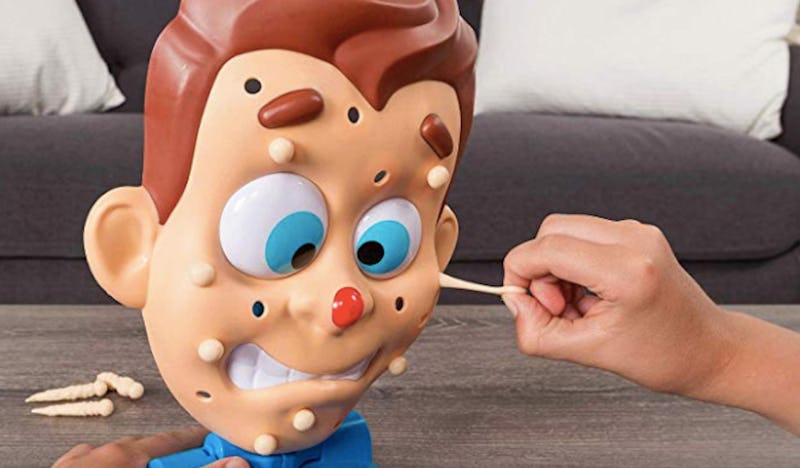 Amazon
Of all the strange phenomena to come out of the internet and social media over the last few years, perhaps the strangest is pimple-popping. A bad habit from adolescence has become the subject of countless YouTube and Instagram videos, and made one California-based physician a star. Pimple-popping videos have been uploaded to YouTube for over a decade, but Instagram completely changed the game. Now, dermatologic royalty Dr. Pimple Popper is giving the loyal viewers of her videos a chance to get up pop pimples without scarring their skin with the release of the Dr. Pimple Popper game.
At the time of publishing, Dr. Pimple Popper's Instagram account boasts almost three million followers who tune into her gross-yet-satisfying videos and photos of her dermatologic escapades. The overwhelming majority naturally focus on popping; popping whiteheads, popping blackheads, popping pimples. Though, lipoma, cyst, and abscess excisions are also quite popular. Speaking from experience, those entertained by Dr. Lee's line of work have shamefully lusted over the popping experience she depicts. But, it is not so easy for regular dermatologically-inclined fans to get in on the action. Dr. Pimple Popper is a physician who trained for years and years to practice dermatology. Instagram and TLC stardom is only a surprise extra.
In a collaboration with entertainment company Spin Master, known for popular toy and game releases like Hatchimals and the Paw Patrol line of products, Dr. Pimple Popper created her first ever game, Pimple Pete. Per Spin master's website, "Pimple Pete's face is covered with pimples and he needs your help 'popping' them. There's so, so many pimples – which one should you 'pop'? Turn the spinner and the arrow will land on his forehead, left cheek, right cheek or chin. Choose a squishy pimple from that area and ever so carefully twist and wiggle the pimple out. Earn 1, 2 or 3 points for every pimple you extract depending on the level of difficulty. Don't yank too hard or you might set off the Mega-Zit filled with water on his nose. Turn after turn the anticipation and nervous giggles increase as players wait to see who might be squirted with a surprise burst of pimple juice!"
That's right, pimple juice.
One of the main draws of this game is its user-friendly design. Players can experience all the pleasure of popping without any puss. Pimple Pete's pimples are simulated and sterile. No risk of infection or scarring here, just a whole lot of satisfaction you might feel weird about later on.
Dr. Sandra Lee has truly created a skin empire thanks to the Dr.Pimple Popper name. In addition to her new board game, the physician-turned-Instagram celebrity also has a line of skincare products, a line of beauty tools, and Dr. Pimple Popper-themed merchandise available for purchase on her website. She also has a popular reality TV show on TLC which takes viewers behind-the-scenes in her dermatology clinic. But, her real gift to the public is innumerable videos on Instagram and YouTube of professional-grade pops.
The popularity of the gross content is confusing, but Dr. Pimple Popper has a theory about why her videos so captivate viewers. She told MentalFloss, "I really think that people like this because, in general, it makes them happy, for multiple reasons...Either it relaxes you, decreases your anxiety as you feel a sense of completeness. It gets rid of your compulsions. It's like something is not there anymore that isn't supposed to be there."
That being said, it looks like Pete, the star of Dr. Pimple Popper's game, is definitely here to stay.