Drag Queen Ruby Roo On Why Using Makeup The "Wrong" Way Feels So Right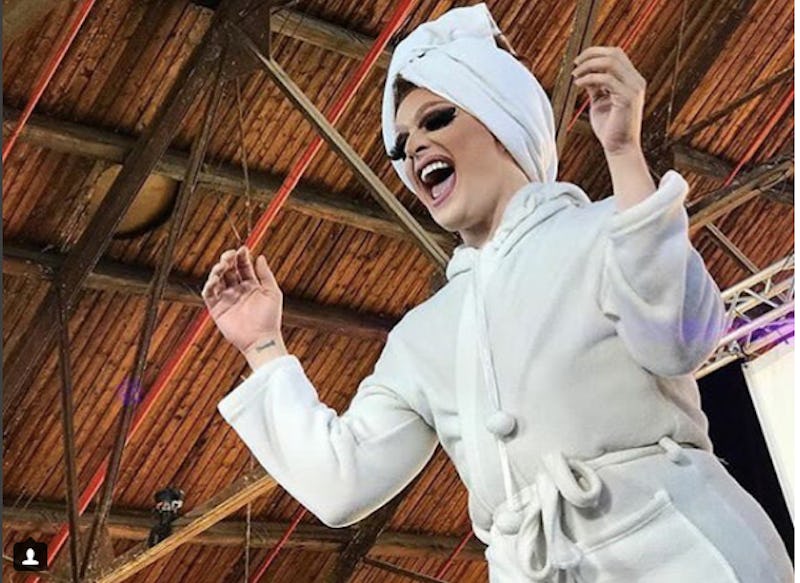 Courtesy Ruby Roo
To see drag queen, nightlife personality, and entertainer Ruby Roo in person is to see a celebration of layered cosmetics, artfully applied in such a way that it totally transforms her face. Strong contour, thick lashes, a dramatic drawn-on eyebrow — it's all part of the Ruby Roo approach, and it's one that she's built on since childhood.
"I remember being fascinated with makeup from a young age," she tells Bustle. "My mother had this kit full of Lancome lipsticks, and I used to love watching myself apply it in the mirror. Then I discovered my dad's old theater makeup kit, a yellow and brown repurposed tackle box full of Ben Nye products and such. I would stand in front of the bathroom mirror for hours trying things out. The products were old and the makeup was not the best quality, but I wasn't the best makeup artist either, so it didn't matter!"
Using what's at hand to make magic is a huge part of drag culture, and it's also one of the key competitive elements to new makeup competition show Race 2 Face, which is part of why Ruby Roo was an excellent choice to host the show. Roo was cast after being scouted from a list of New York City's best drag queens in PAPER magazine — Roo was voted "Prettiest Drag Queen" in the roundup.
For her role in Race 2 Face, Roo guides two contestants through beauty trivia and beauty-themed obstacle courses that send the contestants on a quest to procure products. These are then used in the final challenge: Produce a look pegged to the theme of the episode, with products found along way. The competition centers on working with what you've got and getting creative, and it's not difficult to see the similarities between the contestants' challenges and Roo's approach.
"The most interesting thing about makeup, to me, is how versatile many of the products are," Roo says. "While something can be marketed for a specific use, [you can] really go wild and push the boundaries of what products are actually for. I also love ideas like using loose eyeshadow with a clear nail lacquer for unique nail polish colors. I use a glue stick to block my brows — a straight up regular Elmer's glue stick. Who would have guessed?"
Roo has the opportunity to put her own creativity to the test, as she currently hosts a weekly one-woman show at The Duplex, a gay piano bar and cabaret in Manhattan's West Village. She's no stranger to the drag game, either.
"I started doing drag a little over five years ago," she says. "I worked in nightlife as a party promoter and made an impression on the nightlife scene with signature giant bows in my hair. They called me the It Boy. I met a lot of nightlife creatures, including a lot of drag queens. Two in particular, Misty Meaner and Mocha Lite, became great friends of mine and one day asked me to do a photoshoot in drag. The transformation was inspiring and I immediately fell in love with drag."
Roo has also worked the nightlife scene as a party promoter and is definitely no stranger to the stage — but hosting a show like Race 2 Face was a new experience.
"I've always joked that I'd love to be the host of something one day," Roo says, "And then it happened! All the contestants were great sports, which made watching them get messy as the episodes progressed even more fun."
Makeup lovers, drag fans, and those who love a competition show can catch Ruby Roo (and all of the Race 2 Face contestants) on Facebook, where the show will air beginning December 2017.
Bustle's Race 2 Face is the ultimate competition show for beauty lovers, with new episodes airing on Facebook every Monday. You can watch Race 2 Face Episode 1 now. Ready, set, GLOW!