Drake's Tribute To A Fan He Met Through Make-A-Wish Is Beyond Emotional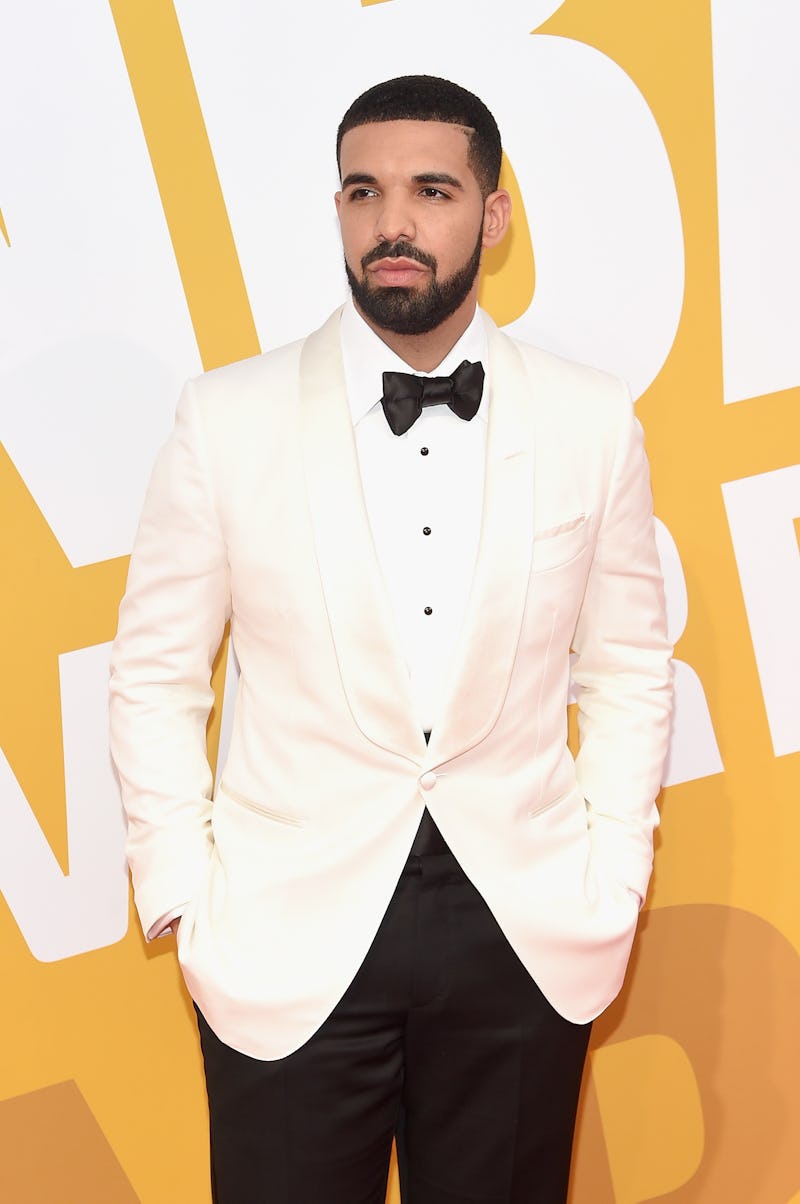 Jamie McCarthy/Getty Images Entertainment/Getty Images
Make-A-Wish often connects celebrities with incredible fans, and these meetings can have a lasting impact on both parties. On Sunday, Drake paid tribute to a fan who he met through Make-A-Wish in a moving Instagram post, and it shows how meaningful the organization's mission is.
Drake's picture with the fan named Kay included a message recalling their special bond. "Gonna miss you a whole lot," he wrote. The rapper continued,
"We met through make a wish and we built a genuine bond you would text me and check on me while I was on tour and tell me positive things and share your dreams and goals."
In the photo, Drake is sitting next to Kay's hospital bed and wiping his eyes. The rapper made it clear that he wasn't crying out of sadness, but instead appreciating a shared moment with the fan and her family. He wrote, "I am crying in this pic but it was tears of joy cause we just prayed for you with your father."
The star also shared that he felt guilty about missing the fan's last message, but had been looking forward to visiting her soon:
"I am sorry I missed your text on my birthday that's eating my soul right now but you know how much I loved you and was looking forward to seeing you after tour."
At the end of the post, Drake shared that he wasn't sure why he posted the tribute, but he felt compelled to share. He explained, "I don't know why I am writing this on IG I just need to get it out cause it's sitting heavy on my heart. Will remember you forever K!" It's clear that Kay was a special fan, and hopefully Drake's friendship brought her strength and joy during any difficult times.
According to the Make-A-Wish website, the organization makes these connections to help children handle tough medical situations. According to their website, Make-A-Wish views their mission as being about more than simply granting wishes. The program hopes to provide children and their families with hope. The site explains,
"For wish kids, just the act of making their wish come true can give them the courage to comply with their medical treatments. Parents might finally feel like they can be optimistic. And still others might realize all they have to offer the world through volunteer work or philanthropy."
Drake isn't the only celebrity to get involved in the organization as of late. In September, Dwayne "The Rock" Johnson shared a Make-A-Wish video on Instagram for a young fan named Clara. He wrote, "I'm sorry we didn't get a chance to meet, Clara but I hope this message puts a big ol' smile on your face."
Based on Drake and The Rock's posts, the bonds formed through Make-A-Wish have a meaningful impact on both the children and celebrities involved. The fact that Kay died so young is tragic, but as Drake's tribute shows, she likely had a positive impact on the people in her life and won't be forgotten.