Drake, Jennifer Lopez's Love Don't Cost A Thing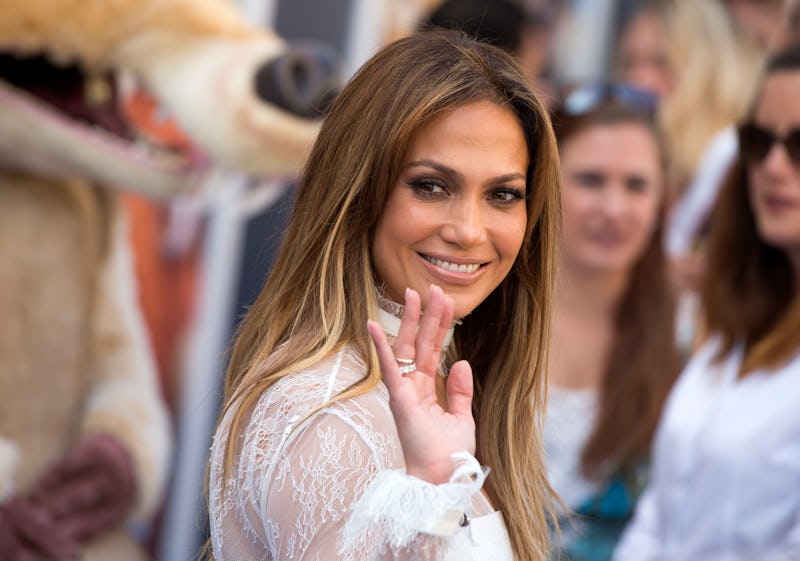 VALERIE MACON/AFP/Getty Images
It's still unclear if Jennifer Lopez and Drake are really dating, but that doesn't mean the rumors surrounding them have ceased. On Wednesday, E! News reported Drake bought Lopez a $100,000 necklace. Based on the amount, it obviously wasn't any ordinary piece of jewelry, but a platinum and diamond Tiffany Victoria necklace. Wowza. As sweet as that is and as much as I'm sure the "Ain't Your Mama" singer loved it, Drake better realize Lopez's love don't cost a thing.
Now don't get me wrong, a $100K necklace is an amazing gesture, which probably made Lopez feel really great. However, if the rapper really wants to make his rumored love swoon, then he needs to take note of what the 47-year-old artist finds romantic. Guess what? It's not gifts of any kind.
Allow me to take you back to Lopez's 2001 hit song, "Love Don't Cost A Thing." Here are just a few of the lyrics from it:
You think you gotta keep me iced (You don't)
You think I'm gonna spend your cash (I won't)
Even if you were broke
My love don't cost a thing
Think I wanna drive your Benz (I don't)
If I wanna floss I got my own
Even if you were broke
My love don't cost a thing
She also sings:
All that matter's is
That you treat me right
Give me all the things I need
That money can't buy yeah
Have I made my point? If not, then take a look at this. In 2014, Lopez released her memoir, True Love. She opened up about what a guy needs to do make her heart go pitter patter — and it's not a $100,000 necklace. "Keep the diamond rings, the Bentleys, the doves, the trips to Europe ... Keep all of it! I can buy all of those things myself," she wrote (via The Huffington Post). "Give me your time, your honesty, your respect, kindness, patience, fidelity. Give me comfort when things are tough."
Isn't that what most of us want when it comes to a relationship? The fact that J. Lo puts it out there that she is wealthy and makes her own money should be a turn-on for any guy. You don't need to shower her with lavish gifts, because she can treat herself any day of the week.
The Shades of Blue star also doesn't need to date a celebrity and could care less about their status. While talking with People in January 2015, Lopez said about whether or not she needs to be with fellow famous face, "I don't care [about that]. I think they should have their own life, because the world I have around me can be overwhelming."
Fame, money, and luxury doesn't make a relationship for Lopez. It's other important things that do.
Hopefully, none of this discourages Drake (you know, if he really did buy her the necklace and they are truly dating). I'm sure every now and again Lopez welcomes surprise gifts, but in the end it's all about the intangible elements of a relationship that mean the most to her. And that is how Drake will really win Lopez's heart.