Drake Wore A Polo To The Billboard Awards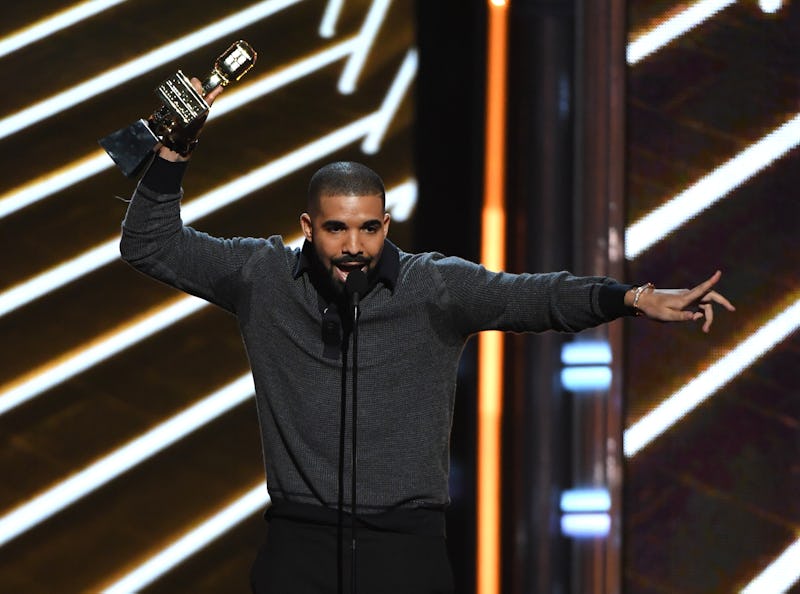 Ethan Miller/Getty Images Entertainment/Getty Images
Drake is nominated for a whopping 22 Billboard Awards tonight. Let that sink in for a moment, because it's pretty darn incredible. So it only makes sense that he wore something special for his big night. SIKE! Drake wore a polo to the Billboard Music Awards (a TOM FORD collared shirt, to be exact), which proves that this is just the typical night for the rapper. Fans have a lot to say about his outfit of choice too.
If there's one thing Drake know how to do, besides starting new dance moves and making sweaters extremely popular, it's nailing a fashion moment. This time, he's making a polo cool again. Although he skipped the red carpet, he was seen sitting in the audience wearing a grey and black long-sleeve polo shirt. Because, you know, winning ten awards so far is casual. The '00s fashion trend gave off his classic laid-back, street style vibes and fans are all about it.
And if seeing him with his meme-worthy audience looks isn't already enough, he will be performing as well. Something tells me that he won't be wearing a polo though. According to Billboard producers, his on-stage performance will be memorable. Buckle your seat belts, my friends, because we might as well rename this the Drake Awards Show.
But all jokes aside, the singer is always bringing his classy, street style vibes to whatever event that he's at. This time was no different. Here's what fans have to say about his outfit of choice.
Still got it.
People are loving the throwback.
The emojis say it all.
Can you call him a winner if he's in a polo?
It's a polo, people!
I'm guessing that this is a compliment.
It's official: people will him no matter what he wears.